Return to Headlines
West Essex YMCA Partners with West Orange Schools to Provide Free Preschool
LIVINGSTON, NJ - The West Essex YMCA and its Peanut Shell Early Childhood Learning Center are partnering with West Orange Public Schools to provide full-day pre-kindergarten instruction at no cost to children in West Orange for the 2023-24 school year. The program kicked off on Sept. 20 with 45 children enrolled through the West Orange school district's Preschool Expansion Program.
This will be the first time the Y and West Orange schools are partnering to provide a free universal pre-K program. However, the two entities have a long-standing relationship. The Y currently contracts with the district to provide before and after-school care in the elementary schools. The Y has also collaborated with West Orange to provide fitness and nutrition education, including the La Vida Deliciosa program for low income Hispanic families, and Community Garden and Harvest a Healthy Kid programs at Edison Middle School. Peanut Shell also served as an Emergency Child Care location for families of essential workers and offered a virtual Kindergarten Readiness program to surrounding communities, including West Orange, during the pandemic.
"We are thrilled to partner with the West Orange school district to help expand preschool access," said Richard K. Gorab, President and CEO of the Metropolitan YMCA of the Oranges, which includes the West Essex Y. "As leaders in providing quality child care programs starting at infancy, the Y recognizes that early childhood education sets children up for success in school and beyond. We believe that every child deserves the opportunity to reach their full potential, and we are proud to play a role in making that a reality."
"As one of the first YMCAs in New Jersey to partner as a provider of Tuition Free Universal Preschool, we will build a firm foundation for future success for each child enrolled, resulting in a stronger community," said Cheryl Tuturice, District Executive Director at West Essex YMCA.
"We are excited to begin this partnership with the YMCA in providing free preschool for our West Orange community. The Peanut Shell location has provided child care services for many West Orange children and we are grateful for their support with this program, serving 45 preschool students this school year," said Kalisha Dorlean, Supervisor of Early Learning at West Orange Public Schools.
Placement in the Universal Preschool Program is determined by the West Orange school district. To be eligible, a child must live in West Orange and be turning ages 3 or 4 by Oct. 1. The program follows the school year calendar and utilizes the High Scope curriculum, which emphasizes learning through play and exploration, and supports the development of a child's independence in decision-making.
Free lunch and snacks are included in the program and made available through the Child and Adult Care Food Program. Before and after-school wrap-around care is available through the Y to support working families. The Y offers vacation camps for days when schools are closed and families need child care.
The Y will continue to offer its private preschool and early childhood learning programs for infants and toddlers at Peanut Shell. The child care center underwent a series of renovations over the summer to meet the square footage requirements for the three new classrooms dedicated to universal pre-K. The entire facility was also refreshed with new paint, flooring, and cabinetry.
For additional information, visit the West Orange Public Schools website or contact Jaime Behringer, Peanut Shell Director, at jbehringer@metroymas.org or 973-533-1511.
(Our thanks to Communications Director of the Metropolitan YMCA of the Oranges, for the release.)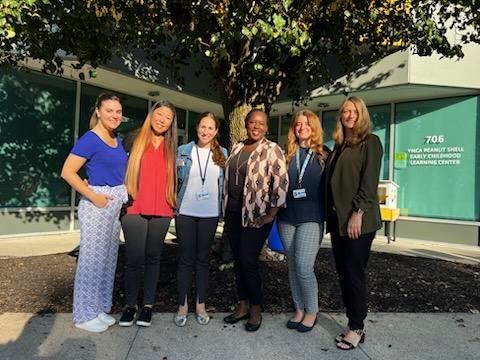 (L-R) Mar Puig Oller, Assistant Director at Peanut Shell and Jaime Behringer, Peanut Shell Director, Preschool Instructional Coach Margaret Perreira, Supervisor of Early Learning - WO, Kalisha Dorlean, Preschool Intervention and Referral Specialist Mara Mamroud, Cheryl Tuturice, District Executive Director at West Essex Y.