Return to Headlines
West Orange High School Artists in Exhibition at West Orange Arts Council Through March 31
WEST ORANGE, NJ – The second annual art exhibition featuring West Orange High School AP art students opened on March 3 with an afternoon reception and will remain on display through March 31.
A diverse sampling of paintings, portraits, sculpture, collage, digital design, anime, and collage representing the artists and their unique points of view are placed throughout the WOAC gallery. All participating students are seniors.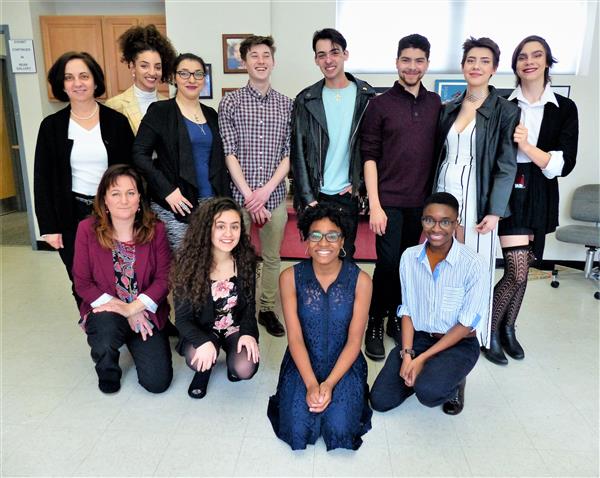 AP Art Students with Patricia Mitrano of WOAC (left, in black) and Heather Young, AP Art teacher (left, in maroon).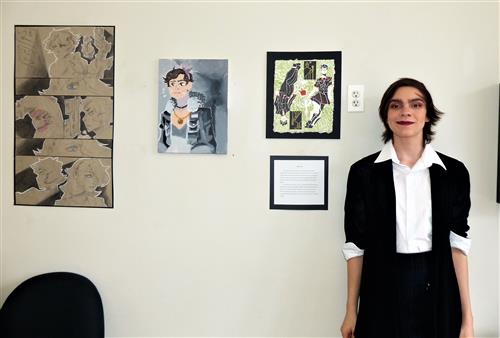 Pepper Powell – Pepper Powell plans to major in art but has not decided on a school. Powell's work is an exploration of comparison, contrast, and connection, male/female, soldier/scientist, and more. Powell recently came out as a trans female and her work is a reflection of that journey.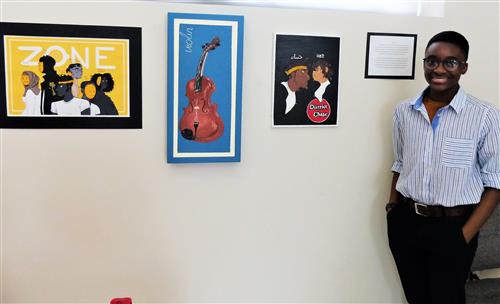 Jean Pierre – Jean plans to major in experimental psychology. His art represents the creation of two rival Akira motorcycle gangs and their leaders. Pierre has used the evolution of the two gangs to express his view of the world.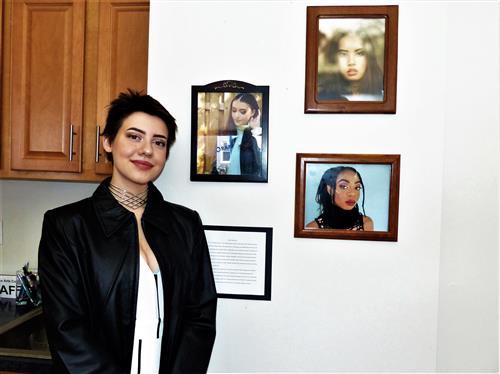 Kate Meyerson – Kate appeared in last year's exhibition showcasing her art work. This year, she is showing another facet of her talent – makeup artistry. She already has her own business, Meyerson Makeup Artistry, and in addition to working on the high school plays and musicals, specializes in makeup for transgender individuals. Meyerson hopes to attend American University and major in Political Science and Criminal Justice.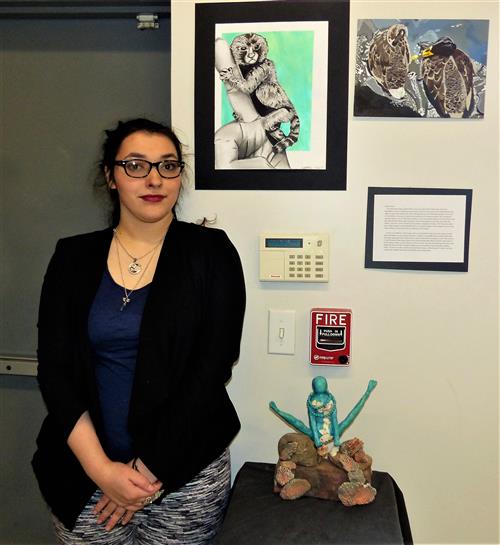 Isabella Bise – Isabella loves working with ink and markers. She is fascinated with nature and integrating it into her work, and her sculpture represents that, along with movement and beauty. Bise loves art and nutrition and hopes to go to a school where she can double major.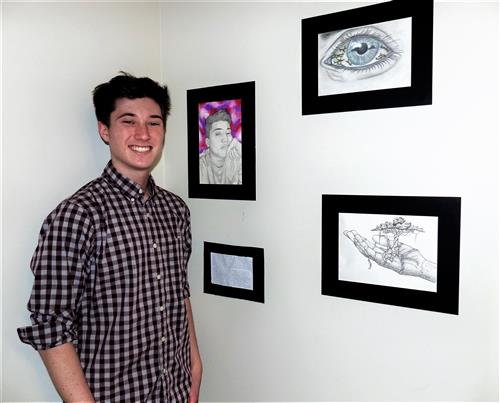 Matthew Edwards – Matthew has the mind of an architect and the soul of a poet, working in pencil and ink to connect nature and humanity in intricately structured ways. He plans to attend Syracuse University and major in Architecture.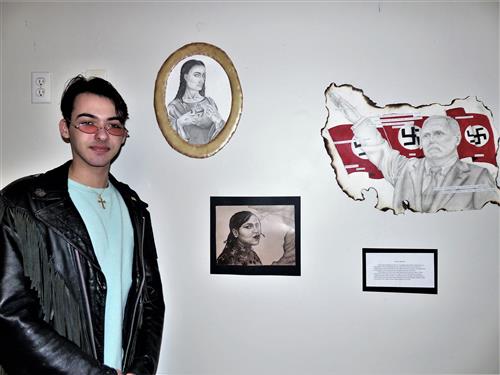 Thomas Kaluscny – Thomas enjoys working in various types of mixed media and wants his work to have a message, whether personal, political or spiritual. Kaluscny does not see himself as anything but an artist and hopes to attend Montserrat College of Art.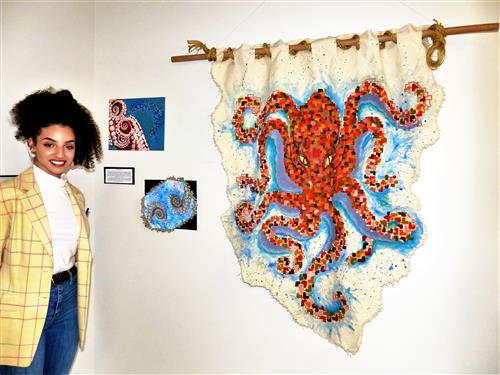 Desiree Rivera – Desiree is a mixed media artist and loves to work with color. She developed a fascination for the octopus while selecting an art project in her AP art class. Her works are done in acrylic paint, pencil, marker and ink. She also loves to design costumes and sets for the plays and musicals at the high school. She plans to major in Art and Graphic Design in college.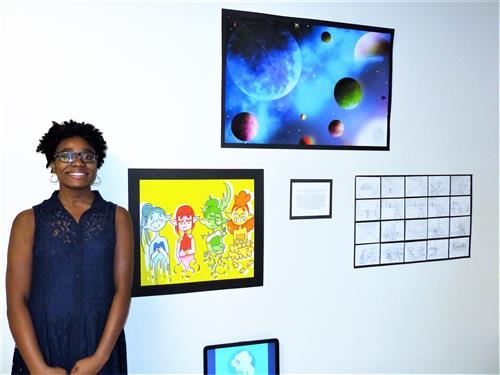 Kayla Edwards – Kayla's work shows her love of graphic arts and animation. She presents a storyboard featuring superhero friends that have to realize with great power comes great responsibility and four recurring characters she created: water, fire, earth, and air, and how they have been affected by man. Kayla plans to major in Animation.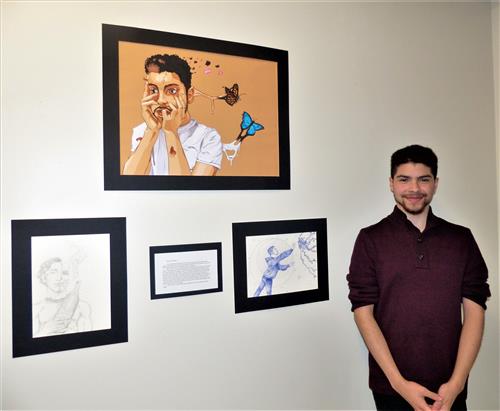 David Fernandez – David's work is a study in self-reflection and evolution. He is a digital artist that also enjoys working in pen and pencil. Through his work, he hopes to find his "heart's desire," and will major in Art and Illustration.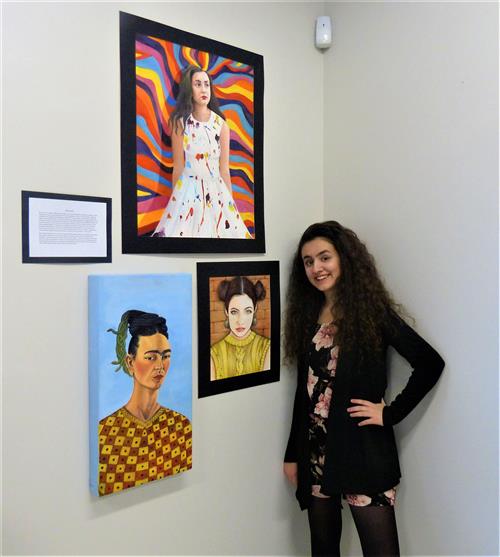 Elika Burton – Elika enjoys the process of self-discovery through art, highlighting her first self portait in bright color with oil and acrylic paint. She also loves to work in pencil and use symbolism in her work. She plans to major in Art and Illustration.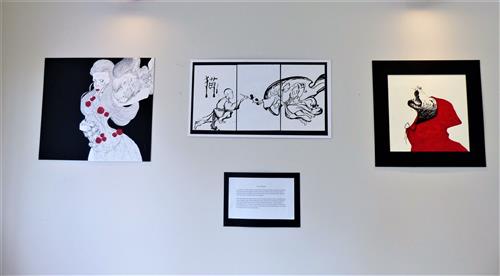 Victoria Morrison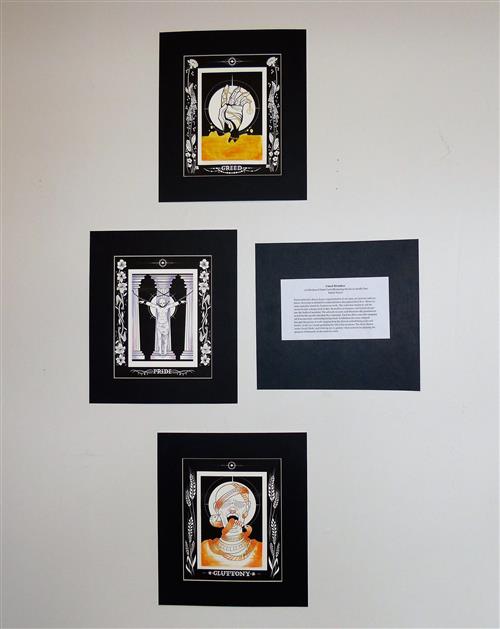 Emma Sawyer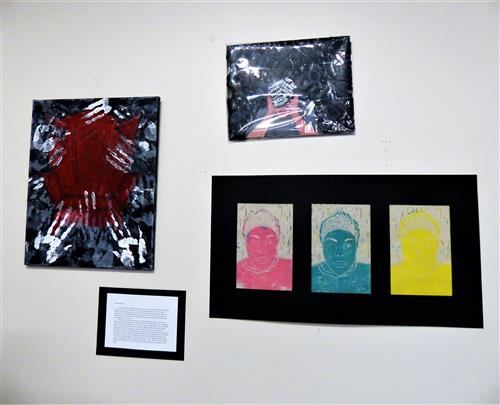 Joanna Maignan
The West Orange Arts Council is located at 551 Valley Road. Visit their website to see their hours of operation at West Orange Arts Council.
Cynthia Cumming
March 4, 2018