Return to Headlines
Chief Master Sergeant (Ret.) Yasmeen  (Williams) Beckham Joins West Orange High School JRAFROTC
West Orange, NJ – When beloved Chief Master Sergeant Ricardo Thurston retired in June from the West Orange High School JRAFROTC, Major Joseph Marchesini was worried.
"I've had two incredible partners to work with," he noted, "starting with Sgt. Clarence Yoh and then Chief Master Sgt. Thurston. I wasn't sure I'd be lucky the third time around," he laughed.
Maj. Marchesini didn't need to worry, because Chief Master Sergeant Yasmeen Beckham arrived at West Orange High School with a storied military career and the talent and enthusiasm to match.
The Air Force notes that the rank of Chief Master Sergeant stands above that of police senior master sergeant and below police executive master sergeant. Chief master sergeant (abbreviated as CMSgt) is the ninth, and highest, enlisted rank in the United States Air Force and the United States Space Force, just above senior master sergeant, and is a senior non-commissioned officer rank.
CMSgt Beckham attended the University of Pittsburgh and graduated in 1994, heading directly to the USAF, where she served as a meteorologist for 13 years. From there, she worked as a First Sgt. In the Leadership Team.
"I was like a social worker, assisting the commander-in-chief, organizing and facilitating the fighter pilot training process," she explained.
CMSgt Beckham deployed four times throughout her military career around the world, all while building a successful marriage and raising a blended family and rising to the rank of Chief Master Sergeant.
Of her experience in the Air Force, CMSgt Beckham looked back warmly, saying, "Deployment was always hard, but you build relationships that become like family, and you become a lasting family."
In truth, her personality and work ethic helped to make her successful in a field where 98 per cent of maintenance units are male.
"I was just myself," she continued, "and I just made it work. It's not about being stern - I want the cadets to know that you can be who you are and what you want to be. It just takes time and effort."
Prior to her arrival at WOHS, CMSgt Beckham served at Plainfield High School as the JRFROTC senior instructor for five years. Explaining her decision to transfer to West Orange, she stated, "I was open to a change, new challenges, and opportunities. West Orange is a very highly regarded squadron and I was excited to join the team."
"It has been a great experience so far," she went on to say. "Major Marchesini and the cadets have a good relationship. I'm learning all the different personalities and styles as I become part of Mountaineer Squadron."
"I believe that as a female with a strong military career I can bring representation as an instructor for the cadets," she said.
"I hope they will see my leadership skills and see how women can fit. They can see the difference between their preconceived notions and get to see the real thing."
"We are so lucky to have CMSgt Beckham," concluded Major Marchesini.
Chief Master Sergeant Beckham lives in Sayreville with her husband. They have four grown children and are enjoying the experience of being empty nesters.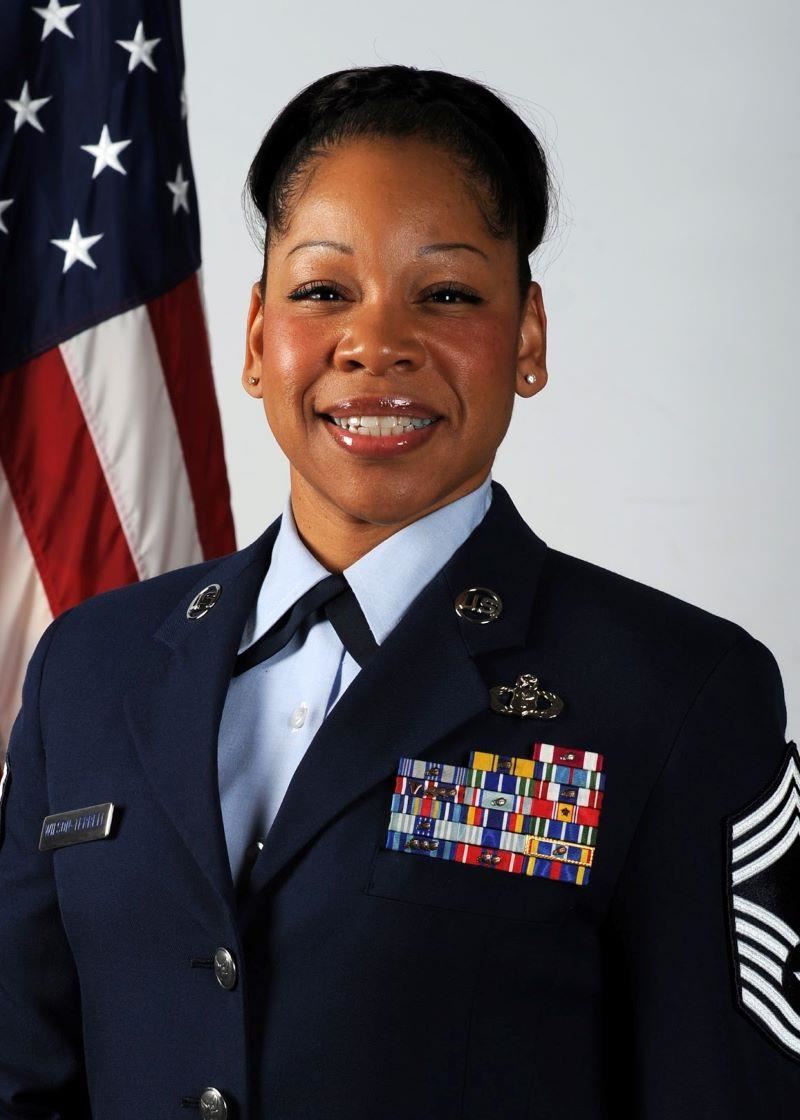 Chief Master Sgt. (USAF - Ret.) Yasmeen Beckham
Cynthia Cumming
Nov. 10, 2023