Return to Headlines
2nd Annual #WOClearTheList Campaign Launches: Over 200 Lists and Counting!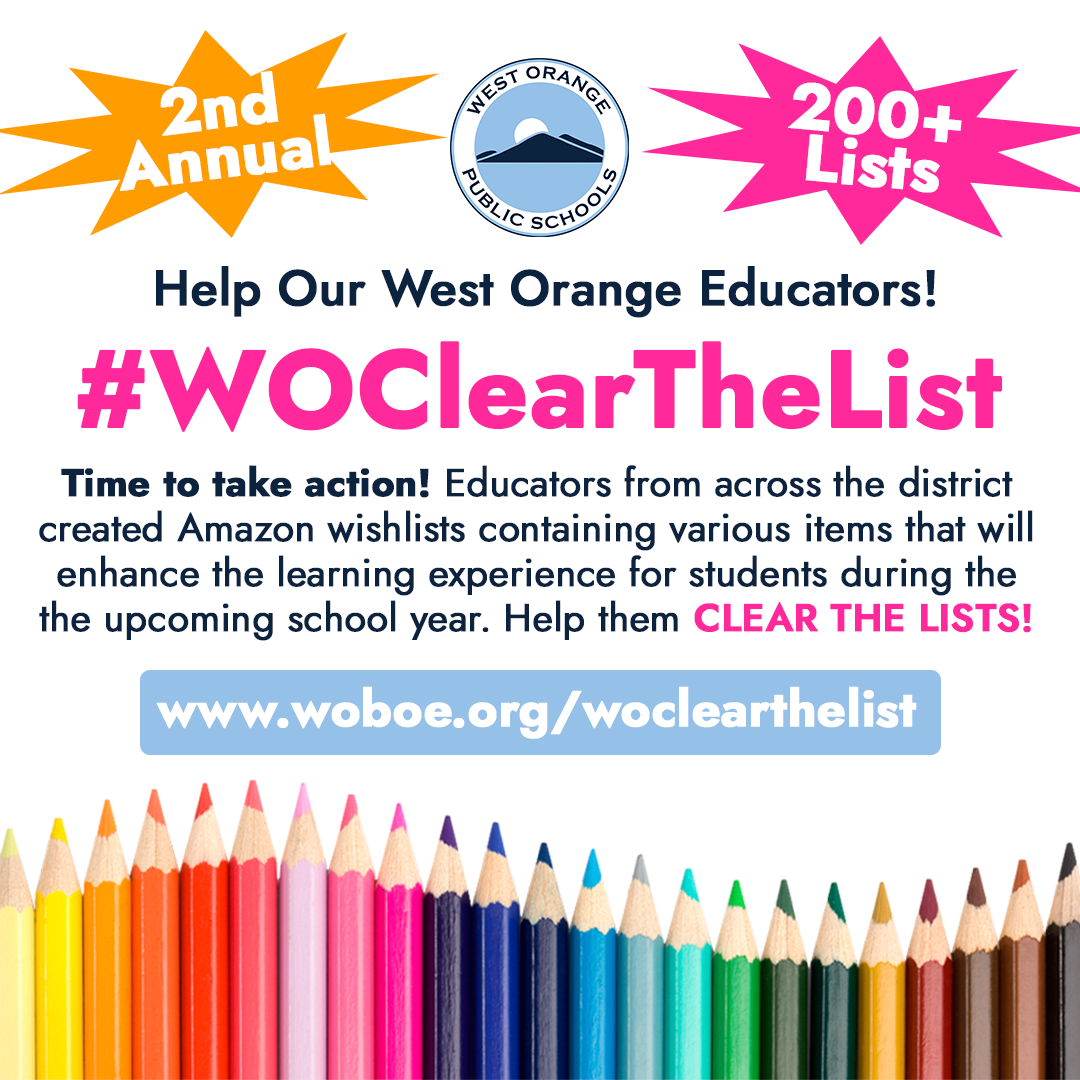 West Orange, NJ [August 2, 2023] – The West Orange community is once again proving its unwavering dedication to education as the 2nd Annual #WOClearTheList campaign kicks off with remarkable momentum. In just the first 48 hours, the campaign has garnered an overwhelming response, boasting over 200 wishlists available for support across all grade levels and specialty areas. With an impressive tally of over 1,500 clicks to view these lists, the community's commitment to uplifting educators and students is resoundingly evident.
This nationwide movement, aptly named "Clear the List," is more than just a campaign – it's a celebration of unity and support that directly impacts the learning experience of students. The initiative aims to alleviate the burden placed on educators who often dig deep into their own pockets to provide essential classroom supplies for their students.
Mr. Hayden Moore, Superintendent of West Orange, expressed his enthusiasm for the campaign, stating, "The overwhelming response to the #WOClearTheList campaign is a testament to the strength and compassion of our community. Our educators pour their hearts into teaching, and this initiative allows us to reciprocate that dedication by ensuring they have the resources they need to create a vibrant learning environment."
Last year's campaign saw an astounding 80% of the curated Amazon wishlists fulfilled by the West Orange community. This extraordinary display of generosity demonstrated the profound impact that collective action can have on the lives of teachers and students alike.
Education is the cornerstone of a thriving society, and the #WOClearTheList campaign is a tangible embodiment of the community's commitment to fostering excellence within the classroom. By joining forces to provide educators with the tools they need, West Orange residents are investing in the future of their children and the community as a whole.
The importance of this initiative cannot be overstated, as recent statistics reveal that educators spend an average of $500 to $1,000 out of their own pockets each year to ensure that their classrooms are adequately equipped. This financial strain not only affects teachers personally but also underscores the systemic challenges within the education system.
As the 2nd Annual #WOClearTheList campaign gains momentum, the West Orange community stands united, poised to make an even greater impact this year. With over 200 wishlists available for support, individuals have a unique opportunity to directly contribute to the success and well-being of both educators and students.
To participate in this meaningful initiative, simply visit http://www.woboe.org/woclearthelist and select a wishlist that resonates with you. Together, we can make a difference and demonstrate the power of community support in shaping a brighter future for West Orange's educators and students alike.