Return to Headlines
Township Memorial Day Ceremony Celebrates History, Looks to Future
WEST ORANGE, NJ – The annual West Orange Township Memorial Day Ceremony was held on May 29, celebrating its history and looking towards its future.
The West Orange High School JRAFROTC and Township collaborated on the ceremony, which featured an invocation by Rabbi Mendy Kasovitz and Pledge of Allegiance by VFW Post 376 Commander Kim Ameli. WOHS seniors and friends, Paige Palent and James Tibang (also Class of 2023 Valedictorian), performed the National Anthem, God Bless the USA, and God Bless America. Major Joseph Marchesini, USAF (Ret.) welcomed the guests and Mayor Susan McCartney reminded all that West Orange remains New Jersey's "Most Decorated Community."
McCartney then recognized Cadet Mia Gourdet, who received the Air Force Association Award for Best Third-Year Cadet in New Jersey; Cadet Breitner Baptiste, who will be receiving a US Army ROTC Scholarship to attend Seton Hall University tuition-free and will graduate as a second Lieutenant; Cadet Chase Morgan, who accepted a Civil Prep School appointment to Georgia Military College and will then attend West Point Military Academy, and, Chief Ricardo Thurston, who has served the JRAFROTC at the high school for the past seven years and is retiring.
Colin Morgan (brother of Chase), who recently graduated from West Point as a Second Lieutenant, swore in graduating senior Cadet Ketsia Jourdain, who enlisted in the US Marines.
Township Historian and Public Information Officer Joe Fagan connected the 160th anniversary of the founding of West Orange with the story of Michael Gaffney, who served as one of Abraham Lincoln's Military Guard of Honor at the dedication of Gettysburg National Cemetery (now a national park) on November 19, 1863. Gaffney went on to live out his golden years in West Orange on Llewelyn Terrace. As Fagan told the story, McCartney, Council President Tammy Williams, member of council Bill Rutherford, and BOE VP Melinda Huerta placed wreaths in Military Park.
Following "Taps," performed by WOHS musicians Andrew Strom and Chester Koch, Pastor Douglas Adams gave the benediction, which included a passionate call to arms to address the safety of our children in schools.
Fagan concluded his remarks by quoting part of the Gettysburg Address: "It is for us the living, rather, to be dedicated here to the unfinished work which they who fought here have thus far so nobly advanced. It is rather for us to be here dedicated to the great task remaining before us—that from these honored dead we take increased devotion to that cause for which they gave the last full measure of devotion—that we here highly resolve that these dead shall not have died in vain—that this nation, under God, shall have a new birth of freedom—and that government of the people, by the people, for the people, shall not perish from the earth."
To find out more about the JRAFROTC program and West Orange Military history, go HERE.
To see photos from the Memorial Day Ceremony, go HERE.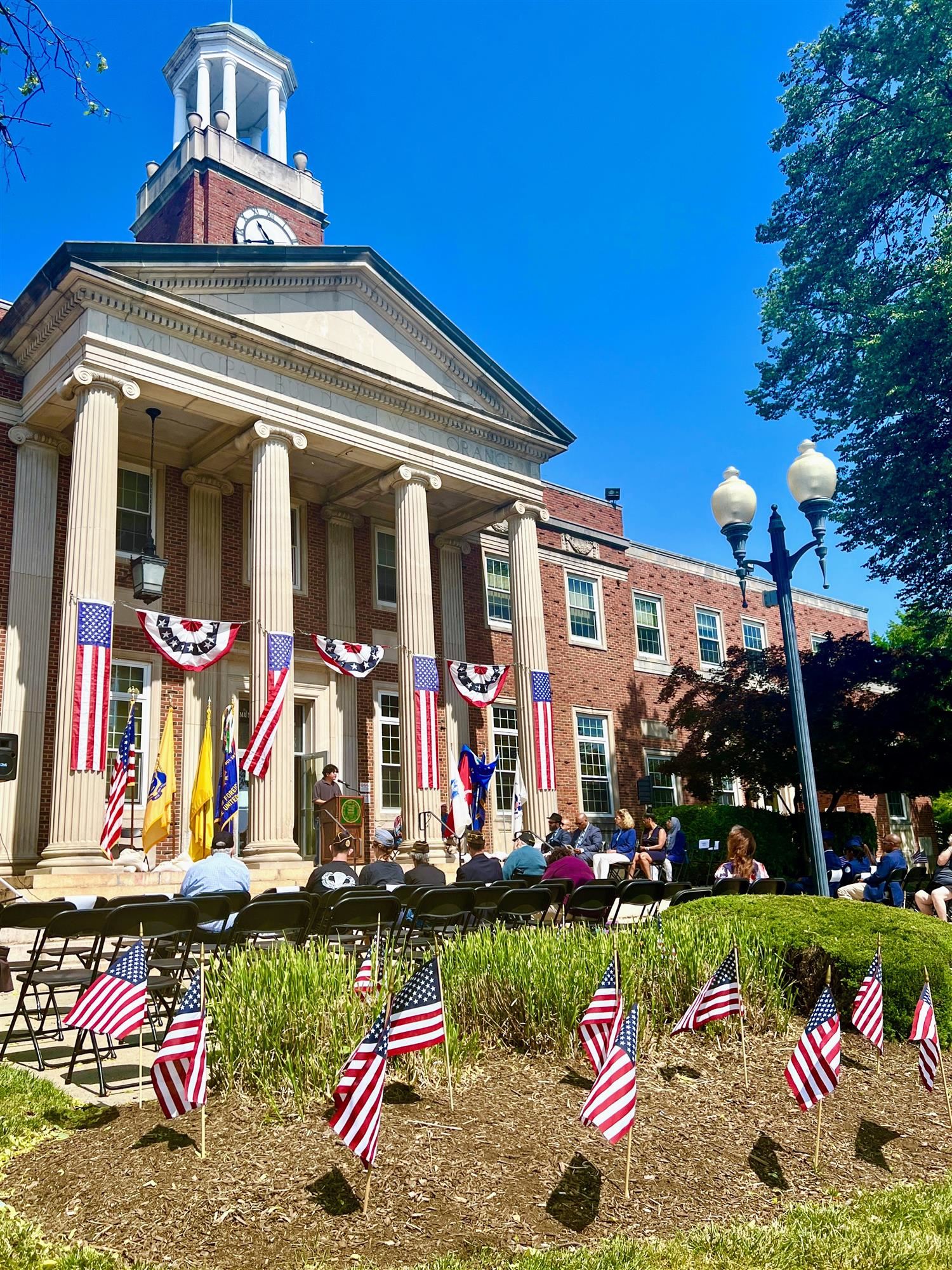 Cynthia Cumming
May 29, 2023