Return to Headlines
West Orange High School Tri-M Music Honor Society Inducts New Members
WEST ORANGE, NJ - Student performances were front and center at the annual Tri-M (Modern Music Masters) Music Honor Society inductions, held Jan. 30 in the Library Media Center at West Orage High School.
Performances included "Goldberg Variations #1 and #13" by JS Bach and performed on piano by Yuxin Li, "Suo Gan" by members of the Orchestra, "First Suite in Eb for Military Band" by Gustav Holst, and"Think of Me," from Phantom of the Opera," sung by Joelle Robertson.
Tri-M advisor John Hellyer and Tri-M officers welcomed students and parents and led the inductees in the Tri-M Pledge:
"We, the members of the West Orange High School music
department, in order to foster a greater continued interest and a desire for
excellence in music performance; to encourage appreciation and awareness in
listening to music; to promote wider opportunities for sharing joy through music
both within our school and within our community; to advance the spirit of good
music and musical knowledge; and to enhance the reputation of our school as
a center for musical enrichment, accept the honor now granted to us."
New Inductees:
Owen Butler
Gina Camosy
Mia Castillo
Russell Catarroja
Lilly Chabla
Andrew Chan
Daphnee Charles
Axel Correa
Adrian Crane
Matthew Emmanuel
Ayodele George
Adarsh Jacob
Chester Koch
Eleanor Kukes
Yuxin Li
Daniella Malanga
Winston McAbee
Alex Miller
Dylan Miller
Jonathan McDonald
Nicole Ng
Hanaggia Oliver
Paige Palent
Joelle Robertson
Samuel Selikoff
Ezra Simon
Ryan Sinha
Rosanna Slaten
Xavier Thomas-Hinds
"We are very proud of the students in the Tri-M Music Honors Society and all of the students who participate in the many performing groups available to them at WOHS: Concert Choir, Honors Chamber Choir, Glee Choir, Jubilee Choir, Tenor and Bass Choir, Treble Choir, Concert Band, Marching Band, Color Guard, Jazz Band, Percussion Ensemble, Wind Ensemble, String Orchestra, Royal Strings, Spring Musical, Dance, Step Teams, and more," said Hellyer.
"Some inductees (Paige Palent, Ezra Simon) and officers (Elena Hause, President and James Tiband, Treasurer) were absent as they were at a rehearsal for the NJ Region 1 Choir. They auditioned earlier this month and were accepted. We missed them at our ceremony, but they were fulfilling one of the purposes of Tri-M by participating in a select state ensemble."
TRI-M Chapter 2854 Officers
President - Elena Hause
Vice-President- Lance Zeligson
Secretary - Jessica Sarkes
Treasurer - James Tibang
Orchestra Liaison - Zoe Gilson
Band Liaison - Robert McClammy
See all the photos from the Tri-M Induction Ceremony HERE.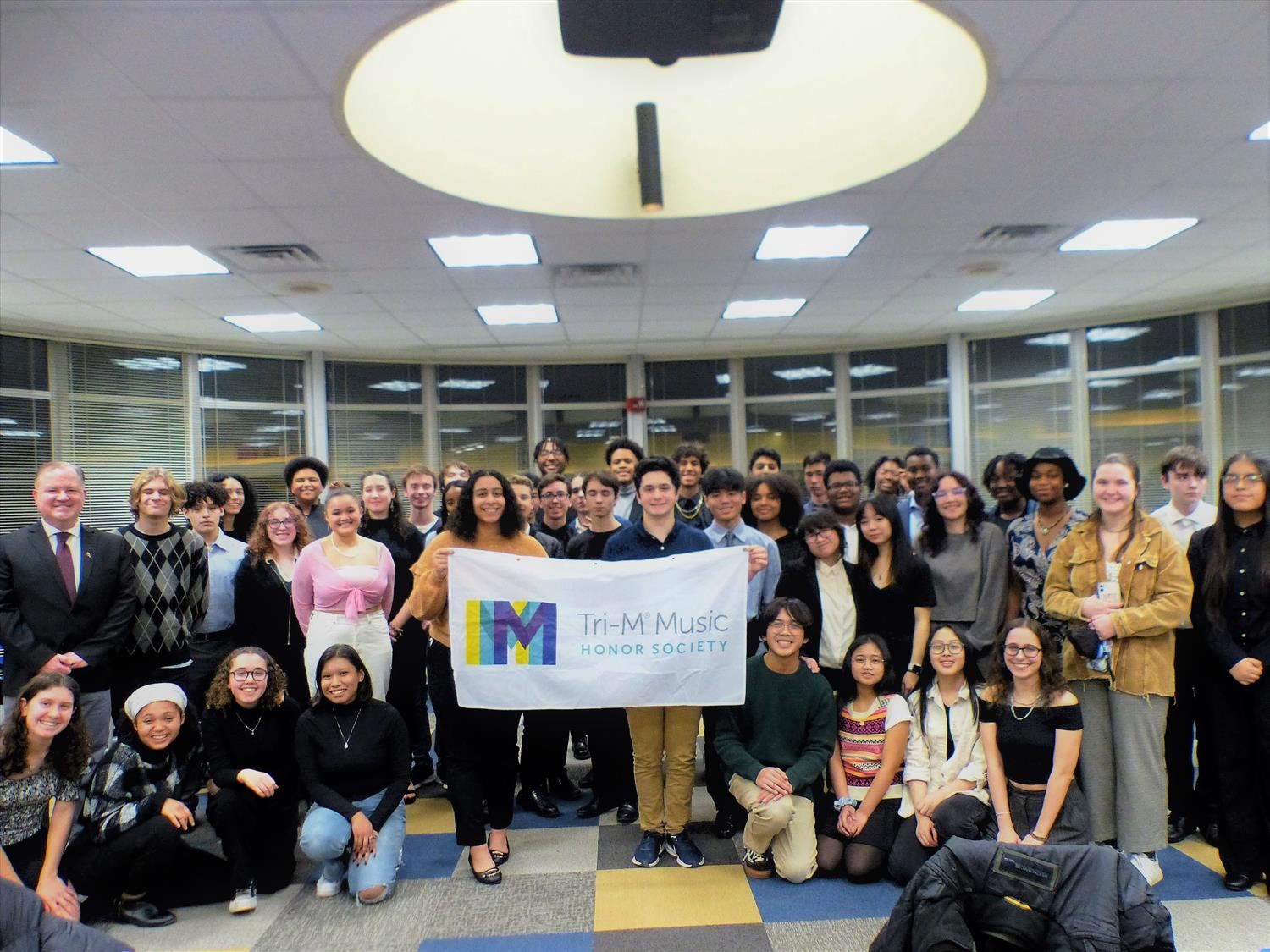 Members of the Tri-M Music Honor Society with advisor John Hellyer, left.
Cynthia Cumming
Jan. 31, 2023