Return to Headlines
Little Food Pantries Now Open at Roosevelt and Hazel Schools; Additional Food Resources Available
WEST ORANGE, NJ - Thanks to the efforts of the student body and faculty at Roosevelt Middle School, there are Little Food Pantries now located at Roosevelt and Hazel Schools.
Advisor Tracy Nardone explained the process.
"Through many discussions in meetings and brainstorming ways to help the school community and community at large, we felt there was a need to help people struggling financially post-pandemic and through the present state of inflation. It seemed that those in need of food and nutrition had the strongest need, so we talked about food drives, but other clubs do them during the holidays. We felt there was a need to find a way to feed people all year round sustainably and for the long term. We then discussed ways to do this and the most sensible way was through little food pantries, since there was a successful one already in the town."
How was the money raised to purchase the pantries?
"We raised the money through school fundraising activities like Valentine's Candy Grams and Pay to Wear Spirit Days and Weeks."
Do you think the kids were impacted by the projects?
"We saw the Student Council Officers take real leadership roles and jump in to help their community. They are becoming better citizens after this experience. They learned how to communicate with the Mayor by meeting with him to ask for feedback on how best to accomplish the task of creating, implementing and keeping up with the pantries. There is a strong sense of pride that shines through all of them now."
Aishwarya Jacob, seventh grade Chief Representative, said "It was exciting to see other students inspired to ask me how to bring in food and donate to our pantries. It enabled me to see how the pantries would continue."
Oluwafemi Oshodi, President, noted "I'm actually very happy with the outcome of this project seeing that it's going to be a convenient resource for a lot of my classmates and a lot of people in this town to get food. It is something that brings joy to my eyes because food is such a resource that everyone needs to survive. Knowing that I could help mothers and fathers feed their children or older brothers and sisters looking to be helpful to their families overall, it is just beautiful for me to feel like I've been able to help out."
Grace Moran, seventh grade Chief Representative, added "I hope that this project will limit the hunger in our community and other towns in our area if it can catch on when they hear what we have
done
."
Samuel Lawner, Treasurer, noted "I am hoping that the completion of the pantries around our town will influence other towns to start doing what we're doing and adding pantries to their town as well and help eliminate a sad, major problem for this whole country."
How do you plan to keep the pantries stocked?
Fundraising and food drives will continue to stock the pantries. We also ask the community to come and assist by adding to them. We also plan on adding an additional pantry at Kelly soon to service both them and West Orange High School.
The Holy Trinity-West Orange Food Pantry has offered to partner with Roosevelt to help keep the pantries stocked as well. The pantry is open to West Orange residents in need of food every Tuesday from 9am - 11:45, and diapers are available the third Tuesday of every month. For more information, contact Food Pantry Administrator Cynthia Cumming at
heidlercumming@aol.com
.The Soup Kitchen is held every Saturday between 12-1 at the church, located at 315 Main Street. All are welcome.
The other Little Food Pantry is located in front of the Timothy Groves Community Substation and was built by WOHS Class of 2022 grad Soham Bhatnagar.
Updated Summer Food Service starting July 18t - July 29: Grab & Go Meals will be distributed every Monday and Wednesday from 10am-1pm Mondays (you will receive two days of meals) and Wednesdays (three days of meals.) Two locations only.
• Washington Elementary - 289 Main Street
• West Orange High School - 51 Conforti Avenue (Tarnoff Café)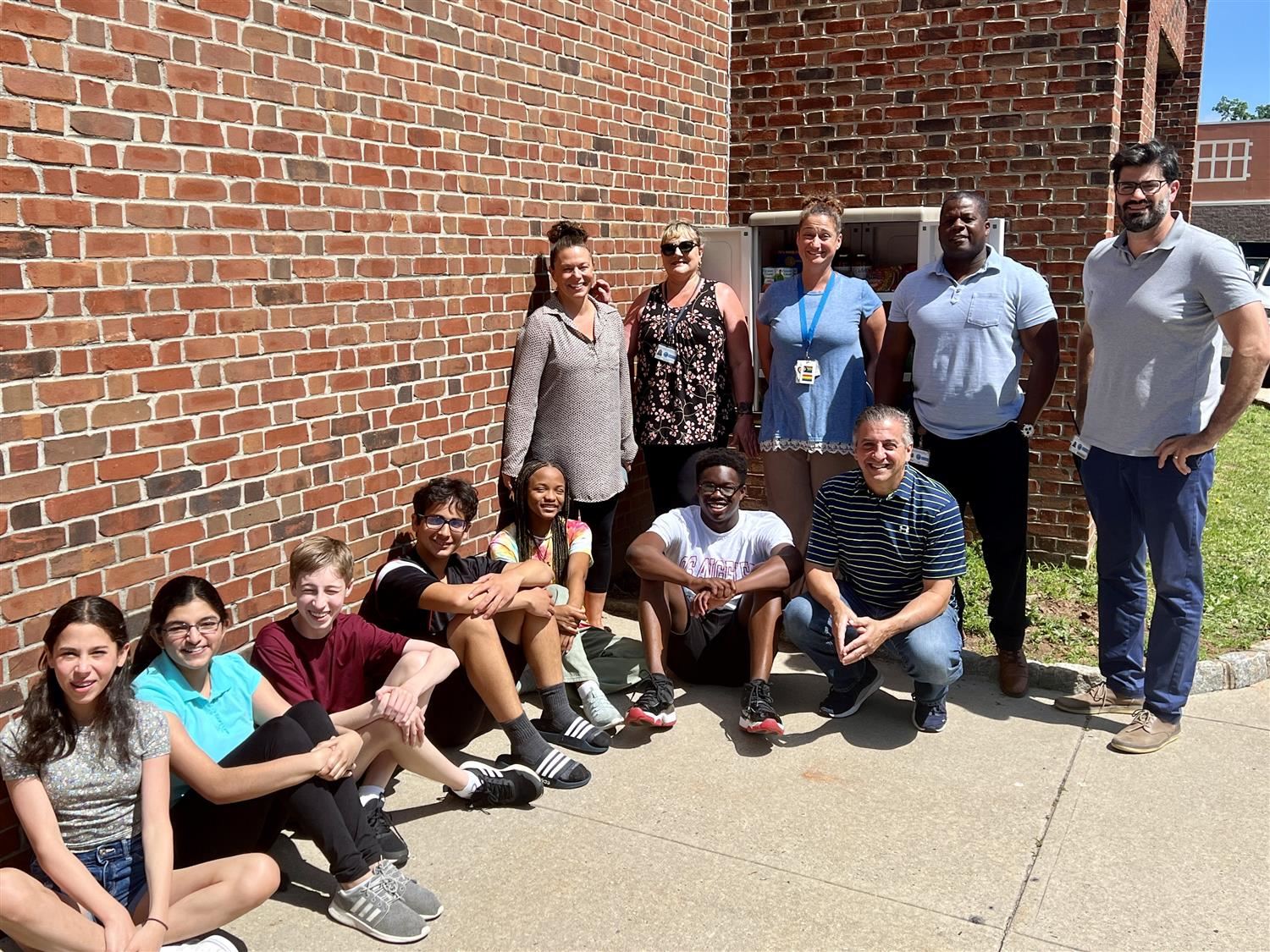 Students (L-R) Grace Moran, Aishwayra Jacob, Samuel Lawner, Evan Pereira, Corbin Raston, and Oluwafemi Oshodi with (L-R) Tracey Nardone, Cynthia Cumming, LMS Meara Franowicz, Princpal Lionel Hush, Asst. Principal
Marc Lawrence, and Mayor Robert Parisi.
Cynthia Cumming
July 13, 2022