Return to Headlines
West Orange Students Enjoy an Enriching Summer
WEST ORANGE, NJ – The much-loved West Orange Summer Enrichment Program returned to West Orange High School June 28-July 23, much to the delight of students, parents, and staff.
360 students in grades 2-8 enjoyed a wide range of academic, athletic, musical, and theatrical classes. The long-running program is overseen by Supervisor of Fine Arts Lou Quagliato and administrated by Hazel Band teacher Scott Tomlin with help from WOHS nurse Denise Makri-Werzen and a staff of enthusiastic teachers and high school student volunteers.
This year's course offerings included a well-rounded Prep Division for second and third graders featuring math, language arts, physical fitness, chorus, and theater. A goal of the musical and theater classes is to stage performances for parents and family at the end of the program. The young ones did not disappoint, performing skits written and directed by WOHS Class of 2021 graduate Justin Peters, performing "This Land is Your Land," and accomplishing some of their first-ever dance routines. Performance week continued with dance and theater performances from students in grades 4-8. The Chinese class held a special presentation.
Musical presentations in both Band and Orchestra in grades 4-8 continued to impress. Students had the opportunity to hone their skills in flute, clarinet, saxophone, trombone, oboe, guitar, piano lab, violin, and cello, in courses all catering to intermediate (4-6) and advanced (6-8) musicians.
Academic courses included coding, digital design, math, science, Sebelius (music notation software), Chinese, and book club. Arts programs in crafts, ceramics, art design, and calligraphy filled the art rooms. Sports strength and conditioning and softball and baseball rounded out the athletic courses.
The Summer Enrichment Program is open to all residents of West Orange whether or not they attend the public schools. Scholarships, scholarships, music-only, and extended-day programs are also available.
See a short video below and see photos from Enrichment here.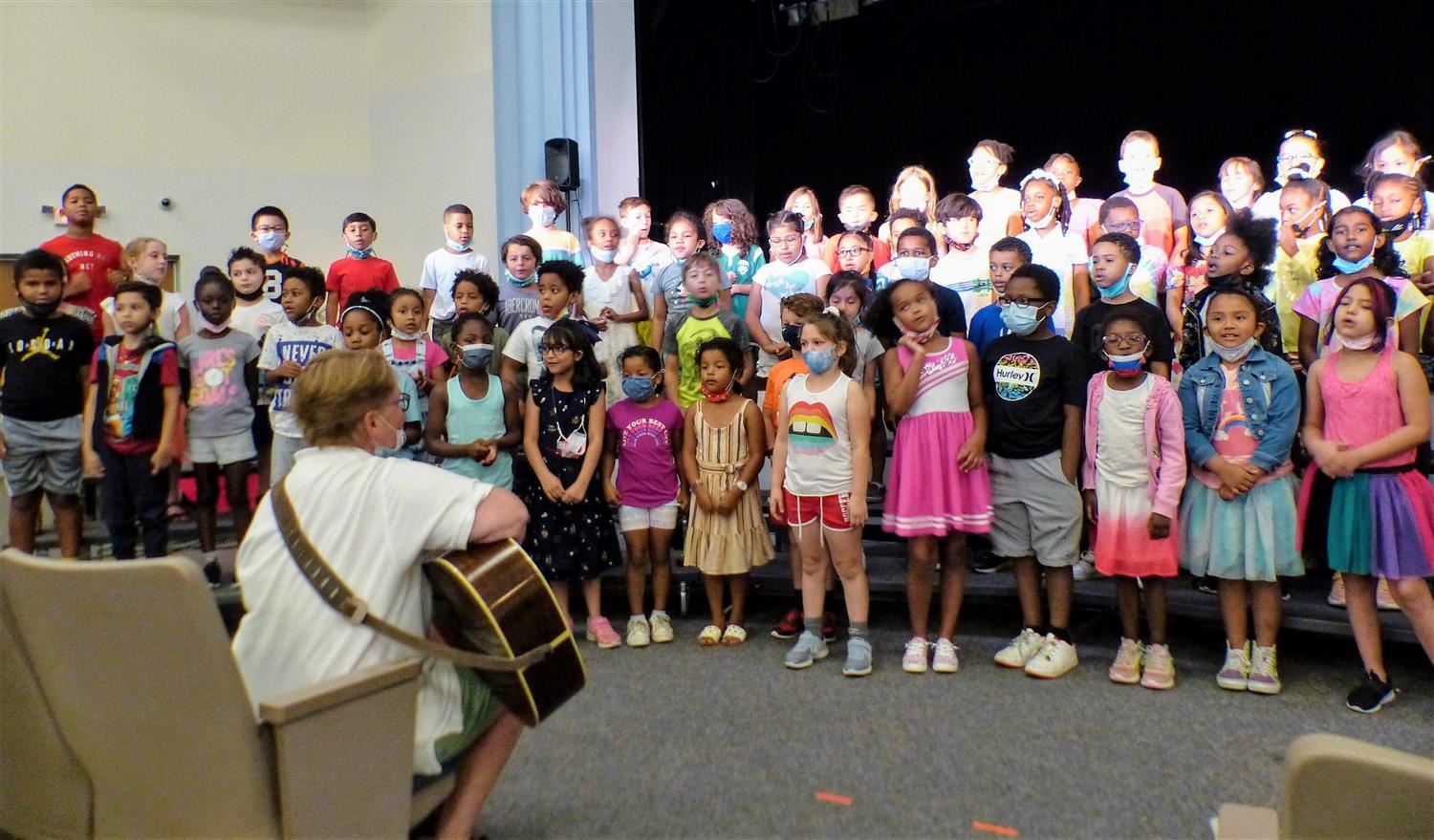 Kelly Music teacher Deb Rees with Prep Students performing "This Land is Your Land."
Cynthia Cumming
July 25, 2021