Return to Headlines
Under Sunny Skies, 584 Graduate from West Orange High School
WEST ORANGE, NJ – Under sunny skies, 584 West Orange High School students graduated in three separate ceremonies on June 24. The ceremonies, split to accommodate CDC guidelines, were held at 9:00 am, 11:00 am, and 1:00 pm in Suriano Stadium at West Orange High School.
Graduates were seated with their families and spread across the field as the ceremonies began. The diversity of 54 nationalities represented in West Orange was joyfully apparent.
Seniors Joseph Florendo, Veena Steaphen, and Jordon Scott-Young took turns singing the national anthem at each ceremony. The Graduation Choir performed "As" by Stevie Wonder, selected to "represent how much we love, honor, and support our Mountaineer graduates. Our amazing families, and entire community," according to WOHS Principal Hayden Moore.
"My Mountaineers, when choosing a career path identify an area that interests you, something that you absolutely love and are passionate about. Then direct your energy in that area and establish goals to reach those dreams," said Moore in his address to the graduates.
"And remember, wherever your path leads, you are Mountaineers for life!" he added.
Salutatorian Carlos Herbozo expressed his gratitude to the community, students, and teachers for the students' success.
"The support from our community members is truly out of this world. Whether it was the Adopt-a-Senior Facebook group, fundraising for our celebrated sports teams and extracurricular activities, or supportive lawn signs, we could always count on the West Orange community. West Orange prides itself on its diversity, and we are truly a reflection of the world at its very best at a time when it is needed now more than ever.
Furthermore, being isolated at home away from loved ones, many people's mental health was affected. Thankfully, many students spoke up for student mental health and created initiatives to share various coping strategies. Additionally, in light of the strained political climate, student activism was at an all-time high, with so many of us speaking up, and speaking out, for marginalized communities. True to West Orange form, our students have once again made a difference.
Finally, I'd like to thank our teachers. This year, our teachers put in long hours to adapt their lesson plans and teaching methods to Zoom. It was an arduous task, and we applaud them for continuing to educate us despite the challenges of virtual school. I can honestly say that I think we are all better because of it."
(Read the full text of Carlos Herbozo's Salutatorian Speech here.)
Valedictorian Celia Murphy-Braunstein reflected on her four years at West Orange High School and offered sage advice and insight to fellow graduates.
"I was so preoccupied with the "what ifs" and "what could be," that I never took risks out of fear of making mistakes and straying from what my idea of a good student was. A lesson learned that your goals should not come at the expense of your well-being and relationships with others.
I'm still not immune to the pressures of the academic world, but instead of feeling dread, I'm inspired and challenged to let go of my preconceived notion of perfection and open myself up to change. We must be kind to ourselves and acknowledge our efforts. Instead of focusing on the past and "should haves," we can learn and improve and look forward.
As a person who likes to be prepared, the one thing I've learned from these extraordinary times is that you can't be. As a class, we are strong, we are resilient, and we are not afraid to speak our minds. Not only have we excelled at West Orange High School, but with fierce determination, optimism, and compassion, we have persevered through a pandemic."
(Read the full text of Celia Murphy-Braunstein's Valedictorian Speech here.)
Board of Education President Terry Trigg-Scales used the analogy of light to encourage graduates to shine.
"These past sixteen months have dimmed our lights in so many ways, but your lights have not been extinguished. You may have dealt with disease, death and disappointment, but you're still standing with dignity and determination on this glorious day.
You've not only survived a pandemic and the closing of school, but you've been a part of history that saw racial injustice and social unrest and what happens when people join their individual lights and become a beacon for hope and for change. You must continue to shine and share your light and surround yourself with other's lights that bring intelligence, compassion, empathy, kindness, consciousness, humility and humanity."
Before presenting the Class of 2021, Superintendent Dr. Scott Cascone likened the graduates to members of the Maasai warriors. The role of the Maasai warriors is to protect, build homes, and provide security to the tribe.

"In every transition one can be presented with mixed emotions, a sadness for what is being left behind, and a fear for what lies beyond the horizon. Embrace the future, embrace the responsibility, embrace the potential, and embrace the role that you all will play not only in living your best life but in striving to make this world a better place for all.

And so I congratulate you, I honor you and I welcome all of you To what the Maasai people call The Warrior Class. The prey: your destiny, dreams, and all forms of injustice and inequity; your shield: truth and love; and, your spear: the knowledge, skills, and experience which you have gathered over the course of the last 13 years.

Today, soon, you will be students of West Orange high school no more, rather alumni, but you are becoming and will become so much more. You will always be welcome here, and perhaps based upon some of what you've lost this year, you will find healing and peace in returning to the school and the district which meant so much to you. We look forward to those days when we might see you again."
Graduates then walked to front to receive their diplomas, with hugs and a sense of celebration for what the future holds.
To see all the photos from Graduation 2021 go here. (Note, we tried to get as many photos as we could! Graduates were also photographed by paid photographers and will receive notifications about those photos.) (All photos by Cynthia Cumming.)
See the list of graduates here.
The graduation was live-streamed on You Tube and is available below and here for viewing.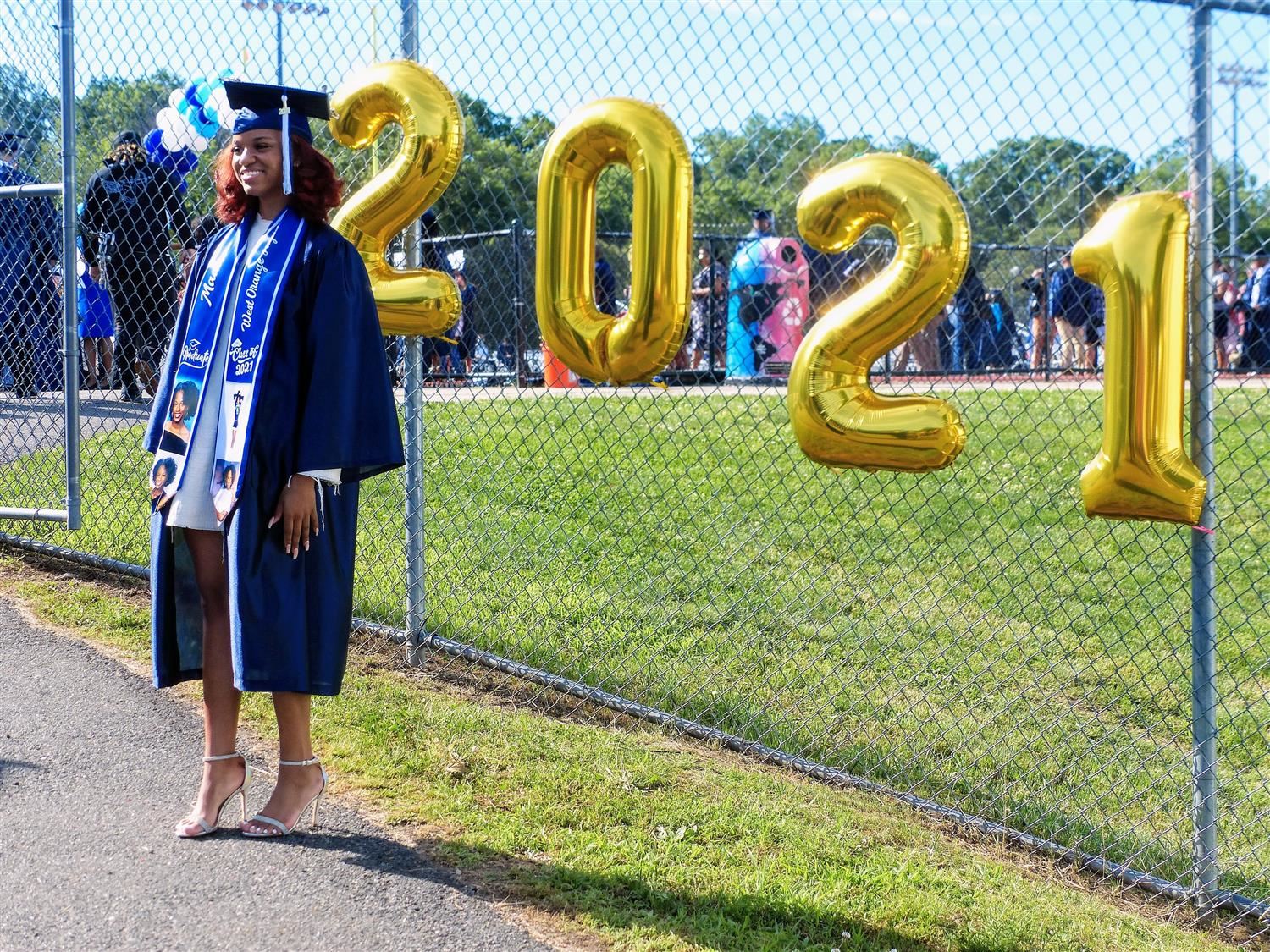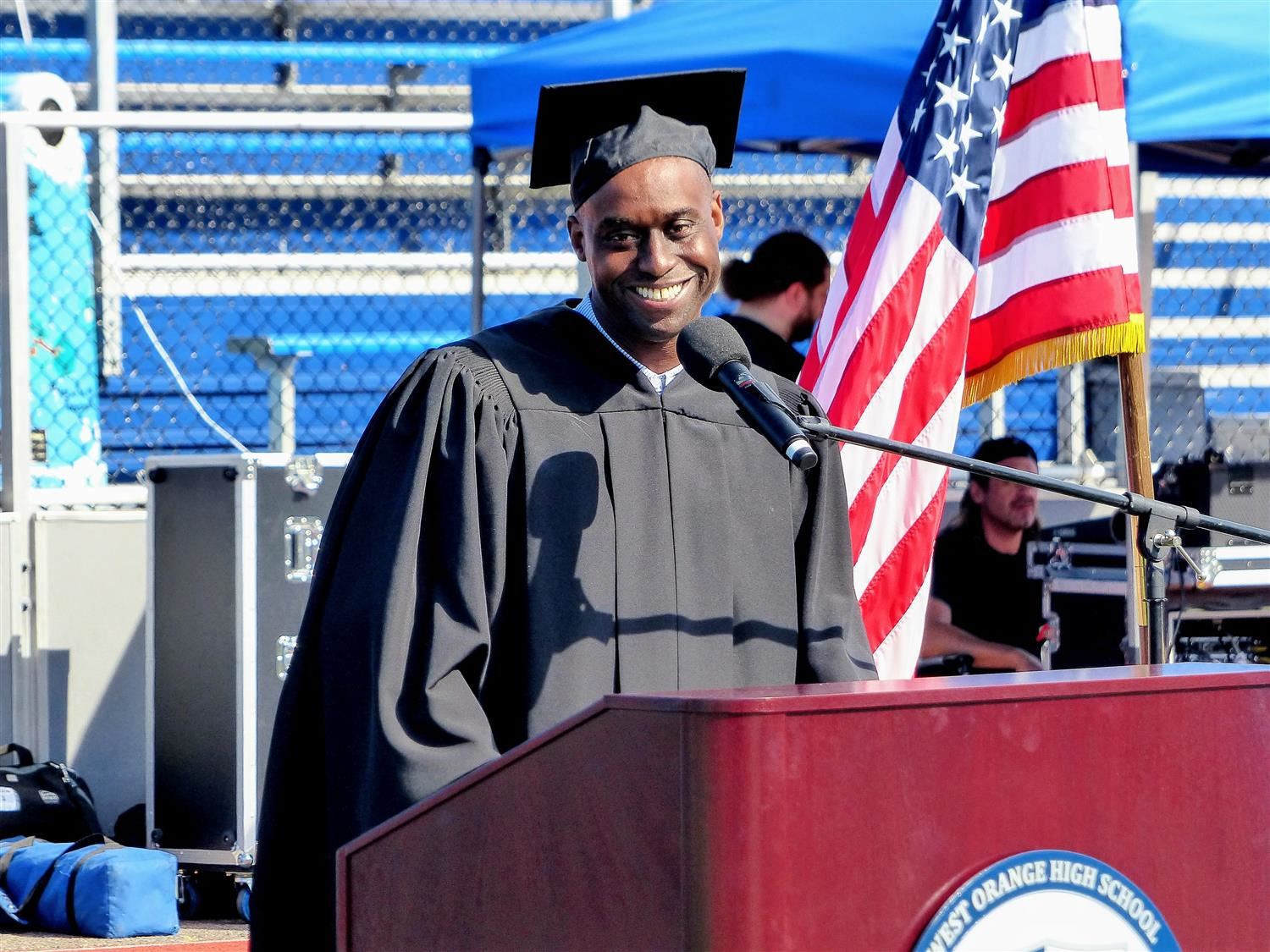 Principal Hayden Moore.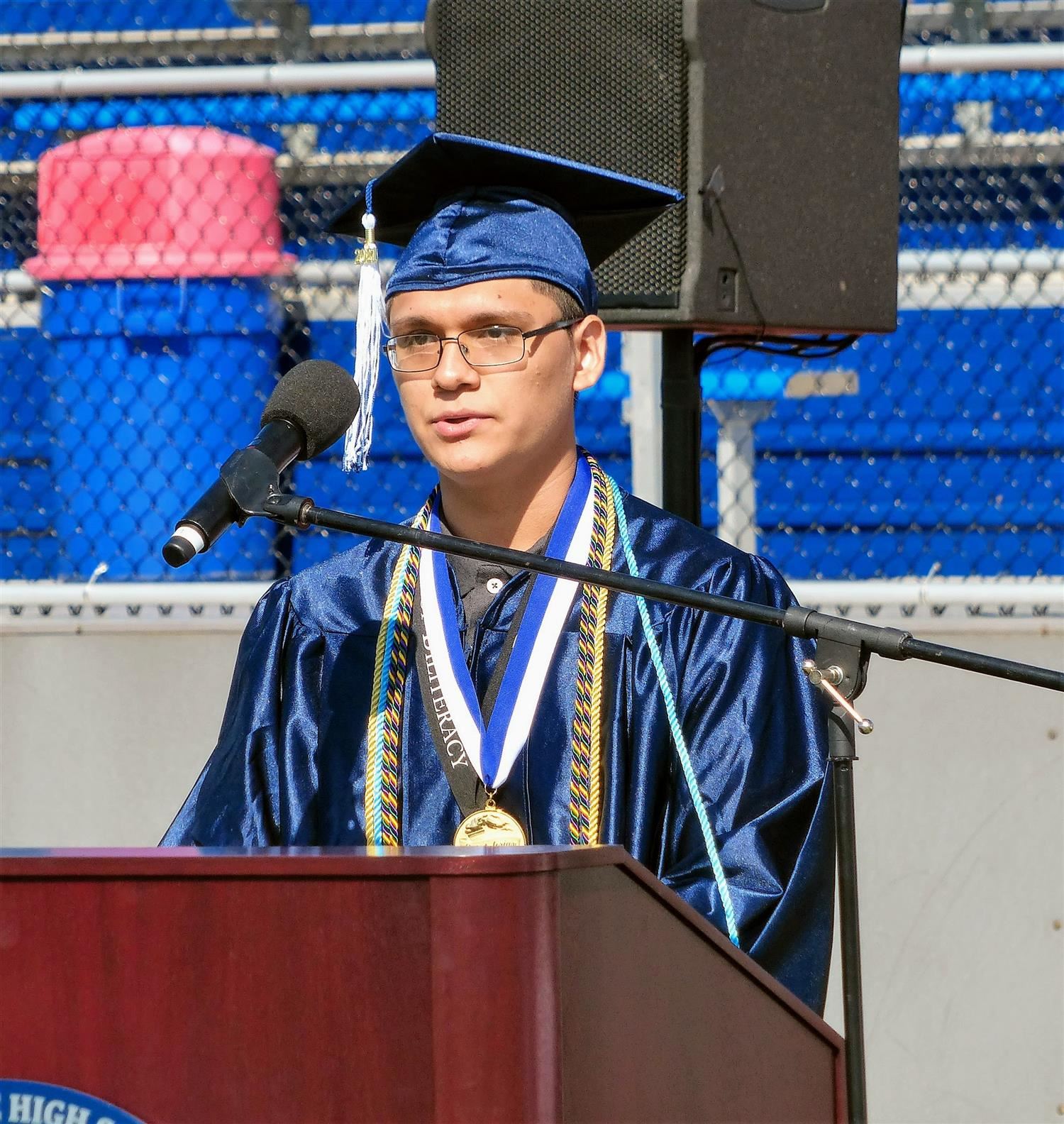 Salutatorian Carlos Herboza.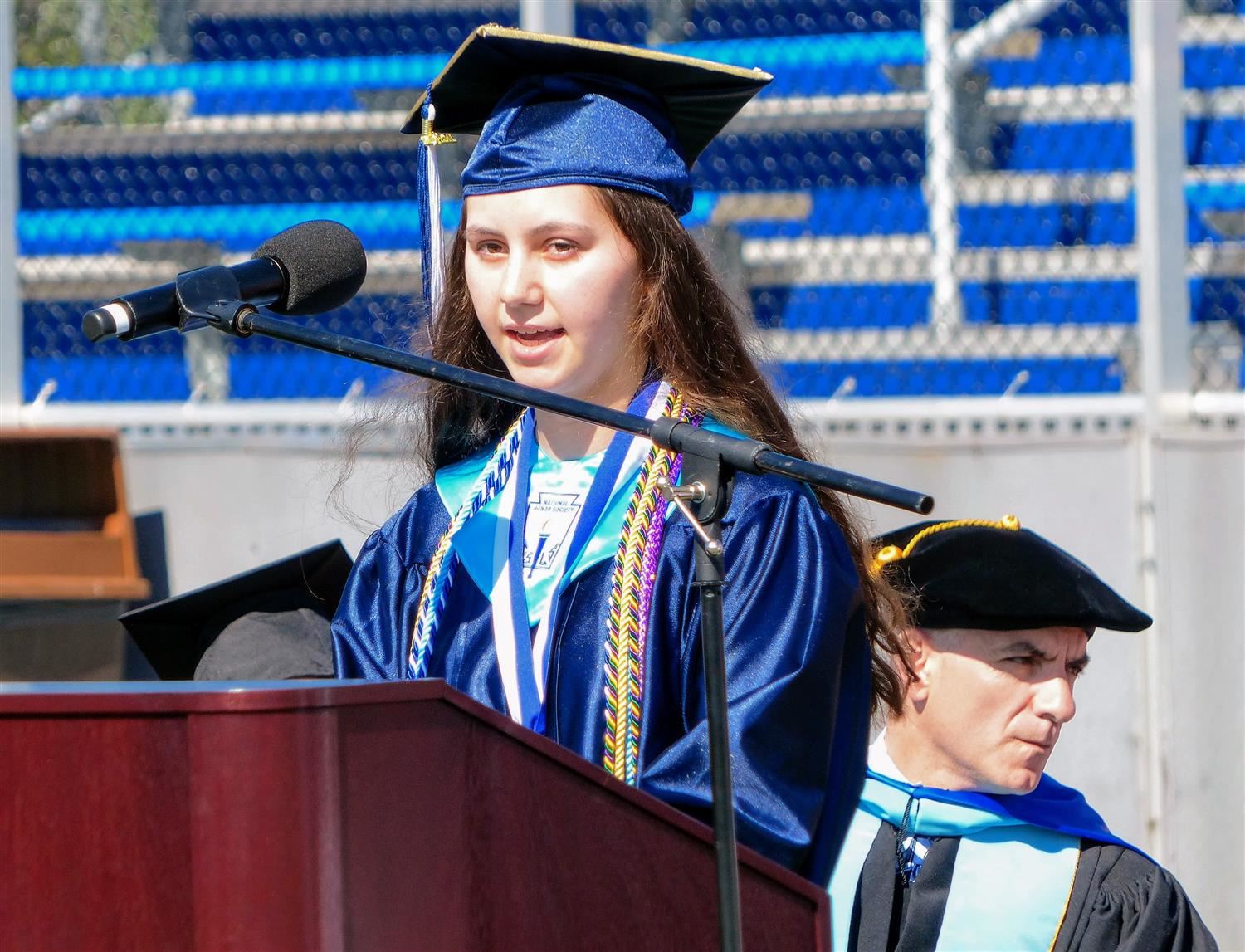 Valedictorian Celia Murphy-Braunstein.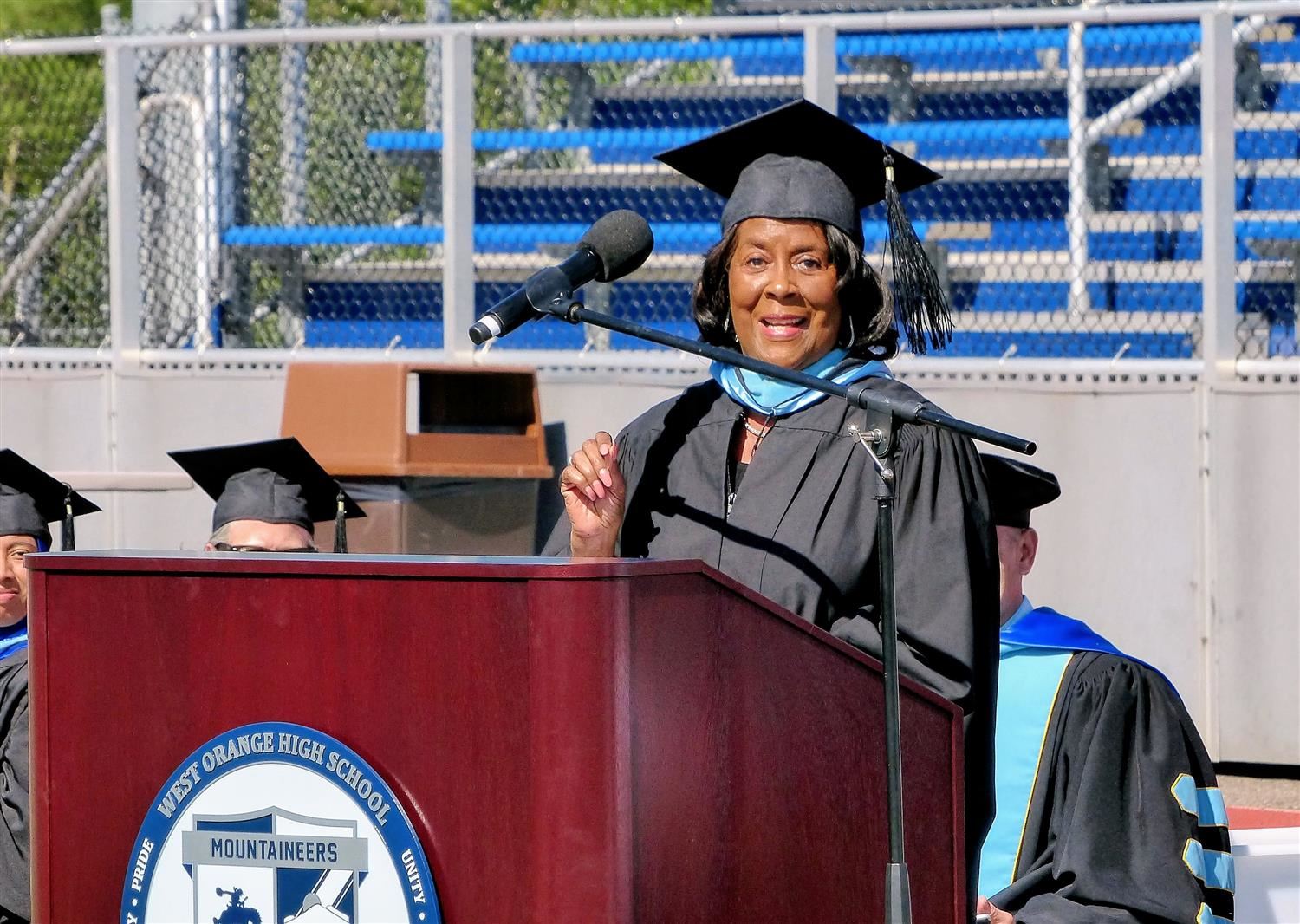 BOE President Terry Trigg-Scales.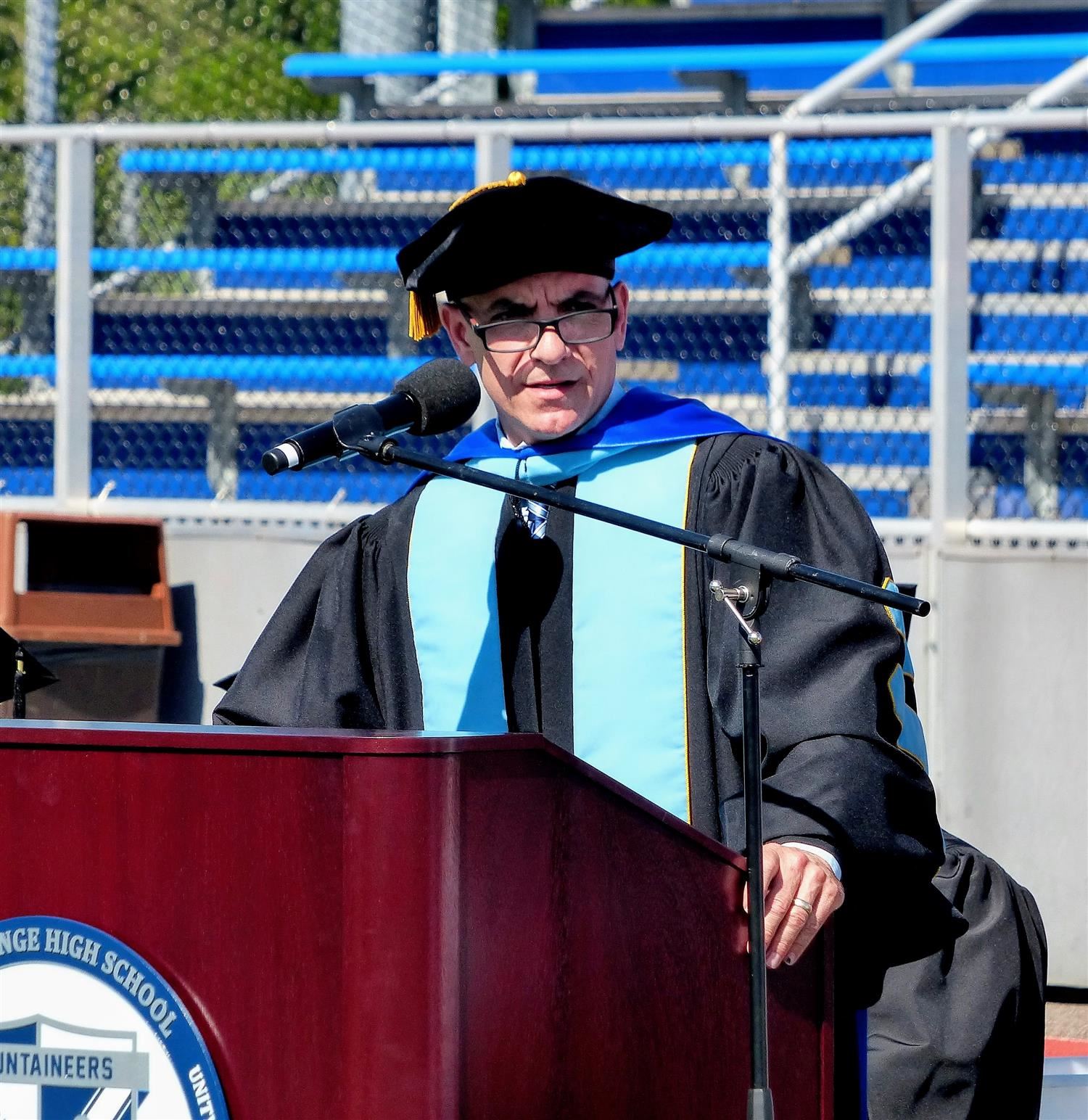 Superintedent Dr. Scott Cascone.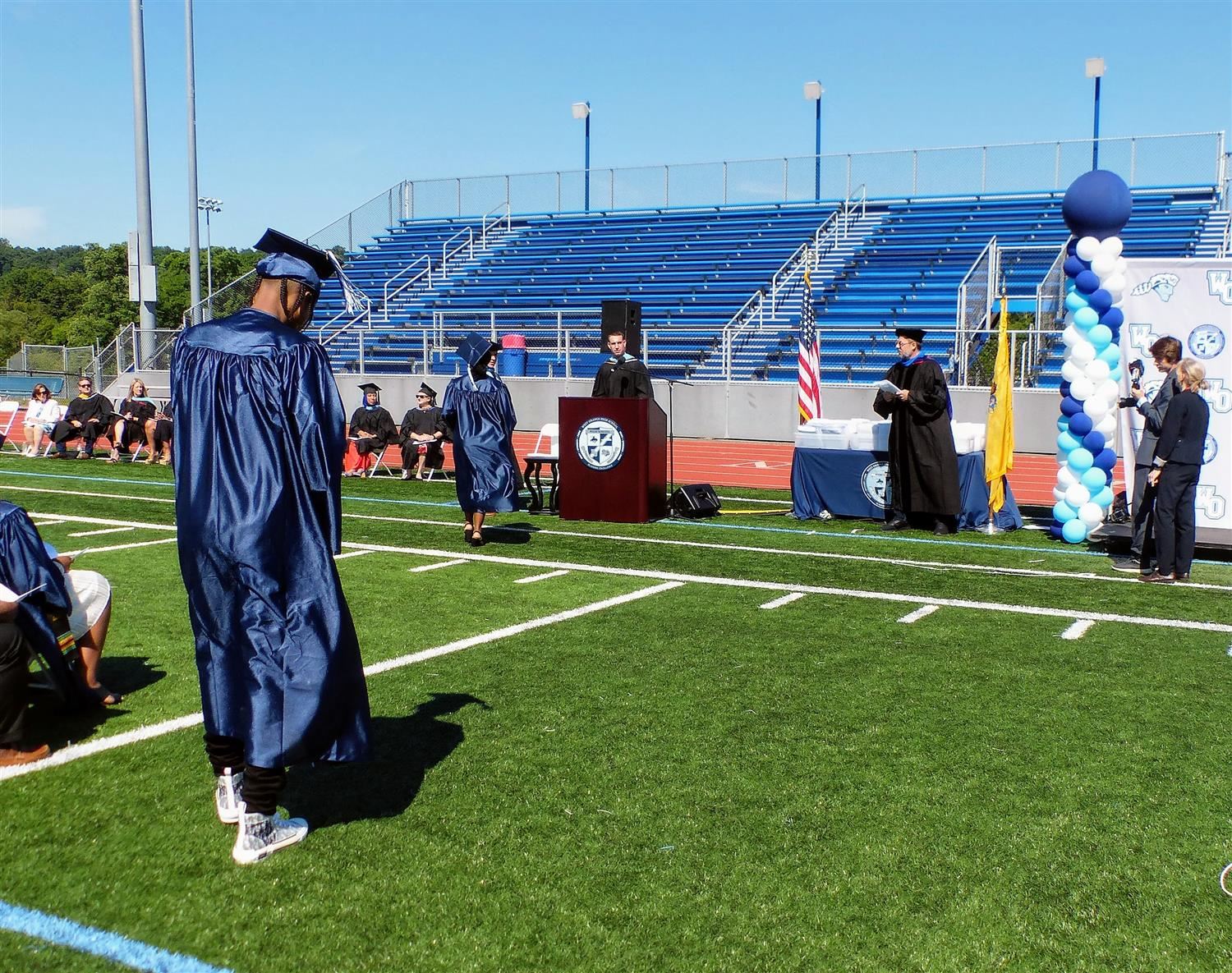 Diplomas are distributed.
Cynthia Cumming
June 25, 2021