Return to Headlines
West Orange High School Senior Receives Scholastic Silver Key for Writing
WEST ORANGE, NJ – West Orange High School senior Tyra Hughes has been awarded a prestigious Scholastic Silver Key in Writing in the annual 2021 Scholastic Awards competition.
According to their website, "The Scholastic Awards look for work demonstrating originality, technical skill, and the emergence of a personal voice or vision. Regional recognition includes Gold Key awards, Silver Key awards, and Honorable Mentions. Gold Keys are automatically forwarded for consideration at the national level of the Scholastic Art & Writing Awards."
Over 100 arts and literary organizations partner with Scholastic annually to select top works of art and literature from students spanning grades 7-12 in 29 categories. Panelists look for works that best exemplify originality, technical skill, and the emergence of a personal voice or vision. Last year, Scholastic received over 3,600 entries for review.
"I submitted a six-piece writing portfolio entitled, 'Her Expressive Mind,' which showcases my versatility as a writer," began Hughes.
"My six pieces consisted of critical essays, vignettes, flash fiction, personal essays and short stories which express my unique coming-of-age experience as a young Black teenager. I delved into topics surrounding sexuality, being the child of immigrants, growing up in a technology-driven society, and the ins and outs of high school to hopefully give a fresh perspective in the literary scene. A lot of the pieces included in my portfolio hit really close to home, and were all heavily based on things I've observed and took note of during my high school years," she explained.
"It feels really fulfilling to receive an award for my writing because I worked really hard on all of the pieces in my portfolio," Hughes went on to say.
"A lot of the pieces I wrote were personal to me, so getting an award for it feels like my experiences really resonated with the Scholastic Art and Writing Contest. During the creative process of making this portfolio, there were definitely times when I didn't think I'd ever complete it. I'm forever grateful that I had the guidance of my newspaper teacher, Ms. Dahl and my School of New York Times Summer Academy teachers/ NYT journalists, Mallika Rao and Liz Robbins, during my writing process. Knowing that my writing is being recognized on a platform that has praised creative icons like Andy Warhol and even this year's presidential inaugural poet, Amanda Gorman, is a great feeling. I can definitely say that all of the long nights of writing and rewriting were worth it," she added.
Since 2018, Hughes has been the Co-Editor-in-Chief of the WOHS newspaper, The Pioneer. Tyra is also the Student Council secretary, a member of the Escriptus National English Honors Society and part of the Rho Kappa National Social Studies Society.
Hughes has received several acceptances, including Temple University or The Eugene Lang College of Liberal Arts At The New School. She plans to major in Media Studies and Productions or Culture and Media depending on what school she attends. She has also been accepted into the New School's Bachelors-Masters program. She plans to minor in Creative Writing.
"I definitely have a big decision to make before May 1," Hughes stated.
In addition to being a writer, Hughes is also passionate about filmmaking.
"I have a YouTube channel called Her Expressive Mind (the same name as my portfolio) which houses all of my short films, documentaries and commentary videos. I mainly use it as an outlet to give representation in the media for girls like myself and invite people to view the world through my self-expressive thoughts," Hughes concluded.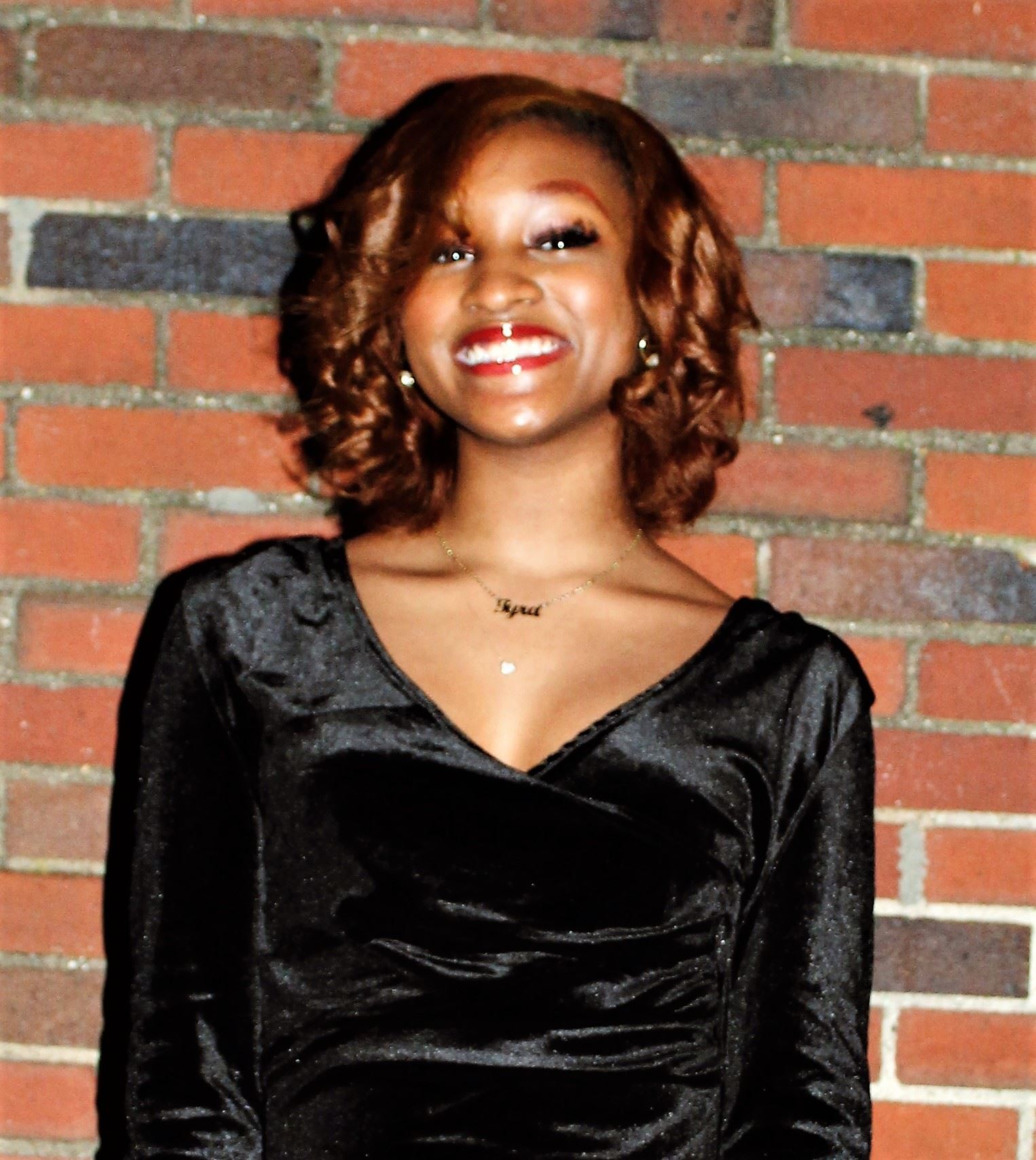 Tyra Hughes
Cynthia Cumming
Feb. 16, 2021