Return to Headlines
West Orange High School Alumnus Justice Rooney Promoted to Second Lieutenant Field Artillery Officer in United States Army
WEST ORANGE, NJ – West Orange High School Class of 2016 graduate Justice Rooney has completed the United States Army Basic Officer Leader Course and has been named a Second Lieutenant Field Artillery Officer.
Rooney was a four-year cadet in the Air Force JROTC program while at the high school.
"I was inspired to become a military officer by my instructor Maj. Joseph Marchesini (Ret.)," he began.
"I applied to West Point but was denied," he continued, "and they told me to enlist and try again later but I didn't want to enlist – I wanted to be an officer."
"Immediately I contacted Seton Hall University to enroll in their Army ROTC program and received my commission four years later as an active duty Field Artillery Officer," he explained.
The Reserve Officer Training Corps (ROTC) is a college program offered at more than 1,700 colleges and universities across the United States that prepares young adults to become officers in the U.S. Military.
In exchange for a paid college education and a guaranteed post-college career, participants, or cadets, commit to serve in the Military after graduation. Each Service branch has its own take on ROTC.
Several of Rooney's fellow WOHS Jr. AFROTC cadets have chosen to become officers in the military through the ROTC pathway or military school.
"Some of my friends from West Orange who are following similar paths are Jasmyn Lettman (Army), Valerie Giovine (USAF), Gina Arrabito (USAF), Andrei Rosu (Army) and Marshall Lipsey (Army). I also can't forget to add my dear friend Chris Morgan, whose energy I feel the most when things get tough and stressful," he added.
Morgan was killed in a training accident at West Point on June 6, 2019.
With his graduation from BOLC on Feb. 3, 2d Lt. Rooney is now certified to execute his job which is to destroy, neutralize, or suppress the enemy by cannon, rocket or missile fire and to help integrate all fire support assets into combined arms operation. To be a successful Field Artillery Officer, an individual must become an expert in the tactics, techniques and procedures for the employment of fire support systems.
2d Lt. Rooney shared the next steps in his journey.
"On Feb. 7 I leave the states to my first duty station in the Republic of Korea and I'm very excited. I'm not sure exactly what kind of position I'll hold once I get to South Korea; however, I hope I get the chance to travel despite COVID-19 because I am very interested in photography and filmmaking. I want to be able to document my travels through this skillset," he stated.
When asked why he decided to join the Army, Rooney concluded, "I joined the Army because I wanted to be part of something bigger than myself, to be part of a team, and ever since I've joined I have made tons of friends who make it hard to say goodbye when an assignment is over."
Check out Lt. Rooney's video, filmed during BLOC training.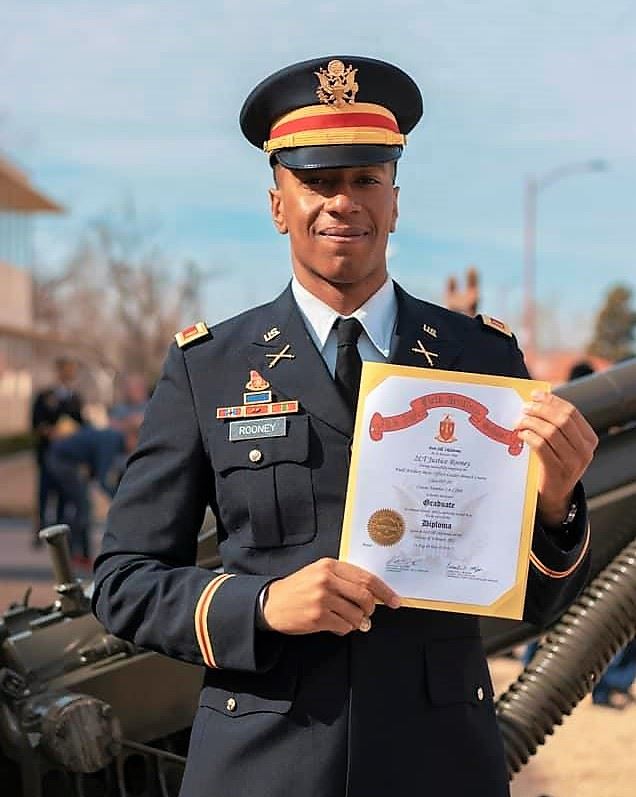 2d Lt. Justice Rooney.
Cynthia Cumming
Feb. 4, 2021