Return to Headlines
Mountaineers Fall to Marauders, 62-21 in Season Opener
WEST ORANGE, NJ - The West Orange High School season opener against St. Peter's Prep did not play out as hoped, as the Marauders toppled the Mountaineers 62-21 in Suriano Stadium.
Prior to the start of the game, beloved Coach Joe Suriano was honored and his family recognized by Athletic Director Ron Bligh, WOHS Principal Hayden Moore, Superintendent Dr. Scott Cascone, and board members Ken Alper, Terry Triggs-Scales, and Cheryl Merklinger. Suriano passed away in April from Covid-19.
St. Peter's Prep scored two touchdowns in the first quarter. West Orange snapped back back in the second with two TD's, shifting the momentum of the game. But as fast as they got it, St. Peter's grabbed the ball and scored two more touchdowns, one with one minute to go until the half.
The Mountaineers fared no better in the second half, scoring one more touchdown to the Marauders' four. The 62-21 final was a frustrating end to a game against the top rated team in the state.
With limited attendance allowed in the stands, social distancing was practiced throughout the night. Masks were worn by all in attendance.
The Mountaineers take on Bloomfield in an away game on Oct. 9 beginning at 7:00 pm.
See all the photos from the game here.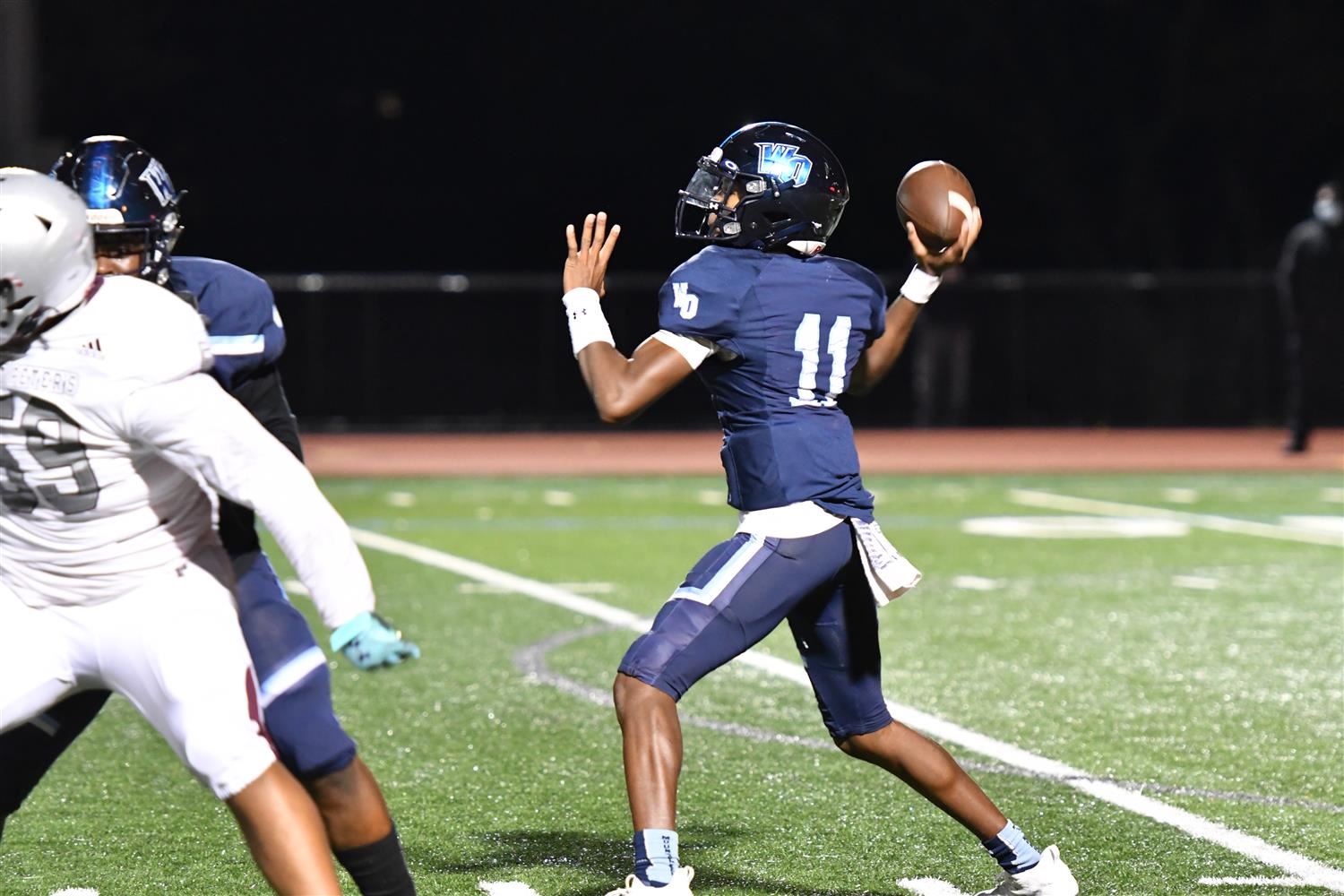 Mason Murdock passes the ball.
Game Stats (Credits NJ.com)
St. Peter's Prep: Sanchez, Jaylan 15 pass from Bullock, Tahjamell (Duarte, Nico kick)
St. Peter's Prep: Ledgister, Fitzroy 15 pass from Bullock, Tahjamell (Duarte, Nico kick)
St. Peter's Prep: Rodriguez, Ethan 2 run (Duarte, Nico kick)
West Orange: Lawson, Josiah 1 run (Brutus, Jef kick)
West Orange: Hanks, Amiyn 8 pass from Murdock, Mason (Brutus, Jef kick)
St. Peter's Prep: 8 pass from Bullock, Tahjamell (Duarte, Nico kick)
St. Peter's Prep: Adams, Ryan 48 interception return (Duarte, Nico kick)
St. Peter's Prep: Lefkowitz, Paul 18 run (Duarte, Nico kick)
West Orange: Hanks, Amiyn 18 pass (Brutus, Jef kick)
St. Peter's Prep: Sanchez, Jaylan 23 pass from Bullock, Tahjamell (Duarte, Nico kick)
St. Peter's Prep: Sullivan, Shazir 7 pass from Bullock, Tahjamell (kick blocked)
St. Peter's Prep: Bullock, Tahjamell 19 run (Duarte, Nico kick)
Cynthia Cumming
Oct. 3, 2020