Return to Headlines
West Orange Resident Tyrone Corbett Shares Musical Talent with Industry, Community
WEST ORANGE, NJ – Tyrone Corbett is well-known in music circles and at West Orange High School as former Digital Music Club advisor, but most of the community may not know what a superstar they have in their midst.
Corbett's musical career spans more than 30 years and includes experiences as a singer, songwriter, producer, engineer, Record Executive and Music Publisher. He has traveled nationally and internationally as a back-up singer for legendary Jazz and R&B artists and sung on a Grammy-winning folk album.
"I'm originally from Richmond, Virginia," began Corbett. "I attended college at Virginia Union University where I earned a Bachelor's degree in Commercial Music. A few years later, my wife and I decided to move to either New York or Los Angeles to continue pursuing my career as a professional singer. In the end, we chose New York because most of our family is on the East coast. As it became closer to the time of moving, my wife and I decided settle in West Orange, as it was only 20 miles outside of the city and would be an easy commute."
As they settled into their new town, Corbett's career continued to grow.
"My career was going well and I started making a name for myself as a session singer. One of my early sessions landed me in the home of legendary actors, Ossie Davis and Ruby Dee. I also had the great fortune of working with Weather Report bassist Victor Bailey on an Atlantic Records development deal," he continued.
With the birth of their first son, Kevin, the Corbett's life changed forever.
"I was in the midst of working on my record when my wife and I had our first son, Kevin. Unfortunately, Kevin was born with a catastrophic brain illness which changed not only the trajectory of my career, but my life as well as I left music due to his illness," Corbett explained.
Kevin was hospitalized nearly the entire first year of his life and when he came home he required 24-hour nursing for a couple of more years.
Kevin's illness became a life-changing catalyst in Corbett's life.
"Prior to Kevin being born, I was only working in the R&B/Smooth Jazz genres. Once Kevin came home, I started to develop my writing skills in other genres of music. I had also built a recording studio in my home, which allowed me to develop my production skills," he added.
As former club advisor for the Digital Design club at WOHS, Corbett worked with students to introduce them to the basics of recording, mixing, and songwriting. But few know how many superstars he has worked with in the industry.
"I've worked with artists signed to Wyclef Jean, Kay Gee from Naughty by Nature, and artists from MTV's "Making the Band series." I've also worked with artists from "American Idol", "The Voice" and Diddy and DJ Kahled's television show, "The Four." My work has received attention from legendary songwriter, Carole Bayer Sager, David Foster, and Babyface," Corbett went on to say.
Pitching his original songs to artists has become an expanding arena for Corbett.
"I've written and shopped songs to a number of indie, as well as major artists," he revealed.
"My catalog consists of Pop, R&B, Country, Gospel and Smooth Jazz and I have had songs pitched to artists like Kelly Clarkson, Pink, Celine Dion, Stevie Wonder, Chris Brown, and most recently, Lady Gaga. I blind-sent the song to an industry executive who fell in love with it and forwarded it to Gaga. It is an amazing feeling when your song cuts through circles that large, but in truth, it is still a very difficult business to be heard and a song being recorded is no guarantee that it will make the final record or film, but my fingers remain crossed," he noted.
Corbett and his family still reside in West Orange. They continue to deal with Kevin's medical issues but are otherwise well and looking forward to what the future holds.
"
Working in the entertainment industry has always been my passion. I've been quite fortunate to still be involved after so many years and so very many evolutionary changes. One of the greater benefits of being a songwriter/producer is that I can continue to grow and spread my wings in terms of story telling. It is important though to keep a finger, or two on the pulse of the people to remain current sounding and not become stalled in one style of music, or genre," he concluded.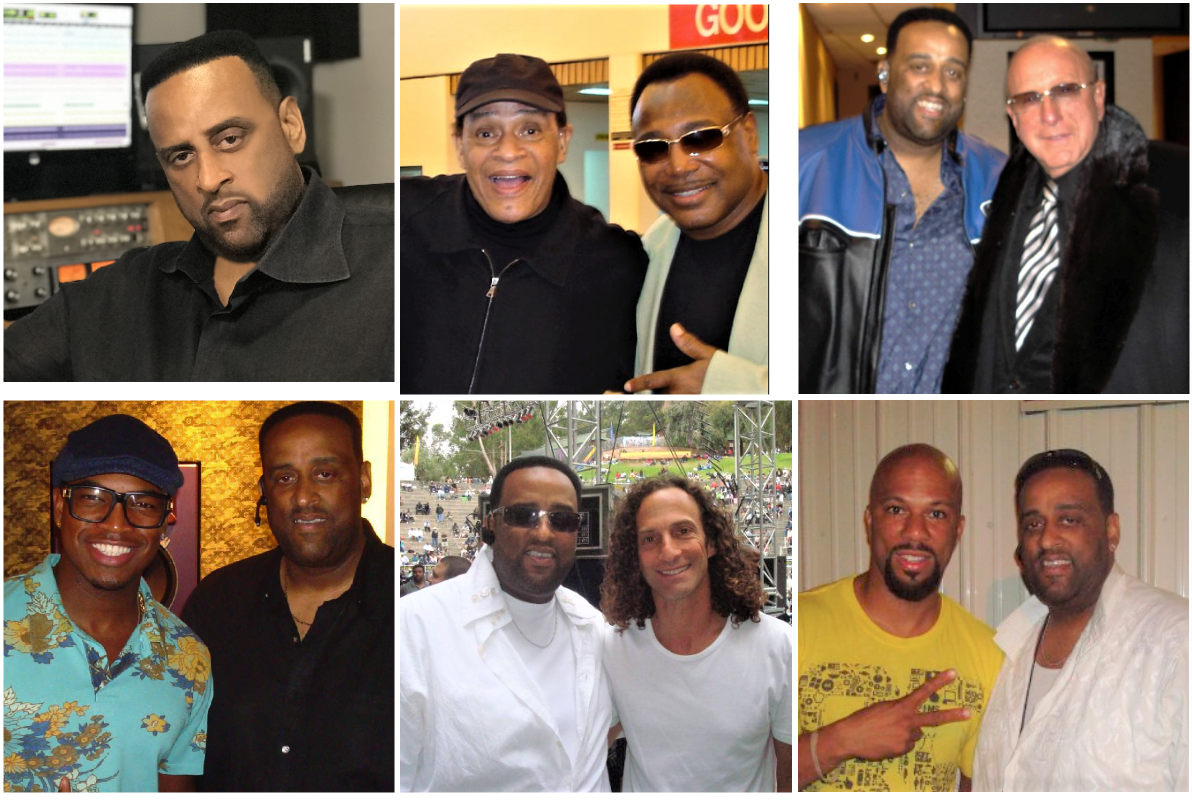 (Top, L-R) Tyrone Corbett, Al Jarreau, George Benson, Clive Davis
(Bottom, L-R) Neyo, Kenny G, Common
Cynthia Cumming
Sept. 25, 2020