Return to Headlines
West Orange High School Boys Soccer in Gear for Modified Season
WEST ORANGE, NJ – As phase three of the NJSIAA summer practice nears an end, the West Orange High School Boys Soccer team is geared up and excited to play.
The third phase of the NJSIAA Covid plan allows the players to begin interacting with the other pods on the team. Previous phases only allowed interaction between members of each pod group. Forms, temperature-taking, masks and social distancing with cones when not on the field, and all other protocols are enforced. The team, along with football, cheerleading, cross-country, and Girls soccer, will be off from Sept. 1-13, and the official pre-season will commence on Sept. 14. No team captains or final rosters have been decided yet.
Head Coach Doug Nevins is excited for the season on many levels.
"July was tough with the Covid protocols, but during the month of August we have been pretty close to normal," said Nevins. Several of the boys were able to play club soccer during the summer as well. To date, no team member has tested positive for Coronavirus.
"Last year we had a relatively young team and a lot of injuries," he continued. "This year's team is comprised of mostly juniors and seniors and the outlook is good."
Should the season move forward as scheduled, Nevins expects the team will be playing a minimum of 12 games, and possibly up to 16. There will be no county tournaments. There will be state tournaments, but they will proceed differently to limit interaction and exposure.
Nevins discussed the impact of having Boys Soccer at all.
"Just exercising, practicing, and seeing each other has been really good physically and mentally for the boys. People are dealing differently with the pandemic and this has been a really good thing for them."
Although the final roster has not been determined, Nevins named several "Players to Watch" for the season:
Players to watch:
Senior Center Midfielder Julien Carraha
Senior Outside Back Justin Reid
Senior Midfielder Louie Mignone
Senior Midfielder Darren Lewis
Senior Center Back Bryce Hannah
Senior Goalkkeeper Nikolai Matthews
Senior Goalkkeeper Royson Folas
Senior Defender Connor Hinfie
Senior Forward Dario Carraha
Senior Midfielder Wilson Bermeo
Senior Forward Nick Sotelo
Junior Defender/Center Back Ari Rosu
Junior Forward Tyrese Folkes
Junior Outside Back Francisco Soca
Junior Midfielder Santiago Orrico
Junior Defender Jeremy Green
Junior Midfielder James Palaguachi
Sophomore Forward Mason Bashkoff
Sophomore Defender Richard Capochichi
Keep up with the Boys Soccer schedule here.
See more photos here.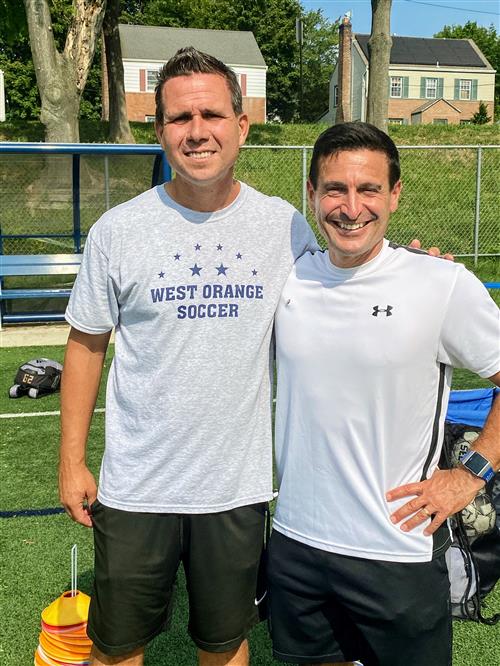 Head Coach Doug Nevins and Assistant Coach Greg Marchesini.
Cynthia Cumming
Aug. 26, 2020