Return to Headlines
Roosevelt Middle School Graduates 254 in Virtual Ceremony
WEST ORANGE, NJ - 254 Eighth grade students at Roosevelt Middle School officially became rising freshman during a virtual graduation ceremony on June 18.
Band teacher Roger Bryson performed the National Anthem on saxaphone and Principal Lionel Hush offered his thoughts to the graduates.
"Hello Roosevelt family and friends. As we patiently and eagerly wait to return to our sense of normal we find ourselves trying to find or create ways to continue to move forward with our lives and our traditions. It has been a challenge for most of us to function in our current status as we have been relegated to our living rooms, dining room tables, basements, and garages to conduct business and to learn.
Just the same it has been quite the task for educators to bring many aspects of the school day and year into the homes. In that spirit we bring you this virtual ceremony to celebrate the promotion of the 8th grade class of 2020. Middle school is challenging for so many children and families for a variety of reasons. Social/emotional changes, growth spurts, hormones and attitudes to name a few. But for this class of students Middle school has been an even greater challenge than the norm. As 7th graders many of these children spent the night or a majority of the night in school due to a snowstorm that paralyzed our area. As 8th graders they've endured a Pandemic forcing us into isolation halfway through the school year, and now as they look to move onto High School, they are either a part of or are bearing witness to a global movement to affect change and end systemic racism.
Middle school has offered far more excitement for these students than one would imagine. And through it all this class has been nothing short of resilient. Taking every moment in stride and moving on to the next. There are some outstanding young people in this class. Individuals that truly care….care for others, care for the environment, and care for their futures. Though everyone's story is different the caring nature of so many of our children has remained a constant. As adults we should all be proud. Not just proud of the beautiful child or children you have brought this far, but proud of the fact that the world changes for the better with good people raising their children right, and so many of these kids exemplify just that. It is commonly said that when people face challenges early in life it better prepares them for the challenges they will face later in life. This class has seen their share of challenges, trials, and tribulations, however they have come through it all stronger and even more prepared for what life has to offer.
As Dr. Martin Luther King Jr. stated, "The ultimate measure of a man is not where he stands in moments of comfort and convenience, but where he stands at times of challenge and controversy."
Class of 2020 continue to show your grit as you stand stoic through the struggle and as you begin the next chapter of your lives. Do not be afraid to let the world see your goodness. for it is a beautiful thing."
MAYOR'S CITIZEN PRIDE AWARD - Awards students that exemplify good citizenship in both the Roosevelt community and the surrounding community. (This award is presented by Mayor Parisi to students who are great citizens of our community.)
Svanfridur Mura
Olivia Raymond
JACK RAMSAY MEMORIAL AWARD FOR ART - Jack Ramsey was a passionate artist with a recognizably unique style that worked to reach the artistic talents of our youth. (This award is given to students who have the same enthusiasm and love for Art as Mr. Ramsay did.)
Danielle Aghahowa
Zoe Perlman
BETTY LOU HARDY MEMORIAL AWARD FOR CREATIVE WRITING - Betty Lou Hardy was a spirited English teacher that took tremendous pride in developing writers in our community. (This award is presented to students who love creative writing, especially poetry in the spirit of Miss Hardy.)
Joy Edmead
Justice Beeman Volscho
CAROL SADLER MEMORIAL KINDNESS OF HEART AWARD - Carol Sadler was a caring Guidance Counselor that gave a great deal of herself for the children at Roosevelt. We continue to honor her spirit by recognizing students who have a caring and kind soul as Carol Sadler did.
Morgan Miller
Marjorie Rojas
STUDENT TO WATCH AWARD
This award was created when Roosevelt was awarded a School to Watch for our academic offerings and rigor, extracurricular programs, and our overall success as a middle school. (This award is presented to students who are well rounded and have high aspirations for their future.)
Alicia Germain
Daniel Fajardo
ROOSEVELT MIDDLE SCHOOL AWARD OF EXCELLENCE - (This award is given to students who have achieved excellence academically, and socially during their years at Roosevelt Middle School. Students that exemplify the true character of Roosevelt School in every way.)
Nora McNamara
Sophia Rowan
The video ended as West Orange High School Principal Hayden Moore welcomed future Mountaineers to the high school.
RMS teachers gathered on June 23, 24, and 25 to greet the graduates, cheer them on, and present them with their diplomas, yearbooks, a graduation slideshow DVD, and other gifts to commemorate the occasion.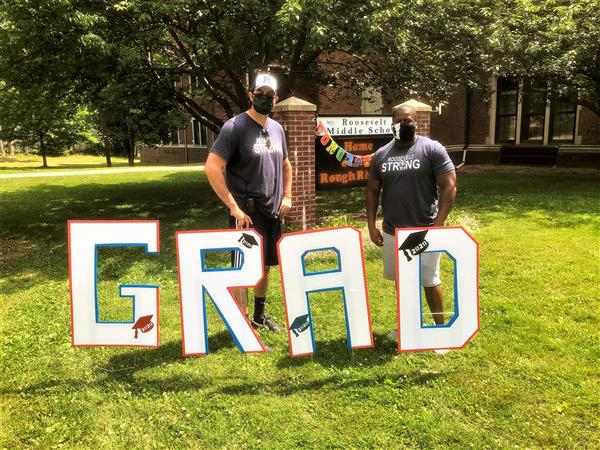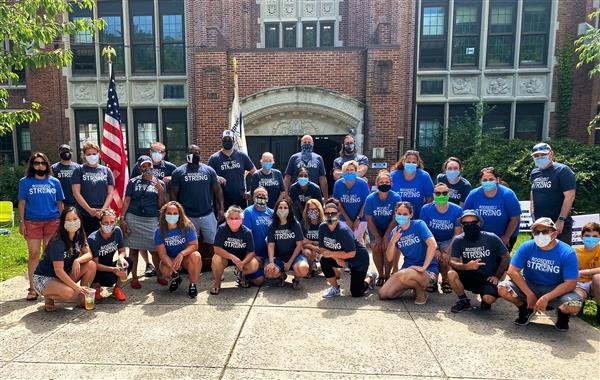 (We're sorry, the video is no longer available due to parent permissions.)
Cynthia Cumming
June 27, 2020