Return to Headlines
West Orange High School Makes History, Graduates 457 in First-Ever Virtual Graduation
WEST ORANGE, NJ - The West Orange High School Class of 2020 made history with the school's first-ever Virtual Graduation Ceremony, held on June 23.
In a year that saw a virus shut down the world and a rallying cry to end systemic racism in America took hold, it was truly "the best of times, it was the worst of times, it was the age of wisdom, it was the eage of foolishness, it was the epoch of belief, it was the epoch of incredulity, it was the season of light, it was the season of darkness, it was the spring of hope, it was the winter of despair." (Charles Dickens, "A Tale of Two Cities.)
From March through June, learning went online in West Orange and around the country, challenging districts, teachers, parents, and students. At West Orange High School, the Class of 2020 remained undaunted and 457 students completed the requirements to certify them as graduates.
The virtual ceremony began with an impassioned version of the "Star Spangled Banner" by graduating senior Israel Soto. Comments by West Orange High School Principal Hayden Moore followed. Salutatorian Brett Zeligson and Valedictorian Anika Fernandes addressed their fellow graduates. Both students were actively involved in the West Orange community and the high school. Anika will attend the Honors Program at Northeastern University and Major in Biology; Zeligson will attend Princeton University and major in Civil Engineering.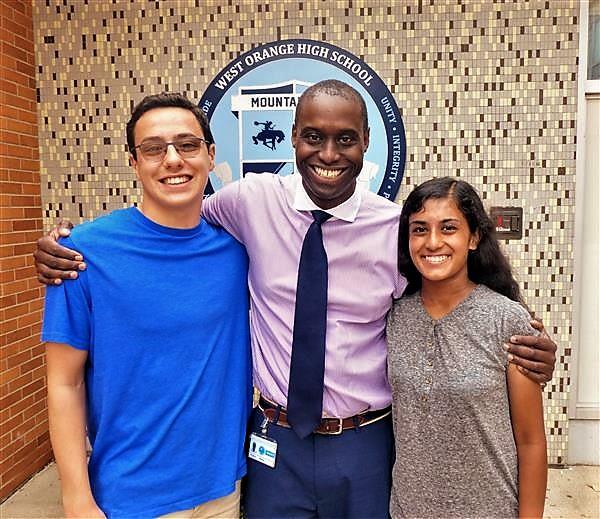 Brett Zeligson, WOHS Principal Hayden Moore, and Anika Fernandes.
During their four years, "the Class of 2020 held many distinctions academically and athletically: the Girls Soccer Team championship, the Step teams, it never ceases to amaze me what we accomplished," noted Zeligson, "and tragedy will not define us."
"Don't forget where you came from," he continued.
"My best memory was my last one," he concluded, "and that is how the whole West Orange community showed how much they cared."
Fernandes said, "Graduation is a time for transition and recognizing those who have helped us along the way," and concluded her comments to the unique class by reminding them to "stay hopeful and positive."
Board of Education President Ken Alper said:
"Class of 2020, even if you don't realize it:
You set the tone.
You were born into a world where so much seemed to have stopped making sense, where rage and hatred had taken sway, and without even trying, just by being born to us – you reminded us how important it is to love one another.
You set the tone.
As enrollment climbed and budgets were cut in your elementary years, as parents worried about class sizes and trailers – you showed us all how hardworking students and dedicated teachers could face any challenge head on and win.
You set the tone.
This whole spring, as we adults freaked out – about how we were going to make remote learning work, about what would happen to sports, to prom, to graduation –you showed us in so many ways that it was going to be OK and that, together, we'd make it through this challenging time.
You set the tone.
In the classroom and on the fields, as volunteers and as mentors, as leaders in this school and in our community:
You set the tone.
When you stand up against racism and injustice, when you show the way forward on the issues your generation has embraced, when you fight for equality for all people and for the many changes you know this world needs to see:
You set the tone.
I cannot wait to know the adults you will become, the future people you will be, because I see every day what you already do, and I know that you will rise, that you will not just face and meet every challenge you encounter, but that you will continue to make us proud, to take care of one another, to stand up for what's right, and to lead all of us through every trial, because you are West Orange – and you set the tone."
The top five per cent of the class were recognized and receive special medals for their accomplishments.
Gita Anand
Devin Andrade
Emily Baker
Karan Belday
Simone Byun
Sophia Valencia
Jackson Edwards
Damilare FemiAkanbi
Anika Fernandes
Alexander Kicior
Lindsay Levine
Stanley Lim
Cynthia Makachi
Chloe Mengden
Yedidia Mesfin
Imani Miller
Ogechi Nwombu
Superintendent Dr. Cascone offered comments to the class before declaring them official graduates of West Orange High School.
"First and foremost: take nothing for granted, live each day to the fullest. Love, laugh, and don't sweat the small stuff; rather, appreciate all you have, for no one knows when one's life can be changed completely overnight.
Second, friends, coworkers, acquaintances, and teammates are important parts of our lives and some may become lifelong friends that are as close as family. However, when the rubber meets the road, there is no one that is going to be there for you, care for you and love you like your immediate family. Treasure, and always cultivate and keep these relationships and people close to you. I've seen all too often in my life family members estranged, not speaking, not seeing one another. Strive always to honor and love your family.
Third, in a world often controlled by governments, large corporations and special interests, there is nothing more impactful on the day-to-day life of our communities and ourselves then the power of the lone, mindful, and accountable individual. You alone have the power to determine how you see yourself, how you see others and how you see the world. You alone have the free will to chart your course in life. Take time to block out the white noise of the modern technological era. Connect with your inner self, connect with the earth. The future fate of our civilization will rest on the ability for individuals to take responsibility for their own mindset and their own actions.
Fourth, in as much as prior to the school closures we might have bemoaned interacting with other people on some level and even shied away from interpersonal interaction. We have learned how much we need one another and depend upon interacting socially with our fellow human beings.
That is in the end the secret of life: be the best version of yourself, spread love, spread kindness, and serve others. Find the source, the mechanism which helps to achieve this through a daily effort. That is all we can ask of ourselves and that is all we can ask of others. If you individually commit to this mission you'll not only realize all of your dreams in full; but we will also do so collectively as a civilization.
You will always have a home here in West Orange Public Schools, and I hope to be here leading this amazing school and community for many years to come and look forward to welcoming you back with open arms. May this truth and offer be some comfort to you that although you may not have had the opportunity to say farewell to people within the school year of 2020, there will be many many more opportunities for you, not to say farewell but hello again in the future.
And now by the power invested in me by the Board of Education, I can confirm that the graduates present here today have fulfilled all the requirements as pursuant to state Department Education guidelines and Board of Education policy for graduation from the West Orange High school. I bid you and your families heartfelt congratulations and Godspeed."
To view a list of the WOHS 2020 graduating class, go here.
View the Virtual Graduation Ceremony (90 minutes) with downloadable clips:
Also, to see where the Class of 2020 is going after graduation:
Cynthia Cumming
June 25, 2020