Return to Headlines
West Orange School District and Township to Partner on Sustainable Jersey Grant Project
WEST ORANGE, NJ - West Orange Township received a $2,000 Sustainable Jersey grant to work with students from the West Orange School district to construct artificial floating islands at Vincent's Pond in Degnan Park. The announcement was made on May 14 by Sustainable Jersey Directors Samantha McGraw, Randy Solomon, and Kaitlyn Vollmer.
West Orange is a Sustainable Jersey township with Bronze Certification. 204 municipalities are currently certified in the State of New Jersey.
"The West Orange Public Schools are so excited and appreciative to have been a part of the receipt of this grant in partnership with Sustainable Jersey for Schools and the municipal government's Sustainable Jersey for the Township of West Orange. The Artificial Floating Islands project presents a myriad of innovative learning opportunities from Science, to Art, to Intergenerational programming. I can't wait to see this grant put into motion," stated West Orange Superintendent of Schools Dr. Scott Cascone.
Thirty-one New Jersey municipalities received grants ranging in size from $20,000 to $2,000. The grants were funded by the PSEG Foundation. Five $20,000 grants, six $10,000 grants, and twenty $2,000 grants were distributed to municipalities in fourteen New Jersey counties.
"Sustainable Jersey granted the Township a $2000 award for a project we presented to the West Orange High School Science Instructors for building an Artificial Floating Island (AFI) on Vincent's Pond," began Councilwoman Susan McCartney, also a member of the West Orange Environmental Commission.
"Using recyclable plastic bottles to make a floating island, the funds would be used for water quality test kits and to purchase plants to grow on the floating island. Working with Rutgers Agricultural Cooperative, the students would learn what pollutants are in the water and which plants would absorb the different particles," she noted.
"The Sustainable Jersey Grant for the Artificial Floating Islands will play an important role in West Orange. Plantlife will be permitted to grow their roots deep in Vincent's Pond with deep roots in township history. These floating islands will add beauty and help us fulfill our role as responsible stewards of the environment," concluded Mayor Robert Parisi.
View a similar AFI proposal here.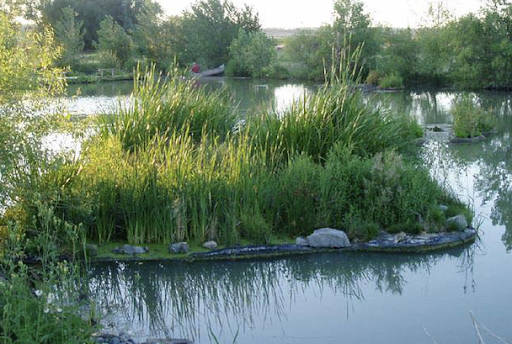 Example of an artificial floating island.
Cynthia Cumming
May 26, 2020