Return to Headlines
Tenth Annual Poetry Out Loud Competition Held at West Orange High School
WEST ORANGE, NJ - Junior Nooha Kawsar was crowned the winner of the Tenth Annual Poetry Out Loud competition, held Jan. 8 at West Orange High School. Junior Olivia Ridley was named runner-up by a margin of a tenth of a point.
All finalists had to memorize two poems: one of 25 lines or fewer, and one written by a pre-20th century poet. All selections must be sanctioned by the POL Competition. Each finalist competed in Rounds One and Two in a randomly selected order. The person with the highest score after two rounds (Kawsar) will represent West Orange High School at the Regional competition on February 12 at South Orange Performing Arts Center.
The Judging Criteria included:
• Accuracy of Memorization
• Physical Presence
• Voice and Articulation
• Dramatic Appropriateness
• Evidence of Understanding
• Overall Performance
The maximum score per judge is 33 points. Each contestant's scores will be added cumulatively. Errors in memorization could result in a maximum of a 7-point deduction. In order to score well, students must select difficult poetry and be flawless in their memorization and delivery of those poems.
The evening was emceed by senior and Escriptus member Matt Schwartz, while senior Stanley Lim performed musical stylings on trumpet as judges scored the contestants.
This year's judges were Lee Behlman, Mindy Harvat, Tynia Thomassie, Liz Veneziano, and Accuracy Judge Karen Perry. Molly Wachtel serves as advisor for Escriptus, the English Honor Society, who organized the event.
The finalists:
Maura Baker (9th)
Nia Caesar (9th)
Madison Gough (9th)
Nooha Kawsar (11th)
Kai McCall (11th)
Charlie Peterson (9th)
Olivia Ridley (11th)
Mariana Simpson (10th)
Round One
Kai McCall
"I, Too" by Langston Hughes
Charlie Peterson
"It Couldn't Be Done" by Edgar Albert Guest
Mariana Simpson
"I Find no Peace" by Sir Thomas Wyatt
Madison Gough
"When You Are Old" by William Butler Yeats
Nia Caesar
"American Smooth" by Rita Dove
Olivia Ridley
"The Glories of Our Blood and State" by James Shirley
Nooha Kawsar
"Life" by Edith Wharton
Maura Baker
"I am Trying to Break Your Heart" by Kevin Young
Round Two
Madison Gough
"Fate" by Carolyn Wells
Charlie Peterson
"I heard a Fly buzz – when I died" by Emily Dickinson
Nia Caesar
"Work without Hope" by Samuel Taylor Coleridge
Nooha Kawsar
"Lazy" by David Yezzi
Maura Baker
"I felt a Funeral, in my Brain" by Emily Dickinson
Kai McCall
"Invictus" by William Ernest Henley
Olivia Ridley
"The Consent" by Howard Nemerov
Mariana Simpson
"Key to the Dollar Store" by Al Young
See all the photos from Poetry Out Loud here.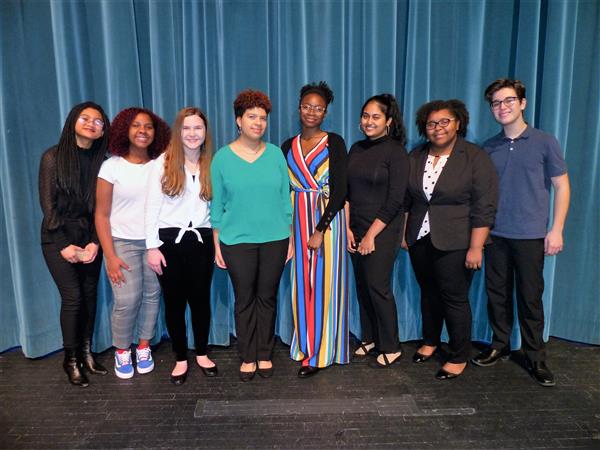 (Contestants L-R) Olivia Ridley (runner-up), Mariana Simpson, Madison Gough, Maura Baker, Nia Caesar, Nooha Kawsar (winner), Kai McCall, Charlie Peterson.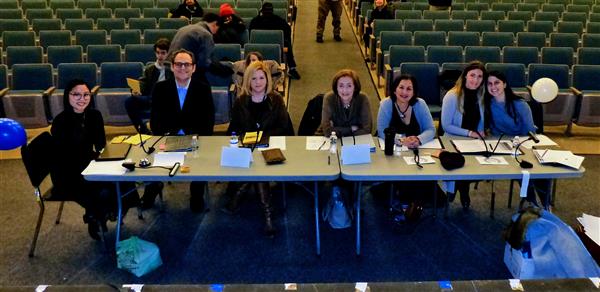 (Judges L-R) Advisor Ashley Roxas, Lee Behlman, Supervisor of ELA 6-12 Elizabeth Veneziano, Karen Perry, Tynia Thomassie, Mindy Harvat, Advisor Molly Wachtel.
Cynthia Cumming
Jan. 10, 2020