Return to Headlines
West Orange High School Girls Wrestling Impresses at Bloomfield Holiday Tournament
WEST ORANGE, NJ - Now in its second year, the West Orange High School Girls Wrestling team impressed on Dec. 26 with several wins at the Bloomfield Girls Holiday Tournament.
"The team had a great showing at the tournament," began Wrestling Coach Steve Zichella.
"The tournament had over 180 competing wrestlers," he continued.
Senior Sandy Guerrero earned four pins in her matches and took her second Bloomfield Tournament Championship in the 215-pound class. She is currently 7-0 for the season.
Senior Daniela Tacuri took second place in the 114-pound class, considered to the tournament's toughest weight class. She is currently 6-1 for the season.
Sophomore Esther Gratia took third place in the 180-pound class and has only one loss for the season.
In all, ten girls competed.
"It's a very big and prestigious tournament," concluded Zichella, "and our girls had a very strong showing."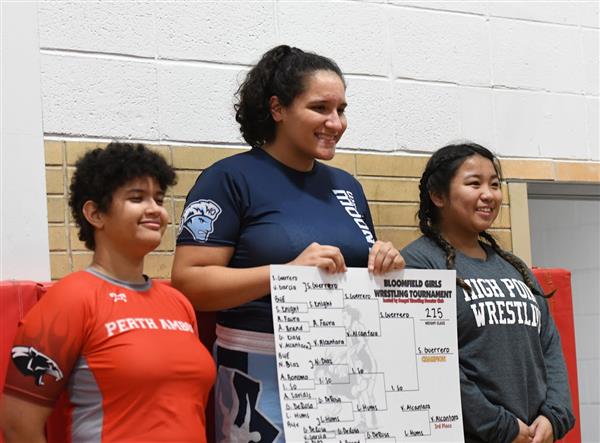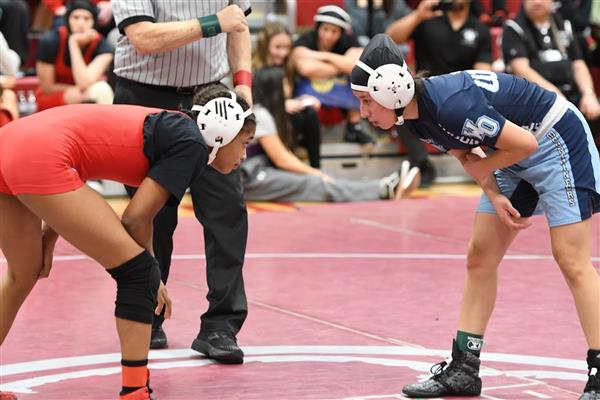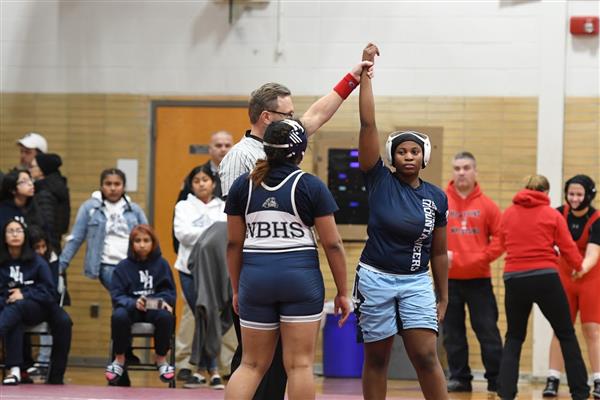 Esther Gratia.
Complete Results from the Bloomfield Girls Wrestling Tournament
100
1st Place - Aaliyah Payne-Parris of Newton
2nd Place - Darlyn Silverio of New Brunswick
3rd Place - Mariah Koster of Nutley
4th Place - Jasmine Yalowitz of Fort Lee
5th Place - Evelyn Andrade of Hunterdon Central
6th Place - Chelsea Mattina-Smith of Passaic County Tech-Votech
1st Place Match: Aaliyah Payne-Parris (Newton) won by fall over Darlyn Silverio (New Brunswick) (Fall 0:24)
3rd Place Match: Mariah Koster (Nutley) won by fall over Jasmine Yalowitz (Fort Lee) (Fall 1:10)
5th Place Match: Evelyn Andrade (Hunterdon Central) won by fall over Chelsea Mattina-Smith (Passaic County Tech-Votech) (Fall 1:56)
107
1st Place - Izabella Frezzo of Becton Regional
2nd Place - Ahsia Torres of Perth Amboy
3rd Place - Colleen Archer of Newark East Side
4th Place - Emily Reyes of New Brunswick
5th Place - Lauren Masters of North Hunterdon
6th Place - Danielle McGann of Hunterdon Central
1st Place Match: Izabella Frezzo (Becton Regional) won by fall over Ahsia Torres (Perth Amboy) (Fall 1:46)
3rd Place Match: Colleen Archer (Newark East Side) won by fall over Emily Reyes (New Brunswick) (Fall 5:37)
5th Place Match: Lauren Masters (North Hunterdon) won by fall over Danielle McGann (Hunterdon Central) (Fall 2:40)
114
1st Place - Kira Pipkins of Bloomfield
2nd Place - Daniela Tacuri of West Orange
3rd Place - Randi Miley of High Point
4th Place - Soraya Safforld of Belleville
5th Place - Anastasia Regalado of Lakeland Regional
6th Place - Chloe Wong of Raritan
1st Place Match: Kira Pipkins (Bloomfield) won by fall over Daniela Tacuri (West Orange) (Fall 3:29)
3rd Place Match: Randi Miley (High Point) won by fall over Soraya Safforld (Belleville) (Fall 1:31)
5th Place Match: Anastasia Regalado (Lakeland Regional) won by fall over Chloe Wong (Raritan) (Fall 1:31)
1st Place - Katy Ayala of New Brunswick
2nd Place - Jazleen Guzman of Raritan
3rd Place - Somaia Elokda of Bayonne
4th Place - Emmalyne Dugan of Bayonne
5th Place - Kaya Augustyniak of Elmwood Park
6th Place - Leslie Lopez of New Brunswick
1st Place Match: Katy Ayala (New Brunswick) won by fall over Jazleen Guzman (Raritan) (Fall 0:31)
3rd Place Match: Somaia Elokda (Bayonne) won by fall over Emmalyne Dugan (Bayonne) (Fall 1:53)
5th Place Match: Kaya Augustyniak (Elmwood Park) won by fall over Leslie Lopez (New Brunswick) (Fall 0:15)
128
1st Place - Stephanie Andrade of Hunterdon Central
2nd Place - Abigail Wittig of Newton
3rd Place - Angelina Romero of Notre Dame
4th Place - Claire Daity of Bloomfield
5th Place - Noran Elmahroukey of New Providence
6th Place - Kyara Montoya of Morris Hills
1st Place Match: Stephanie Andrade (Hunterdon Central) won by fall over Abigail Wittig (Newton) (Fall 1:23)
3rd Place Match: Angelina Romero (Notre Dame) won by decision over Claire Daity (Bloomfield) (Dec 7-3)
5th Place Match: Noran Elmahroukey (New Providence) won by injury default over Kyara Montoya (Morris Hills) (Inj. 0:00)
135
1st Place - Brooke Tulloch of Saddle Brook
2nd Place - Natalie Vega of Elmwood Park
3rd Place - Taylor Peterson of Garfield
4th Place - Lola Wong of Rahway
5th Place - Reann Teague of High Point
6th Place - Sylvia Faragalla of Hunterdon Central
1st Place Match: Brooke Tulloch (Saddle Brook) won by fall over Natalie Vega (Elmwood Park) (Fall 1:46)
3rd Place Match: Taylor Peterson (Garfield) won by fall over Lola Wong (Rahway) (Fall 2:08)
5th Place Match: Reann Teague (High Point) won by fall over Sylvia Faragalla (Hunterdon Central) (Fall 1:41)
143
1st Place - Jordyn Brannick of Newton
2nd Place - Emma Matthews of Hunterdon Central
3rd Place - Denise Rivera of Rahway
4th Place - Elisabeth Ahrendt of High Point
5th Place - Kristen Cortez of Garfield
6th Place - Gianna Puzycki of Bayonne
1st Place Match: Jordyn Brannick (Newton) won by major decision over Emma Matthews (Hunterdon Central) (Maj 14-2)
3rd Place Match: Denise Rivera (Rahway) won by fall over Elisabeth Ahrendt (High Point) (Fall 0:21)
5th Place Match: Kristen Cortez (Garfield) won by fall over Gianna Puzycki (Bayonne) (Fall 0:30)
151
1st Place - Sophia Lombardo of High Point
2nd Place - Alyssa Agugliaro of Watchung Hills
3rd Place - Jaitlin Mora of Morris Hills
4th Place - Victoria Hart of Raritan
5th Place - Jodi Holder of North Hunterdon
6th Place - Alexandra Ferrone of Morris Hills
1st Place Match: Sophia Lombardo (High Point) won by fall over Alyssa Agugliaro (Watchung Hills) (Fall 2:21)
3rd Place Match: Jaitlin Mora (Morris Hills) won by fall over Victoria Hart (Raritan) (Fall 5:13)
5th Place Match: Jodi Holder (North Hunterdon) won by fall over Alexandra Ferrone (Morris Hills) (Fall 0:16)
161
1st Place - Jewel Gonzalez of Phillipsburg
2nd Place - Amanda Pace of North Bergen
3rd Place - Gianna Seeley of Raritan
4th Place - Sam Fletcher of Kittatinny
5th Place - Yuma Sanchez of Perth Amboy
6th Place - Lady Diaz of Perth Amboy
1st Place Match: Jewel Gonzalez (Phillipsburg) won by decision over Amanda Pace (North Bergen) (Dec 9-2)
3rd Place Match: Gianna Seeley (Raritan) won in overtime over Sam Fletcher (Kittatinny) (OT 4-2)
5th Place Match: Yuma Sanchez (Perth Amboy) won by fall over Lady Diaz (Perth Amboy) (Fall 0:44)
180
1st Place - Kerly Borbor of New Brunswick
2nd Place - Kierra Hubmaster of Kittatinny
3rd Place - Esther Gratia of West Orange
4th Place - Donna Walker of New Brunswick
5th Place - Maria Taseva of Elmwood Park
6th Place - Noura Kakadendi of Bloomfield
1st Place Match: Kerly Borbor (New Brunswick) won by fall over Kierra Hubmaster (Kittatinny) (Fall 2:16)
3rd Place Match: Esther Gratia (West Orange) won by decision over Donna Walker (New Brunswick) (Dec 4-3)
5th Place Match: Maria Taseva (Elmwood Park) won by fall over Noura Kakadendi (Bloomfield) (Fall 0:22)
215
1st Place - Sandy Guerrero of West Orange
2nd Place - Isabella So of High Point
3rd Place - Valery Alcantara of Perth Amboy
4th Place - Lacey Hums of High Point
5th Place - Angelina Faura of Bloomfield
6th Place - Giana DeRosa of Vernon
1st Place Match: Sandy Guerrero (West Orange) won by fall over Isabella So (High Point) (Fall 0:51)
3rd Place Match: Valery Alcantara (Perth Amboy) won by fall over Lacey Hums (High Point) (Fall 0:14)
5th Place Match: Angelina Faura (Bloomfield) won by fall over Giana DeRosa (Vernon) (Fall 1:52)
250
1st Place - Giana Faura of Bloomfield
2nd Place - Kaylin Davis of Watchung Hills
3rd Place - Markaysha Jackson-Anderson of Raritan
4th Place - Elin Santos of Bergenfield
5th Place - Emie Santos of Bergenfield
6th Place - Jordyn Parker of Bloomfield
1st Place Match: Giana Faura (Bloomfield) won by fall over Kaylin Davis (Watchung Hills) (Fall 5:17)
3rd Place Match: Markaysha Jackson-Anderson (Raritan) won by medical forfeit over Elin Santos (Bergenfield) (MFF)
5th Place Match: Emie Santos (Bergenfield) won by fall over Jordyn Parker (Bloomfield) (Fall 4:20)
Cynthia Cumming
Jan. 2, 2020