Return to Headlines
Winter Choral Concert at West Orange High School Rings in Holidays
WEST ORANGE, NJ - The annual Winter Choral Concert at West Orange High School on Dec. 5 wove together classical and contemporary yuletide favorites into a tapestry of holiday magic.
All vocal groups at the high school were represented in the concert, which brought continuous cheers from the audience and support from fellow students.
"This is the first time I've ever been to a high school choral concert and it was amazing," said Dawn Starbinski, whose daughter Anya is a freshman.
"It's unbelievable how great the kids are," she exclaimed.
The concert ended with the traditional "Handel's Messiah" chorus as all groups and West Orange High School alumni joined the performers on stage.
View the program here.
See all the photos here.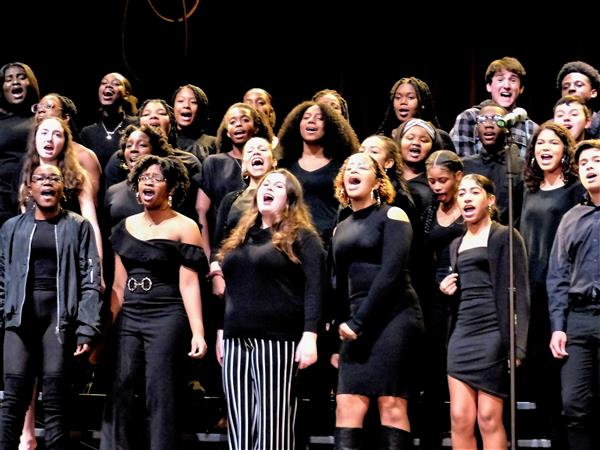 Jubilee Choir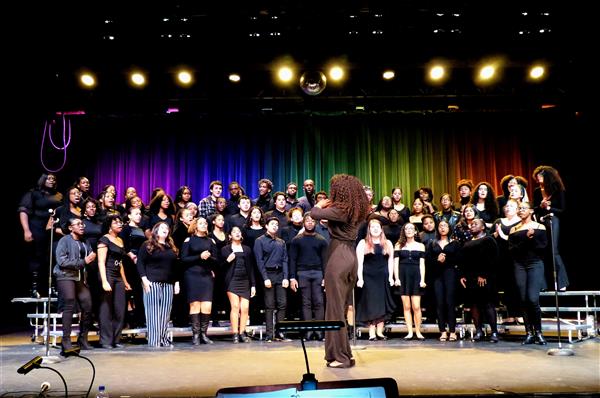 Jubilee Choir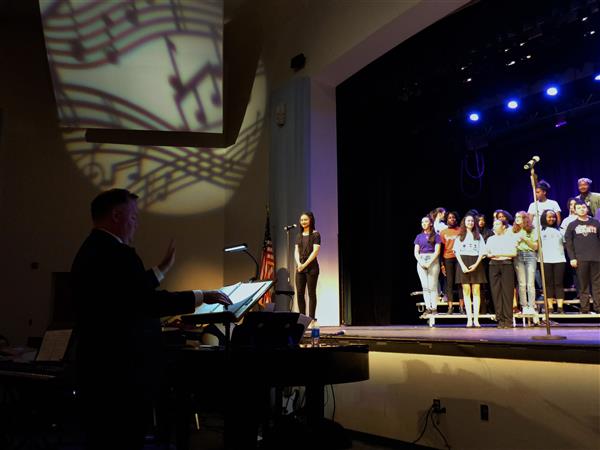 Glee Choir

PROGRAM
Welcome ……………….West Orange High School Administrator
"The Star-Spangled Banner" ………….….……………… F. S. Key
Meghan Ford-Titus, soloist
TENOR/BASS CHOIR
Mr. William Y. Farley, Jr., director
Stevie Wonder Medley
"Love's in Need of Love Today"
Soloists: Giancarlo Minervino, Alex Prado, Jesse Makachi
"My Cherie Amour"
Soloists: Trevor Adams, Ashton Singleton, Charles Drane
"Es Una Historia (I am Singing)"
CONCERT CHOIR
Mr. John Hellyer, director
"Psallite"
Michael Praetorius (1571-1621)
"There's Still My Joy"
Music & Lyrics by Melissa Manchester, Matt Rollings &
Beth Chapman, arr. by Roger Emerson
Soloist: Nichole Drane
"Eleanor Rigby"
Music & Lyrics by John Lennon & Paul McCartney
String Quartet: Gabriel Infante, violin 1 *Ziyanna Amanuel, violin *Gita Anand, viola*Emma Svetvilas, cello
"Rudolph, the Red-Nosed Reindeer"
Music & Lyrics by Johnny Marks, arr. by Jordan Green (WOHS '16)
Soloists: Justin Peters & Aden Lugo
TREBLE CHOIR
Mr. John Hellyer, director
"Merry Christmas, Darling"
Music & Lyrics by Frank Pooler & Richard Carpenter
Arr. by Mac Huff
Soloist: Aaniyah Smith
"Hanukkah Night"
Music & Lyrics by Dave and Jean Perry
"Taylor, the Latte Boy"
Music & Lyrics by Marci Heisler and Zina Goldrick
arr. by Mac Huff
Soloist: Elena Hause
"Lift Thine Eyes" (from ELIJAH)
Music by Felix Mendelssohn
"Singing You Home"
Music & Lyrics by Jason Robert Brown & Nicole Guerra
Oceanna George, guitar Cooper Davis, mandolin
Soloist: Leah Munoz
COMBINED CHOIRS
"O Holy Night"
Music by Adolph Adam
Soloists: Morgan Woodridge & James Tibang
HONORS CHAMBER CHOIR
Mr. William Y. Farley, Jr., director
"Pat-a-Pan"
Arranged by David Conte
"Ave Maria"
Ellen M. Keating

Excerpts from Handel's MESSIAH
"Every Valley"
Soloist: Joseph Florendo
"O Thou that tallest good tidings to Zion"
Soloist: Andree Celestin
"And Suddenly there was with the Angel"
Soloist: Melanie Maciejak
"Glory to God"

"Carol of the Bells"
Ukranian Carol, arranged by Pentatonix
GLEE CHOIR
Mr. John Hellyer, director
BROADWAY NIGHT...in about 15 Minutes
"Finale B" (RENT)
Soloist: Khalil Louigene
"BROADWAY NIGHT Supercut"
motown: the musical, godspell, 13, the king & I, taylor, hamilton,
the secret garden, gypsy, guys & dolls, Falsettos, we will rock you, rent, you're a good man, charlie brown, city of angels,
be more chill, The Color Purple, get happy
Soloists: Many people
"Let the Sunshine In" (HAIR)
Soloists: Sebastian Chavianno, Delia Kravitz, Gabby Lecour, Jordan Scott-Young

JUBILEE CHOIR
Mr. William Y. Farley, Jr., director
"Love Theory"
Music & Lyrics by Kirk Franklin
"Total Praise"
Music and Lyrics by Richard Smallwood
"Brighter Day"
Music & Lyrics Kirk Franklin
COMBINED CHORUS FINALE
"Hallelujah Chorus" (from MESSIAH) by G.F. Handel
Cynthia Cumming
Dec. 11, 2019