Return to Headlines
West Orange School District Prepares for Implementation of NJ State Law 1569
WEST ORANGE, NJ - The West Orange School District has begun working with Garden State Equality in preparation for the 2020-21 school year and the implementation of S1569, New Jersey's new law adopted Jan. 31, that requires schools to "include instruction, and adopt instructional materials, that accurately portray political, economic, and social contributions of persons with disabilities and lesbian, gay, bisexual, and transgender people."
The law requires that all public middle and high schools teach curriculum in alignment with S1569's requirements. On Nov. 11, Safe Schools Coordinator for Garden State Equality Cole Callahan, MA, NCC, met with faculty at Liberty Middle School to provide an overview of the training and materials that will be made available to staff and students. GSE is also participating in writing the curriculum.
Roosevelt Middle School, the district's other 7-8 middle school, has also begun meeting with GSE. Edison Middle School and West Orange High School will follow.
During the presentation, Callahan shared a quote from Brene Brown in her book, "Dare to Lead:":
"People are opting out of vital conversations about diversity and inclusivity because they fear looking wrong, saying something wrong, or being wrong. Choosing our own comfort over hard conversations is the epitome of privilege, and it corrodes trust and moves us away from meaningful and lasting change."

New Jersey is now the second state, after California, to require schools to adopt an LGBTQ-inclusive curriculum. California's Fair, Accurate, Inclusive and Respectful Education (FAIR) Act took effect on Jan. 1, 2012.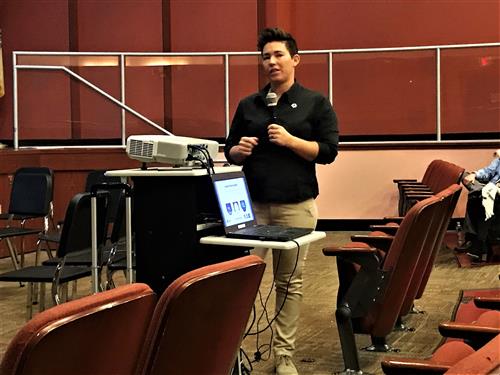 Cole Callahan of GSE speaks to the faculty at Liberty Middle School.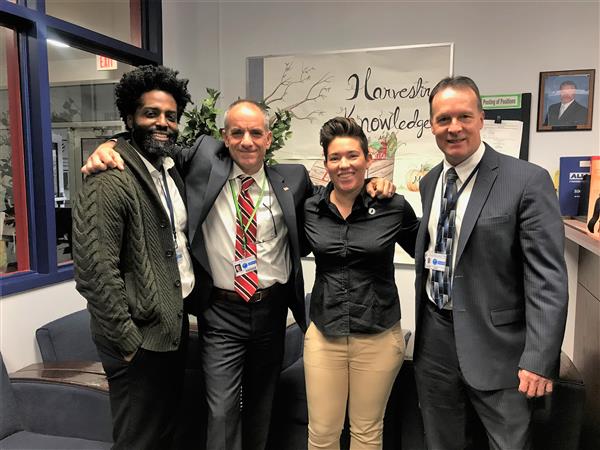 Asst. Principal Dwayne McNeil, Superintendent Dr. Scott Cascone, Cole Callahan, Principal Bob Klemt.
Cynthia Cumming
Nov. 21, 2019