Return to Headlines
West Orange "Pinks Out," Takes Win Over Bloomfield, 39-0
WEST ORANGE, NJ - West Orange Football came back from two back-to-back losses to take the win over Bloomfield, 39-0, at the annual "Pink Out for Breast Cancer Awareness" game held Oct. 25 in Suriano Stadium.
"I'm really proud of the boys' efforts last night," said Head Coach Darnell Grant.
"We were efficient on Offense, Defense, and Special Teams. It was awesome to get our entire roster in the game too."
A halftime ceremony recognizing Kelly Elementary School Principal Dr. Joanne Pollara as a Breast Cancer Survivor and Bloomfield Athletic Director Steve Jenkins for his efforts to coordinate the annual "Cheer for a Cure" event took center stage.
Dr. Pollara described her journey.
"In the Spring of 2014, I led a Relay for Life team from Pleasantdale (now Kelly) at West Orange High School. I planned to walk in memory of my dad and in thanksgiving for my daughter, who had survived Stage Four lymphoma. The day before the Relay my doctor gave me the devastating news that I was to begin my own cancer journey."
"Throughout the summer and the following fall, there was surgery and treatments for breast cancer. I had to learn to ask for help, listen to my body and find my faith. I learned that some days I was stronger than I thought possible, and other days I was vulnerable and had difficulty finding my way. I learned that courage doesn't mean that you are not afraid. It means being afraid and doing what you need to do anyway. Cancer has given me a greater appreciation for the people in my life, including my West Orange school family. They continue to walk beside me as my treatment continues, although less frequently now. They inspire me to be my best self and to keep hope in my heart. I cherish every day I have survived and thrived," she concluded.
The West Orange PAL Cheerleaders joined the Mountaineers for special routines in honor of Breast Cancer Awareness, and the Marching Band performed.
Game stats: Mason Murdock 4-6, 90 yards, 1 TD; Shakhi Carson 9 carries, 70 yards, 2 TD; Makhi Green 1 carry, 76 yards, 1 TD; Jehki Williams 5 carries, 26 yards, 1 TD; Adonis May 14 tackles; Chris Parsons 11 tackles; Amiyn Hanks 1 interception; Jahmil St. Pierre 1 interception; Brian Reitberger 22 yard FG.
West Orange Football is now 4-1 in league play and 5-3 overall. They take on Barringer in a home game on Nov. 1 beginning at 7:00 pm.
See all the photos from the "Pink Out for Breast Cancer Awareness" here.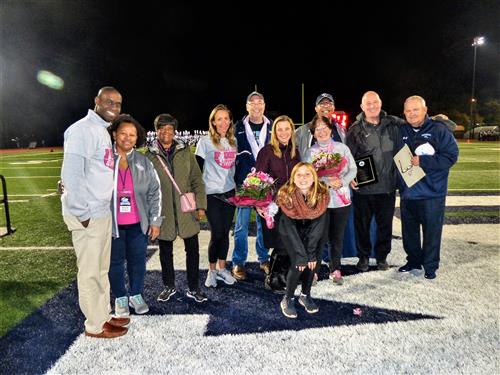 (L-R) WOHS Principal Hayden Moore, Board VP Sandra Mordecai, Board member Terry Triggs-Scales, Board member Cheryl Merklinger, Board President Ken Alper, Mrs. Jenkins and daughter, Dr. Joanne Pollara, Board member Mark Robertson, Bloomfield AD Steve Jenkins, WO AD Ron Bligh.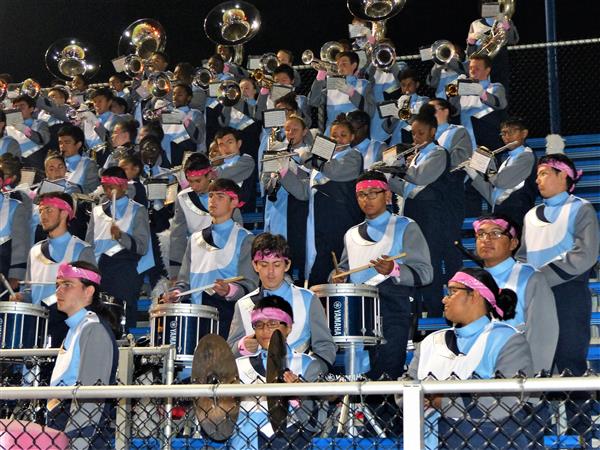 The Marching Mountaineers wear pink bandanas.
West Orange scores a touchdown.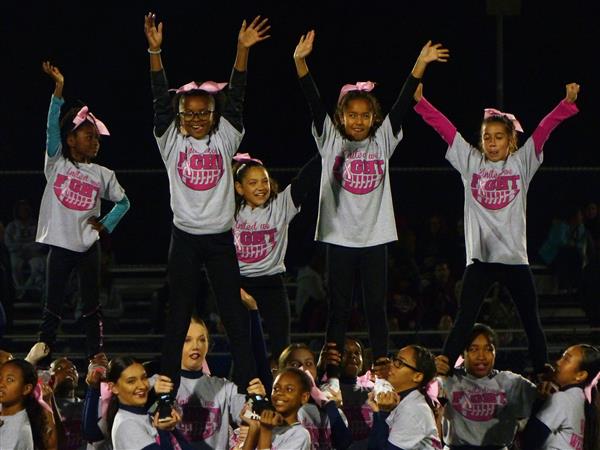 PAL Cheerleaders and WOHS Varsity.
Cynthia Cumming
Oct. 26, 2019