Return to Headlines
Meet the Candidates for Homecoming King and Queen
WEST ORANGE, NJ - This year's nominees for West Orange High School Homecoming King and Queen represent some of the school district's finest students, community activists, and athletes. The King and Queen will be crowned on Oct. 11 during halftime at the Homecoming game against East Orange High School.
Nominees are selected by the high school administration and seniors will have the opportunity to vote for the King and Queen during the week. An Honorary King and Queen, selected by the administration, will also be crowned.
Nominees for Homecoming Queen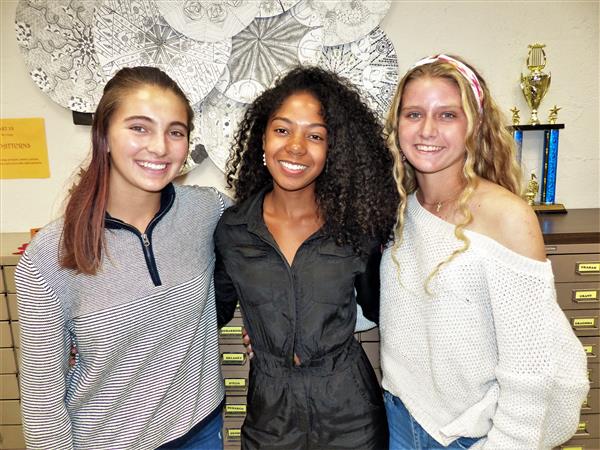 Nominees Giovanna Winning, Kaia Baker, and Natalie Nevins
Kaia Baker - Kaia is President of the Student Council, President of the Unity Club, Co-Captain of the Girls Tennis team, and a Mountaineer Mentor. She is a member of the National, English, Math, Science, and History Honor Societies. She plans to attend Brown University and will major in Applied Mathematics. Kaia plans to be a fashion entrepreneur.
Natalie Nevins - Natalie is a record-breaking soccer player and Co-captain of the Girls Soccer team. She is in the top five percent of her class and is a member of the National, English, and Science Honor Societies. She is a Mountaineer Mentor, a member of Teen Pep, and leads her team at the Daughters of Israel program. She will be attending St. Joseph's University, where she will major in Journalism and play soccer.
Giovanna Winning - Giovanna is Co-Captain of the Girls Soccer team and Vice-President of the Italian Honor Society. She is a member of the National and Science Honor Societies and serves as a Mountaineer Mentor. She is undecided on a college but plans to major in Environmental Studies.
Nominees for Homecoming King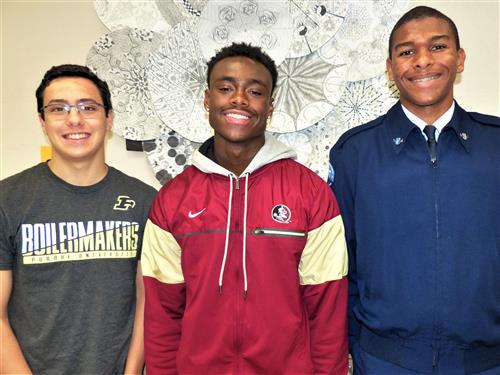 Nominees Brett Zeligson, Julian Lee, and Elijah Millington
Julian Lee - Julian is Captain of the Boys Baseball team and is currently taking several AP and Honors classes, including British Literature and Understanding Philosophy and Western Thought. He plans to study Pre-Law at the University of Delaware.
Elijah Millington - Elijah is Captain of the Javelin team and Co-captain of the Boys Basketball team. As a four-year member of the JAFROTC, he is the Squadron's Academic Representative. He is a member of the National Honor Society, French Club, 3-D Print, and Private Pilate's License Clubs. Elijah enjoys playing in the Jazz Band and hopes to study Mechanical/Aeronautical Engineering and Journalism at the Naval Academy.
Brett Zeligson - Brett was named the 2020 Salutatorian on Sept. 26. He is Co-president of the Student Council, Captain of the Boys Varsity Swim team, President of the Tri-M Music Honor Society, and Vice-president of Skills USA. He is a Mountaineer Mentor and a member of the Science Olympiad and Math Teams. He writes for the Cobblestone, the high school's literary magazine, and in addition to Tri-M, is a member of six other honor societies (Math, Science, Escriptus, Chinese, Social Studies, and National). Brett is also a member of the Nikhil Badlani Foundation Youth Advisory Board. He plans to major in Civil Engineering, but has not yet decided on a college.
The Homecoming Game will be held in Suriano Stadium beginning at 7:00 pm. The community is invited to enjoy the game and halftime activities, including the crowning of the King and Queen and a performance by the award-winning Marching Mountaineers.
Cynthia Cumming
Oct. 5, 2018