Return to Headlines
West Orange High School Girls Tennis Works to Ace Season
WEST ORANGE, NJ - The West Orange High School Girls Tennis team is looking to ace this season and make their mark in the Liberty Division.
"Our season starts with matches against the American Division, including Montclair Kimberly Academy, Livingston (No. 11 in NJ), and Millburn (No. 8 in NJ) are very tough opponents, but I was very pleased with the way we played," stated Jeff Mazurek, starting his fifth year as Head Coach. Assistant Coach Mike Marini is also beginning his fith season with the team.
Last year's respectable 13-9 season featured strong play by several seniors. Nine seniors graduated and five remain on the team. The team believes this is to their advantage.
"We have been working harder," said co-captain Kaia Baker (senior). "and we've been building our strength physically and mentally."
Assistant Coach Mike Marini, who is also a personal trainer, worked the girls throughout the summer. His intensive conditioning program included running and off-season weight training.
This year's varsity includes co-captain Nnekah Arinzeh (junior) and co-captain Sophia Ruggiero (junior) as first and second singles. Arinzeh was ranked No. 2 in Essex County for 2017-2018 and is currently in the top 32 in the state. Madison Oliver (junior) rounds out the team as third singles.
"I feel we are getting to know each other and our partners better," explained Arinzeh. "We are adjusting as a team and working together. When a team wins, we win together."
"We're working harder this season," added Ruggiero. "You need to understand that you can win your own match and lose as a team, or lose your own match and win as a team."
Kaia Baker and Darlene Folas (senior) play first doubles, and Herva Kana (senior) and Funke Oshodi (sophomore) play second doubles. Players to watch include Arinzeh, Oliver, Ruggiero, Baker, and Kana, according to the girls.
"I want to stay interested and work hard. I want to do well," stated Baker.
"We have our division schedule coming up over the next few weeks and I am excited to watch our girls compete and vie for a conference championship," Mazurek concluded.
View the Girls Tennis schedule here.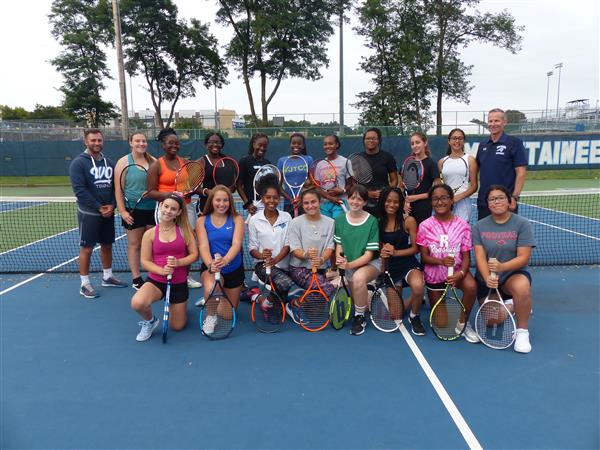 Head Coach Jeff Mazurek, left, and Asst. Coach Mike Marini, right, with 2019 Girls Tennis team.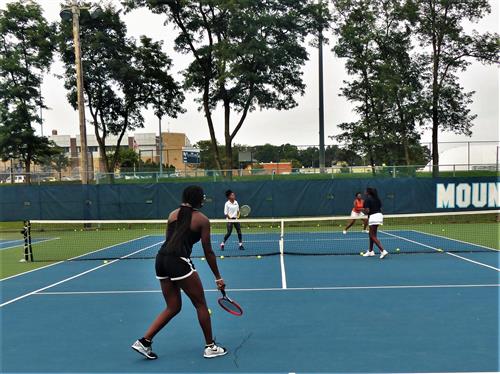 Doubles.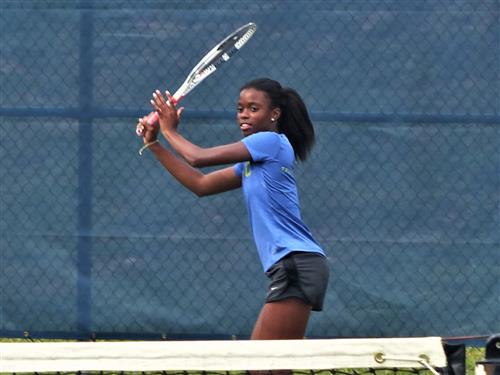 Nneka Arinzeh.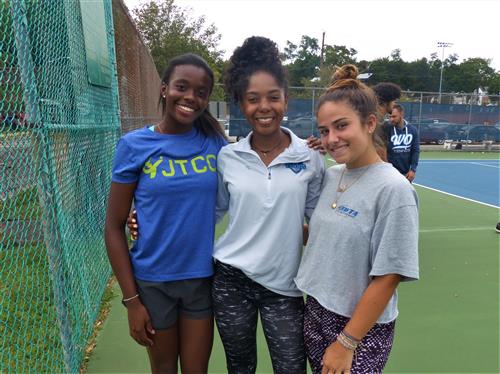 Co-captains Nneka Arinzeh, Kaia Baker, and Sophia Ruggiero.
| | | | |
| --- | --- | --- | --- |
| Last Name | First Name | Grade | Year |
| Anderson | Briana | 10 | |
| Angeles | Alexa | 9 | |
| Arinzeh | Nneka | 11 | |
| Baker | Kaia | 12 | |
| Blanco | Lucrecia | 10 | |
| Cohen | Sarah | 11 | |
| Destine | Wilnica | 10 | |
| Folas | Darlene | 12 | |
| Grumet | Emma | 9 | |
| Jaegger | Johanna | 12 | |
| Kana | Herva | 12 | |
| McGrath | Kiera | 10 | |
| Morales | Ashley | 12 | |
| Oliver | Madison | 11 | |
| Oshodi | Funke | 10 | |
| Rajani | Ariyana | 9 | |
| Ruggiero | Sophia | 11 | |
| Scott | Safiya | 9 | |
| Simpson | Giovanna | 10 | |
| | | | |
| | | | |
| | | | |
Cynthia Cumming
Sept. 19, 219