Return to Headlines
West Orange Girls Soccer Poised for Another Successful Season
WEST ORANGE, NJ - Following last year's record-breaking season, including Conference, County, and State Sectional titles, West Orange High School Girls Soccer is poised to make more history in 2019.
Head Coach Sean Devore, who was named Coach of the Year in 2018, said, "The North Jersey, Group 4 division has several outstanding teams in addition to West Orange, including Livingston, Montclair, MKA, and others that all have a chance to win championships. Our league, county and state competition is among the best in the state," he stated.
Despite that, Devore does not think the girls feel pressure to repeat last year's victories.
"The main pressure we feel is the expectations we put on ourselves. Like many quality teams in the county, we have a shot to repeat as league, county and section championships," he continued.
Seven seniors graduated in June, most of whom had played together for years. But several strong players remain, including senior Natalie Nevins, who committed last year to St. Joseph's. Nevins will be in the running for Player of the Year and as one of the co-captains, will work to bring out the best in the other players.
"The team is definitely younger so it may not be as smooth sailing as last year," noted Nevins, "but our set pieces, long throws, and corner kicks are some of our strengths."
Fellow co-captains Kiera Machuca and Giovanna Winning, agreed, citing several "players to watch" as well: juniors Kaya Schulz and Tory Rideau-Winds, and Kiley Capstraw, last season's breakout player as a freshman. Seniors Cassidy Joyce, Emily Baker, and Emma Mitchell will help to fill out the team.
"These girls saw significant time last year on our championship team and are looked upon to provide leadership this year," added Devore.
Devore is pleased with the team's efforts so far.
"I feel the team is gelling very well. Everyone in the state goes through growing pains with graduating players and bringing on new players. Our girls have done well both on and off the field to build team chemistry," he concluded.
If their wins in scrimmages are any indication, the Girls Soccer team should provide plenty of excitement. They open their season on Sept. 5 in a home game against Montclair beginning at 4:00 pm.
See more photos here.
See the WOHS Girls Soccer Schedule here.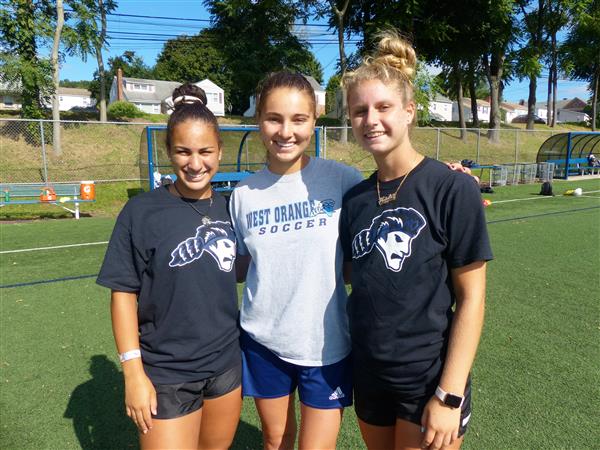 WOHS Girls Soccer Co-Captains Kiera Machuca, Giovanna Winning, and Natalie Nevins.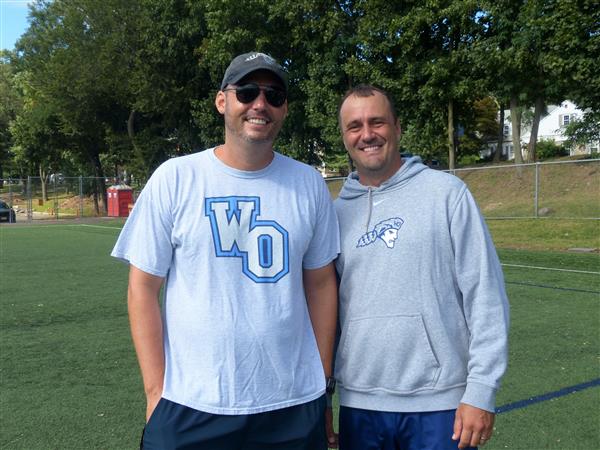 Head Coach Sean Devore and Assistant Coach Chris Maillet.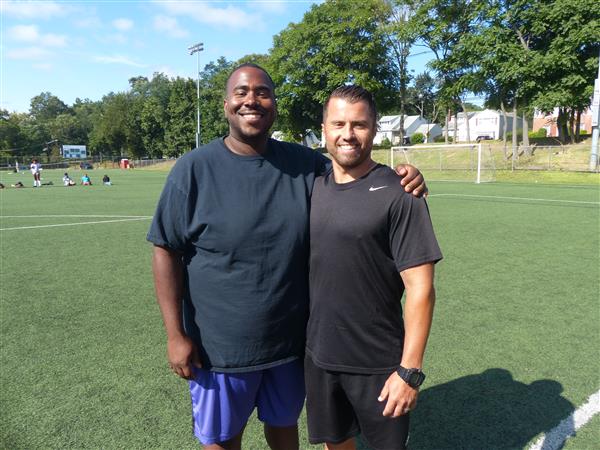 Freshman Coach Dave Perez and JV Coach Sebastian DePinho.
WOHS Girls Varsity Soccer Roster 2019
Number Name Class
10 Natalie Nevins (c) 12
2 Kiara Machuca (c) 12
20 Giovanna Winning (c) 12
17 Emily Baker 12
1/7 Olivia Callendar 12
GK Cassidy Joyce 12
9 Kaya Schultz 11
6 Emma Mitchell 11
8 Gianna Festino 11
29 Britney Fort-Foskey 11
19 Liz Duarte 11
12 Isabella Cohen 11
11 Kiley Capstraw 10
5 Tori Rideau-Winds 10
23 Kennedy Morgan 10
4 Caitlin Bridgers 10
3 Sidda Mitchell 9
13 Anna Deer 9
15 Charley Dvorin 9
Head Coach- Sean Devore (5th Year)
Assistant Coach- Chris Maillet (5th Year)
JV Coach- Sebastian DePinho (17th Year)
Freshman Coach- Dave Perez (5th Year)