Return to Headlines
West Orange High School Student Council Members Attend Jeter's Leaders "Re2pect Our Voice" Conference
WEST ORANGE, NJ - Four West Orange Student Council members had the opportunity to attend the 2019 (Derek) Jeter's Leaders Leadership Conference in Philadephia from Aug. 4-8. The event was presented by Goldman Sachs.
Jeter's Leaders is part of Derek Jeter's Turn2 Foundation. According to the website, "Jeter's Leaders is a leadership development program created to empower, recognize and enhance the skills of high school students who:
Promote healthy lifestyles, free of alcohol and substance abuse;

Achieve academically;

Are committed to improving their community through social change activities;

Serve as role models to younger students and to deliver positive messages to their peers.
Four WOHS student council members: Kaia Baker, Herva Kana, Senay Dani, and Scott Moul represented the high school at the conference. Jeter's Leaders developed several workshops for students to attend based on topics they felt affected teens today. Bi-annually, the leaders from New York and Kalamazoo host the conference for other youth leadership programs throughout the United States to inspire social change.
This year's theme was 'RE2PECT Our Voice!" Workshops included:
Drugs vs. Alcohol
o This includes types of addiction, mental effects, causes, etc.
Eating Habits
o This includes body image, obesity in today's society, etc.
Racism
o This includes cultural appropriation, colorism, etc.
Sexism
o This includes the #metoo movement, gender identity, etc.
Current events
o This includes gun control, mass deportation, etc.
Mental Wellness
o This includes mindfulness, stigma, society vs. mental health, etc.
Social Media
o This includes positive/negative effects of social media, influencers, traceability, etc.
Homelessness
o This includes causes, effects, teen impact, etc.
In addition to the worskhops, student council members had the opportunity to interact with other high school students from New York, New Jersey, Michigan, and other parts of the country. They also participated in a community service project, city-wide scavenger hunt, and dinner-dance cruise.
"The students were able to meet and share new ideas to bring back to West Orange to improve and enrich the community," said WOHS Student Council Advisor Catherine Connors, "and they're looking forward to the coming school year."
Read more about Derek Jeter's Turn2 Foundation, Inc. and the Leadership program here.
Facebook: @DerekJeter
Twitter: @Jeterturn2
Instagram: @Jeterturn2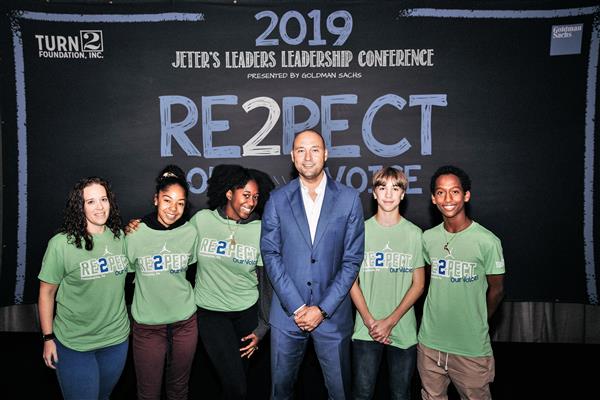 (L-R) WOHS Student Council Advisor Catherine Connors, Kaia Baker (Co-President), Herva Kana (Secretary), Derek Jeter, Scott Moul (Treasurer), and Senay Dani (BOE Liaison).
Cynthia Cumming
Aug. 24, 2019