Return to Headlines
West Orange Community Band to Perform at OSPAC Aug. 21
WEST ORANGE, NJ - The West Orange Community Band will hold its premier concert on Aug. 21 at the Oskar Schindler Performing Arts Center, Boland Drive, beginning at 7:30 pm.
The newly-formed band is led by Steve Kimmons and features several West Orange residents, including parents, former WOHS graduates, and even music teacher Andrea Rommel. The band is made possible through the West Orange Recreation Department.
The free event will feature "The Jazzy Ladies," Fran Testa and Lynette Sheard, from 7:30 - 8:15. The band will begin at 8:15 and will perform the following:
Handel in the Strand, Grainger
Washington Post, Sousa
Chicago Tribune, Chambers
William Tell Overture, Rossini/Leidzen
Hungarian Dance No. 5, Brahms/Laurendeau
Mock Morris, Grainger
Troika, Prokofiev/Curnow
Chester, Schuman
National Emblem, Bagley
The Band is comprised of the following members:
Flutes
Virginia Blacker*
Eva Curtis*
Susan DeFurianni*
Catherine Florio*
Laurie Florio*
Vicki Marino*
Allison Russo*
Stevie Tryson*
Oboe
Mackenzie Miller
Amy Nyberg
Clarinet
Richard Bookbinder*
Carol Boysen*
Ed Goellner
Pete Grice*
Dorothy Panhorst*
Ann Pollack*
Tom Williams*
Bassoon
Kristin Buemi
Alexander Perlaza
Alto Saxophone
Ben Cole*
Tom Vilardi*
Tenor Saxophone
Dan Hodge*
Baritone Saxophone
Larry Zeller*
Cornet/Trumpet
Chris Bleeke
Al DeFurianni*
David Montague
Tyler Perillo
Jonathan Ridley
Sage Shiraishi
Dan Sugarman
Horn
Zack Arenstein*
Ed Black*
Jacob Carino*
Jessica DiCicco
Trombone
David Gleaner
Lingard Knutson
David New*
Will Newrock
Christian Tanion
Matt Weinshank*
Euphonium
Andrea Rommel*
Bill Sullivan*
Tuba
Ralph Ciotti
Larry Hoffer*
Percussion
Brian Gould*
Chris Stuhlmiller*
David Stuhlmiller
In the event of rain, the concert will be moved to the auditorium at Liberty Middle School, One Kelly Drive, same date and time.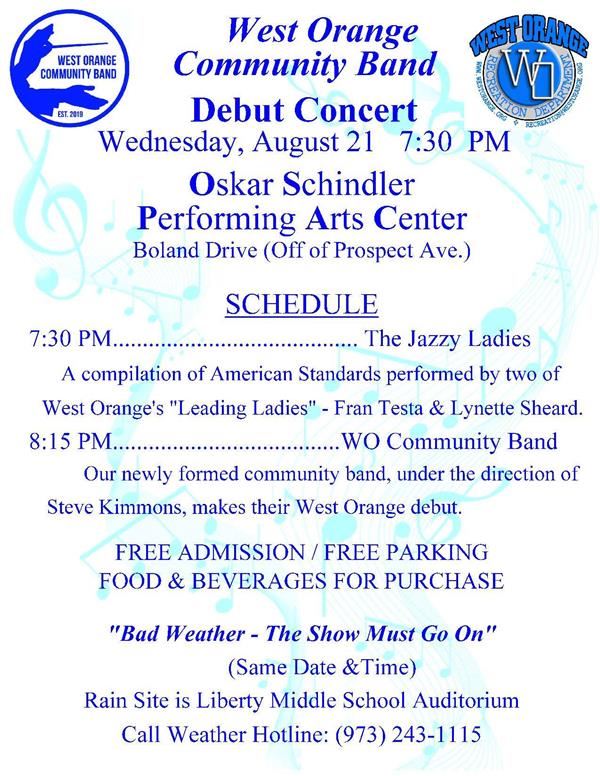 Cynthia Cumming
Aug. 18, 2019