Return to Headlines
West Orange High School Basketball Coach Teaches Character and Skills at West Orange Elite Basketball Camp
WEST ORANGE, NJ – West Orange High School Varsity Basketball Coach Demond Cowins just finished up his annual Summer Camp, and by all accounts it was a huge success.
Students ages 7-14 were able to attend the two-week camp for one or both weeks, and 80 students attended. Cowins, who is entering his fourth season as Head Coach for the Mountaineers, outlined the goals of the camp.
"It was important to us that we strengthen our community engagement through the game of basketball," Cowins began, "and teach youth the fundamentals of the game."
"The kids were able to explore and learn various drills that they can practice to improve their skills," he continued, "and they learned about the importance of mentoring and character."
Along with Cowins, who served as Director of the Camp, Co-Director Greg Tynes, Lead Skills Coach "Bingo" Silvera, and coaches Anant Narain, Chris Latimer, Gustav Hall, Ebony Barnes, Johan Atwell, Maxwell Dent, Jeremiah Moore, all worked to create a welcoming atmosphere and share their skills and experiences with the youth.
Cowins cited visits from Drederick Irving and Coach Derrick Canada as highlights of the camp, along with the best basketball skill stations and lunch selections in the state, including Turano's Pizza Kitchen, Pizza Terminal, Jersey Mike's, and Chipotle. He also underscored the importance of their daily messages "regarding life and how basketball can build character."
The same life and character principles are at the foundation of Cowins' coaching style, noting that one of his primary goals is "to help develop boys into becoming well-rounded young men."
Cowins and his Mountaineer coaches teach the game of basketball to their players and relate it to real-world situations. They strive to instill skills and values of a strong work ethic, communication, and teamwork.
"We give our players the absolute best coaching and basketball experience as a high school player," he noted.
Cowins began the The West Orange Elite Basketball Club in partnership with the West Orange Recreation Department to teach basketball skills and character development to boys beginning at the age of five. The program currently has teams for third through eighth grade that compete against some of the best teams in the Tri-State area.
For more information go to www.woelitebasketball.com or follow them on Instagram at WO Elite_Basketball.
See photos from the WO Elite Basketball Camp here.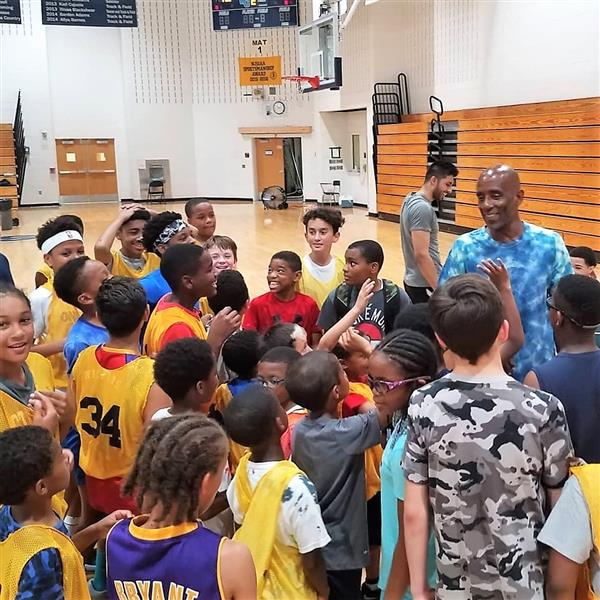 Drederick Irving (Kyrie's Dad) speaks to campers.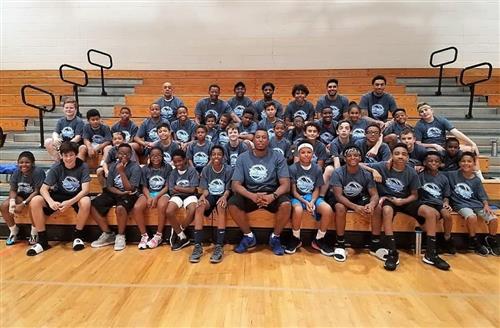 Cowins (front, center), coaches (back row), and campers.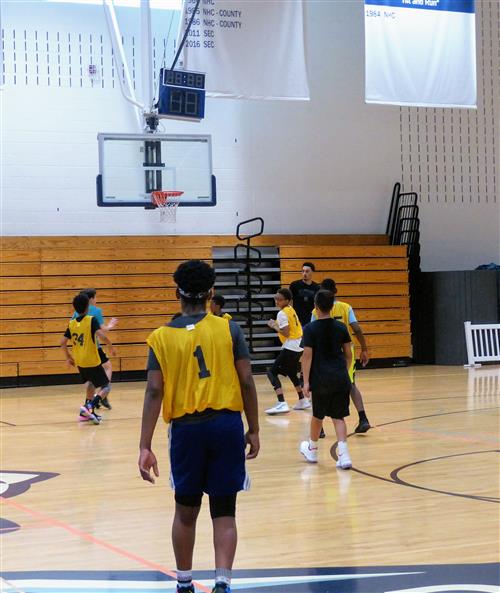 Working on skills.
Cynthia Cumming
July 21, 2019