Return to Headlines
West Orange High School Graduates 531
WEST ORANGE, NJ – As the summer sun set, the West Orange High School Class of 2019 graduated at Codey Arena and took the next step in their young lives.
531 students filed in to the strains of "Pomp and Circumstance," performed by the WOHS Graduation Band under the direction of Lew Kelly, Erin Lagatic, and Joshua Zimmer. The band also performed "Kirkpatrick Fanfare."
Graduating senior Gabrielle Florendo sang the National Anthem and the Graduation Choir lifted their voices to "The Impossible Dream."
Salutatorian Max Dickman was introduced by Principal Hayden Moore and he addressed his fellow students.
"Our choice of words is important because of the power of our voices," he said.
"Depending on which words you use (regardless of the forum or platform), we all have the power to criticize, to insult, and to lie. However, we also have the power to compliment, to motivate, to unite, and to inspire," he continued.
"I'm not one to give advice, and I won't. I'm just going to ask you to consider two things. When you use your voice—and you probably will—first, recognize the immense power that you are about to wield, and second, use that power to make the world a better place. The words we say matter," he concluded.
Valedictorian Daniel Feinblatt followed, offering his perspective on the next steps of the graduating class.
"Most people talk about success in speeches like this, but in an effort to ensure this speech is not as good as those speeches, today, I want to share what I learned from failure, in the hopes that I can help guide you to a successful transition into whatever community you find yourself in next," he began.
"Try to figure out what your limit is - whatever makes you uncomfortable, find that line. One of the things that Yes Theory (found on You Tube) often does in their videos is go skydiving. So, after you find that line where your comfort ends, it's just like skydiving. You don't need to try and leap past what makes you uncomfortable. Once you approach the edge, all you have to do is lean into it and you descend into free fall," he explained.

"Our most fulfilling and meaningful experiences come when we are in our most uncomfortable state, because just beyond that discomfort is greatness. West Orange High School class of 2019, take time to figure out who you are, and work hard - but know that change takes time, seek discomfort, and most importantly, never stop failing," he closed.
Moore, Board President Ken Alper, and Vice-President Sandra Mordecai then presented medallions to the top five per cent of the class.
Board member Mark Robertson, whose own son Jared was graduating, provided the Board of Education Tribute, recounting class accomplishments and adjuring students to continue to excel. He began,
"West Orange High School Class of 2019, you are the most successful class in the history of West Orange High School!
You have the highest graduation rate in history 91.5%

Attending the most top colleges and programs from NJIT, Rutgers Honor College, Brandeis, and George Washington to DUKE! Columbia, Cornell, Harvard, Princeton, University of Pennsylvania, Johns Hopkins, Carnegie Mellon, Stevens Institute, Boston College, and many more great colleges and competitive programs

Most winning math team ever

The most career certifications from automotive to Cisco software

The most admitted to top music and performing arts programs

More students making athletics history or placing at the highest State levels."
Robertson concluded his comments by saying:
I challenge you with only one request: Dream your dreams. Believe in your dreams. Fight for your dreams. Live your dreams."
Principal Moore spoke briefly to his graduates.
"As your principal, my goal was to ensure that your experiences here at West Orange High School were positive, meaningful, and inspiring. Our administrators hope that we have provided you with a nurturing environment that was safe and welcoming," he stated.
"In choosing a career path identify an area that interests you, something you absolutely love and are passionate about," he encouraged.
"Remember, Class of 2019, that you are Mountaineers, which means you climb every challenge and summit any problem. Stay focused, stay determined, and keep striving for excellence. You will be successful."
Acting Superintendent Eveny de Mendez addressed the students, offering wisdom and certifying that the seniors had met all graduation requirements as tassels swished from right to left.
"Your new place in life…may it be a place of purpose," she stated.
"Today, you enter into the power of choice. As you take your seat at the adult table, my hope is that you seize, that you make good use of, that you study closely, that you observe every moment to do what is good," she advised.
De Mendez ended her comments with a strong exhortation.
"You are courageous. You are strong. You are intelligent. You are wise. You are inspiring. You are capable. You are beautiful. You are talented. You are groundbreaking. You are world changers. You are always ahead. You are never behind. You are always the winners. You are never the losers. You are valued. You are loved. And as you walk across this stage, you are 531 strong. We are so proud of you…you are West Orange."
Following the distribution of diplomas as family and friends cheered, the evening ended as the rising college freshmen departed Codey Arena, ready to head to Project Graduation at Funplex in Hanover Park.
See the list of graduates here.
See photos from the WOHS graduation on June 24 here.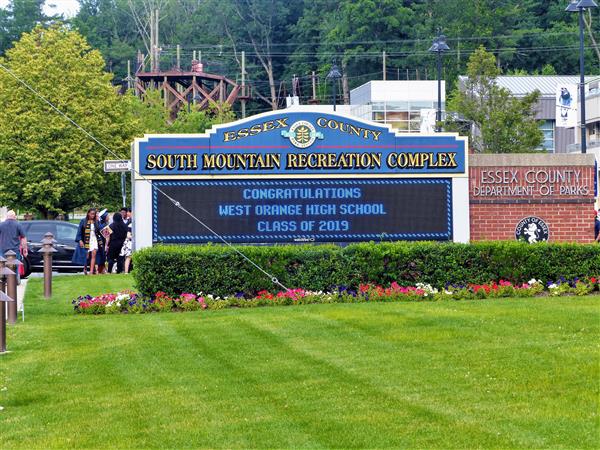 Hat toss.
"The Impossible Dream"
"Kirkpatrick Fanfare"
Cynthia Cumming
June 25, 2019