Return to Headlines
Escriptus Honor Society Recognizes Top ELA Students
WEST ORANGE, NJ – Rising seniors at West Orange High School meeting the rigorous Escriptus Honor Society requirements joined the ranks of the prestigious honor society on June 10, while graduating seniors received their cords.
To qualify for Escriptus, students must receive a grade of "A" in all Language Arts classes for all four years of high school. Once becoming a member, students must attend meetings, maintain a monthly bulletin board, participate in school activities, assist in the coordination of the annual Poetry Out Loud event, and be published in three separate publications.
Escriptus advisors Mindy Harvat and Molly Wachtel welcomed family, friends and colleagues present for the ceremony, and presented cords to the seniors.
Escriptus Graduating Members - Class of 2019
Aysar Abdelgelil, Wellesley College
Katie Andersen, Rutgers University
Maribel Andrade, Boston College
Danielle Berger, Parsons School of Design
Aarushi Bhatnagar, Rutgers University
Jordan Broking, Ithaca College
Morgan Clark, Brandeis University
Sessina Dani, Princeton University
Rebecca Dannemiller, The George Washington University
Celeste Dayal, Northwestern University
Eniya Jaber, Washington College
Emily Lux, Northeastern University
Connor Mills, Stevens Institute of Technology
Riddhi Modi, NYIT College of Osteopathic Medicine
Siddhi Modi, NYIT College of Osteopathic Medicine
Nyah Moliere, Rutgers University
Proggya Paromita, NJIT
Grace Perincheri, Rensselaer Polytechnic Institute
Mike Petros, University of Pennsylvania
Zoe Rivera, Emerson College
Ameera Seetahal, NJIT
Truman Segal, Emerson College
Jaden Thompson, Harvard College
Ruthanne Ward, Clark University
Hannah Winter, Drew University
Saleme Woldai, Cornell University
The Escriptus Honor Society, whose motto is "Gelast Sceal Mid Are," or "Duty Goes With Honor," then welcomed its new members for 2020 as Harvat and Wachtel led the rising seniors in the oath of induction.
The Class of 2020 - Escriptus Inductees
Gita Anand
Emily Baker
Kaia Baker
Kailey Charles
Ruth Donagher
Jackson Edwards
Damilare Femi Akanbi
Anika Fernandes
Gustav Hall
Ashlea Hume
Alexandra Kicior
Chloe Mengden
Imani Miller
Natalie Nevins
Ogechi Nwobu
Matthew Schwartz
Arthi Sivendra
Kiley Smith
Mellany Smith
Megan Titus
Sofia Cordoba Valencia
Brett Zeligson
Full resolution photos can be found here.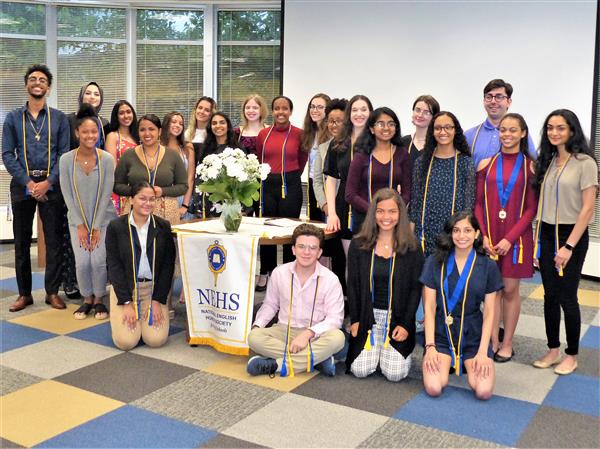 Graduating Escriptus Seniors receive their cords.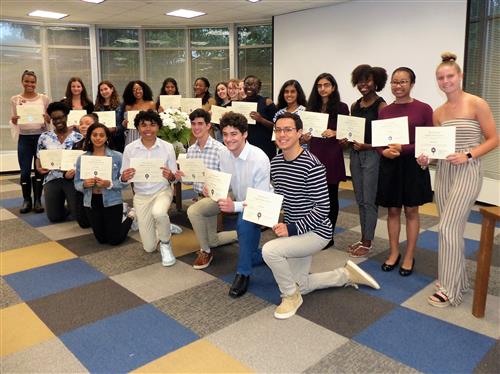 Rising seniors are inducted.
Cynthia Cumming
June 13, 2019