Return to Headlines
West Orange High School Math and Science Honor Societies Ceremonies Held
WEST ORANGE, NJ - Juniors were inducted and graduating seniors received their cords at the West Orange High School Math and Science Honor Societies event, held May 29.
West Orange High School Class of 2017 grads Derek Lim and Divya Anand were the guest speakers at the ceremonies, discussing their experiences to-date in college and underscoring the need for students to push themselves and take their studies and work seriously to succeed. Lim attends Cornell and is majoring in Math and Computer Science. He is already a successful teaching assistant in PhD level course at the university. Anand attends John S. Hopkins University and majors in Molecular and Cellular Biology. She on a pre-med track and is a research assistant participating in geriatric clinical trials.
Below are are a list of newly inducted members and honor cord recipients.
"We are extremely proud of our students," said Principal Hayden Moore.
"Their outstanding work in math and science at West Orange High School not only qualifies them for these prestigious honor societies, but will create global opportunities for them as they head out into the world."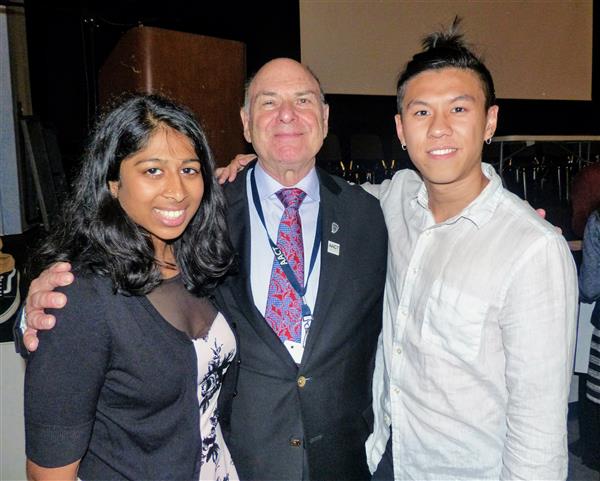 Dr. Ron Brandt with Divya Anand and Derek Lim.
Mu Alpha Theta National Mathematics Society
Honor Cord Recipients
Nicole Adelsohn Dylan Cohen Rachael Ezomo Isabella Ompok
Maribel Andrade Sessina Dani Daniel Feinblatt Anthony Petrucci
Daniel Bradley Zachary Dong Sarah Gold Ryan Retino
David Campbell Jason Easterling Eniya Jaber Emily Sarett
Emily Weingold

Math Honor Cord Recipients
2019 Inductees
Devin Andrada Riya Goel Isabella Pappano
Masarrah Assad Carlos Herbozo Elisabeth Perlman
Grace Attia Nooha Kawsar Olivia Petrucci
Kaia Baker Alexandra Kicior Mecca Pryor
Tate Bennett Jacob Klausner Dylan Retino
Sebastian Chaviano Cassey Kuga Sophia Scholz
Senay Dani Chloe Mengden Ramone Vargas Eugene
Jackson Edwards Imani Miller Anayelli Vigo
Andrew Gart Celia Murphy– Braunstein Nathaniel Vinoya
Paul Godinez Ogechi Nwobu Grace Wenzel
Math Honor Society Inductees with some Cord Recipients.
The National Science Honor Society
Honor Cord Recipients
Hailey Adelsohn
Maribel Andrade
Aarusha Bhatnagar
Daniel Bradley
Kaitlyn Charles
Victoria Chavez
Jhada Close
Dylan Cohen
Jocelyn Cuevas
Sessina Dani
Celeste Dayal
Kate Dickman
Max Dickman
Jhormary Dominguez
Zachary Dong
Jason Easterling
Racheal Ezomo
Daniel Feinblatt
Isabella Feliciano
Andy Inguil
Eniya Jaber
Morriel Kasher
Evelyn Lliguicota
Connor Mills
Riddhi Modi
Siddhi Modi
Nyah Moliere
Edgar Moreno
Colin Morgan
Beaman Negash
Alexandra Ompok
Taewon Park
Proggya Paromita
Anthony Petrucci
Ryan Retino
Alynna Sanchez
Emily SarettAmeera Seetahal
Jaden Thompson
Jasmikne Torruella
Hannah Villasin
Jordan Walker
Emily Weingold
Selam Woldai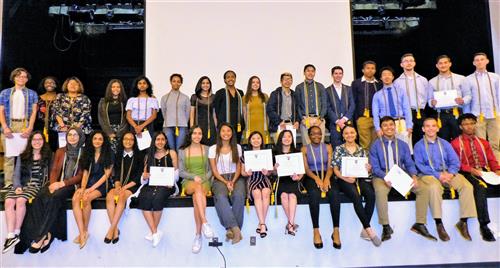 Inductees 2019
Joaquin Acuna
Gita Anand
Devin Andrade
Brandon Andrade
Kaia Baker
Emily Baker
Karan Belday
Aja Bennett
Kiana Bouyer
Simone Byun
Olivia Callendar
Kailey Charles
Sofia Cordoba Valencia
Emma Correira
Sara Cuevas
Ruth Donagher
Jackson Edwards
Damilare Femi Akanbi
Anika Fernandes
Darlene Folas
Paul Godinez
Karen Gouin Dominique
Safiya Graham
Gustav Hall
Ashlea Hume
Cassidy Joyce
Alexandra Kicior
Vanessa LaFleur
Lindsay Levine
Stanley Lim
Melanie Maciejak
Jennifer Maciejak
Cynthia Makachi
Chloe Mengden
Yedidia Mesfin
Olivia Miller
Imani Miller
Richard Morocho
Natalie Nevins
Ogechi Nwobu
Karin Palomino
Gabriel Reyna
Amy Reznik
Shrey Sanghvi
Jahaira Santisteban
Sophia Scholz
Arthi Sivendra
Kiley Smith
Ismail Taylor Kamara
Maya Tobin
Ramone Vargas Eugene
Anayelli Vigo
Brett Zeligson
Maria Winning
Isabella Pappano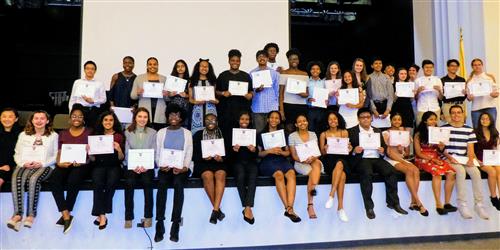 Cynthia Cumming
June 3, 2019