Return to Headlines
West Orange High School Rho Kappa Honor Society Recognizes Students for Outstanding Performance in Social Studies
WEST ORANGE, NJ - Outstanding juniors in Social Studies at West Orange High School inducted into the Rho Kappa Honor Society, Sebastian LaSapio chapter, and graduating members received their cords in a ceremony held in the Library Media Center on May 28. Rho Kappa is the only recognized national Social Studies Honor Society.
Social Studies Supervisor Michael Figueiredo welcomed students and families and presented junior Isabella Angeles with a book from the University of Pennsylvania entitled "Benjamin Franklin: An American Life," as recognition for her outstanding performance in social studies.
The qualities representative of the Rho Kappa Honor Society are:
Veritas, or truth. The truth we seek leads to greater understanding of the world and humanity's place in it."
Scientia, or knowledge. We seek knowledge of the past in order to create a future for ourselves, and for the world in which we live."
Sapienta, or wisdom. Wisdom is the tool we use to discern what is true, and how to value that truth."
Officium, or service. True civic engagement in school or community service lies not within what we do, but why we do it.

Students are engaged in learning experiences and community service throughout the year.
The new inductees to Rho Kappa are:
Isabella Angeles
Matthew Arizmendi
Emily Baker
Kaia Baker
Karan Belday
Victoria Benaroya
Imani Blanding
Simone Byun
Christyne Corasmin
Anna Cordova
Emma Correia
Ruth Donagher

Ava Donaghy

Mikayla Downer Blake

Darlene Folas

Meghan Ford-Titus

Abigail Geronimo

Safiya Graham

Brielle Hunter

Bryanna Jackson

Cassidy Joyce

Alexandra Kicior

Stanley Lim

Melanie Maciejak

Lucio Maffei

Cynthia Macahi

Massimo McCormick

Chloe Mengden

Imani Miller

Olivia Miller

Haneefah Muhammad

Precious Opara

Brunella Paredes

Mecca Pryor

Amy Reznik

Olivia Robalino

Shrey Sanghvi

William Shick

Monet Simon

Bryan Singer

Arthi Sivendra

Kiley Smith

Maya Tobin

Brett Zeligson
Students then recited the Rho Kappa oath:
I do promise, to search for truth,
to utilize knowledge, and to seek wisdom,
through the pursuit of excellence,
in the Social Studies.
I promise service to West Orange High School,
and to its community,
for true scholars of Social Studies,
lead by example.
Seniors receiving cords were:
Aysar Abdelgelil

Katherine Anderson

Erin Arnold

Kayleigh Arnold

Danielle Berger

Morgan Clark

Jhada Close

Amber Dalmacy

Sessina Dani

Rebecca Dannemiller

Ian Darville

Briana Davis

Celeste Dayal

Kate Dickman

Max Dickman

Racheal Ezomo

Jennifer Georges

Isabella Feliciano

Andy Inguil

Eniya Jaber

Kimberley Jean

Jalyn Jones

Sneha Kumar

Melanie Leniar

Riddhi Modi

Pierce Moul

Beaman Negash

Grace Perincheril

Mike Petros

Zoe Rivera

Jared Robertson

Santiago Salinas

Emily Sarett

Ameera Seetahal

Truman Segal

Jaden Thompson

Taliyah Weary

Emily Weingold

Myia White

Hannah Winter

Selam Woldai
Following the ceremony, families spent time enjoying refreshments, chatting, and taking photos.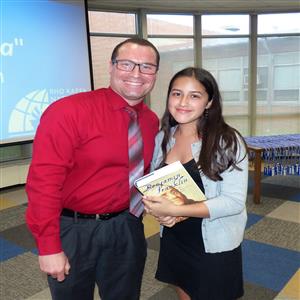 Mike Figuerido and Isabella Angeles.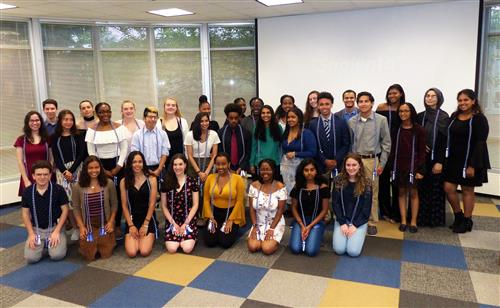 Seniors receive Rho Kappa cords.
New inductees.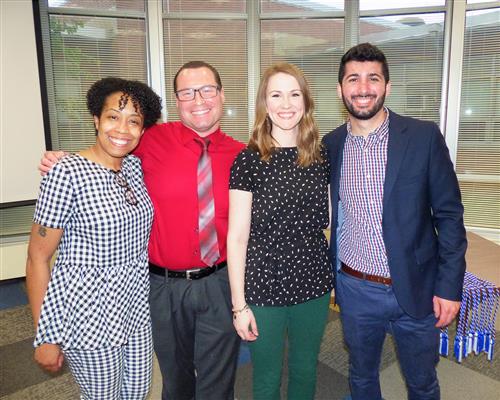 Asst. Principal Lesley Chung, Supervisor Mike Figueiredo, and teachers Caroline Fortunato and Andrew Guglielmo.
Cynthia Cumming
May 29, 2019