Return to Headlines
West Orange High School Celebrates TCI/AVID Graduates
WEST ORANGE, NJ - 26 West Orange High School seniors were recognized at the May 17 TCI (The Collegiate Institute)/Advancement Via Individual Determination (AVID) Program graduation.
AVID is a national program currently operating in 47 states. It has been active at West Orange High School for several years. According to the WOHS program description, AVID "is a small learning community for students in the academic middle as they prepare to navigate college preparation courses. AVID actively engages students in metacognitive processes of analysis and evaluation of learning through effective methodologies of learning strategies called W-I-C-O-R (Writing, Inquiry, Collaboration, Organization, and Reading).
The AVID program prepares students to enroll in rigorous honors and AP courses. The AVID elective course is part of the regular school day. AVID students are expected to take part in clubs and activities as well as form study groups with their peers. The AVID program involves an application and interview process. The number of students selected for this program will be limited and parents of students in the program must be willing to be active participants in the program."
Students in grades 9-12 received certificates recognizing high honor roll, honor roll, and perfect attendance. Two seniors were awarded $500 awards for exemplifying the AVID ideals throughout high school. William GarthHill was given his award from his AVID 12 teacher Andrew Guglielmo and Breanna Bailey was given her award from her AVID 12 teacher Patricia Aldworth.
Mr. Patrick Briggs, AVID Northeast States Director was the guest speaker at the event.
See all the photos here.
Read more about the TCI/AVID program at WOHS here.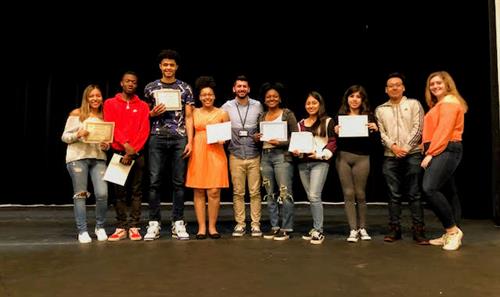 TCI/ACID 12 students with teacher Andrew Guglielmo.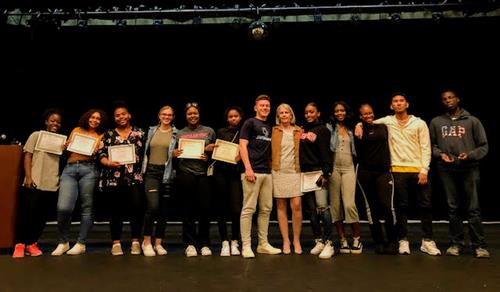 TCI/AVID 12 students with teacher Patricia Aldworth.
THE COLLEGIATE INSTITUTE 12
2019 Graduates
Jonathan Aguilar ~~ Montclair State University, Montclair, NJ
Adriana Ayala ~~ Rutgers University, New Brunswick, NJ
Samuel Cobar ~~ County College of Morris, Randolph, NJ
Cedric Djondo ~~ Montclair State University, Montclair, NJ
William GarthHill ~~ Howard University, Washington, DC
Abigail Hamilton ~~ Pace University, New York, NY
Samantha Hess ~~ University of Toledo, Toledo, OH
Kaija Jones ~~ Bloomfield College Bloomfield, NJ
Jesse Kwabi ~~ Morehouse College Atlanta, GA
Aliyah Marquez ~~ Montclair State University, Montclair, NJ
Michelle Montoya ~~ Montclair State University, Montclair, NJ
AlanChristopher Niamke ~~ Seton Hall University, So. Orange, NJ
Isia Wright ~~ Kean University, Union, NJ
Breanna Bailey ~~ Saint Peter's University, Jersey City, NJ
Joel Etinoff ~~ NJ Institute of Technology, Newark, NJ
Hannah Fleming ~~ Rutgers University, New Brunswick, NJ
Amanda Forges ~~ University of Hartford, Hartford, CT
Jennifer Georges ~~ Montclair State University, Montclair, NJ
Khaylah Graham ~~ North Carolina A & T State Univ., Greensboro, NC
Brianna Griffin ~~ Kean University Union, NJ
Peter Gubalane ~~ Union County College Cranford, NJ
Elizabeth Henderson ~~ Pace University, Pleasantville, NY
Briana Johnson ~~ Montclair State University, Montclair, NJ
Linnea Nichols ~~ East Carolina University Greenville, NCarolina
Alexei Polotovski ~~ New York Institute of Technology, New York, NY
Erin Vermeal ~~ Montclair State University, Montclair, NJ
Cynthia Cumming
May 28, 2019