Return to Headlines
Nikhil Badlani Foundation Youth Advisory Board Teens Teach Traffic Safety
WEST ORANGE, NJ - Advocates from the Nikhil Badlani Foundation Youth Advisory Board presented an interactive information session on traffic safety to middle school students at Liberty (March 20) and Roosevelt ((March 27) Middle Schools.
Anika Fernandez, Alexandra Kicior, Darlene Folas, Chloe Mengden, Emma Renwick, Andie Schwartz are students at West Orange High School School. With the support of the Nikhil Foundation, the NBFYAB was formed in November, 2018 to provide teens with a youth-led service-learning project.
"The goal of the NBFYAB is to empower our youth to make a difference in our community by providing them a channel to express their ideas," said Sangeeta Badlani.
"Their mission is to evaluate, generate and develop traffic safety improvement plans. The ultimate goal is to reduce injuries and save lives from motor vehicle crashes," she noted.
There are 11 members on the Board, and they have formed three committees to help them meet their goals:
Educate students in the West Orange school district about traffic, pedestrian and bus safety. Cross-age peer mentoring reinforces their own learning by instructing others and younger students feel more comfortable and open when interacting with their mentors. Members from this committee worked with students at Liberty and Roosevelt Middle School during their Advisory classes. Students at the middle schools will be taking the Pedestrian Safety Pledge by putting their thumbprint on a banner which will be displayed in the school.
Traffic Safety improvements at Municipality level
Members of this committee made a presentation on crashes in West Orange to the West Orange Pedestrian Safety Advisory Board and will continue to work with the WOPSAB on the implementation of their Action Plan.
Recommend and lobby for policy changes at State level
Students are looking at various bills and will campaign with the legislators to make these into laws.
The middle school presentation included information about Nikhil Badlani and his death in 2011 due to a car crash, followed by some sobering statistics.
Each year 40,000 people die in car crashes
More than half of all road traffic deaths occur among young adults ages 15-44

In 2009, there were 3,214 teens ages 15 to 19 were killed in car accidents

An average of nine teens ages 16-19 were killed every day from motor vehicle injuries
55% percent of those killed in passenger vehicle occupant crashes in 2008 were not wearing a seat belt.
The girls then presented school bus safety tips and pedestrian safety tips for middle school students, including:
Pedestrian Safety
Stay on the sidewalk and pay attention while in the street
Always keep one headphone out of your ear
Find a safe place to stop before texting
Exercise responsibility for yourself and others
The messages were brought home with audience participation excercises.
The presentation was created and run by the Youth Advisory members. For more information, go to the Nikhil Badlani Foundation website: nikhilbadlanifoundation.org.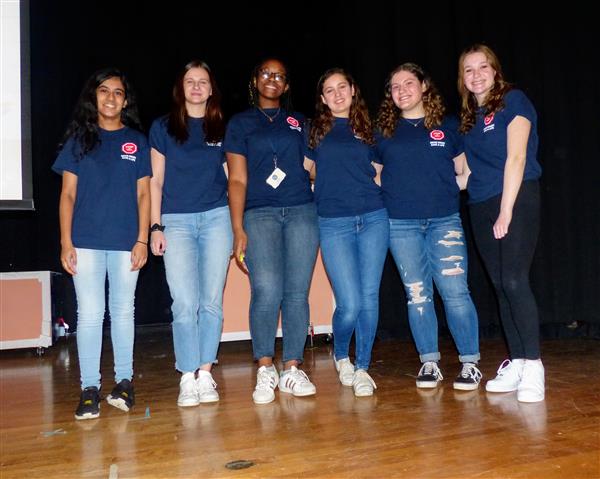 Anika Fernandez, Alexandra Kicior, Darlene Folas, Chloe Mengden, Emma Renwick, and Andie Schwartz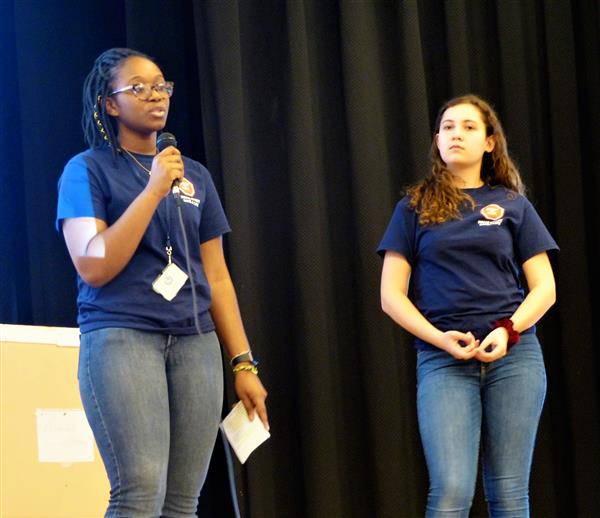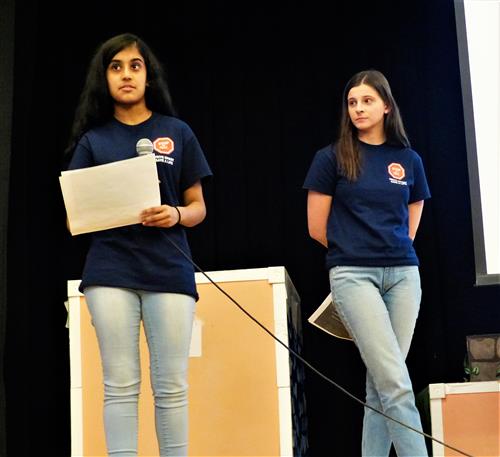 Cynthia Cumming
April 1, 2019