Return to Headlines
West Orange Township and School District Recognized with New Jersey Clean Communities Awards
WEST ORANGE, NJ – The West Orange Township and School District were recognized for several environmental initiatives during the 14th Annual Clean Communities Conference Program, "Upstream to Essex County," held May 24-26 in West Orange. This year's conference was held at Turtle Back Zoo, McLoone's Boathouse, and the Pleasantdale Chateau.
New Jersey Clean Communities is a statewide, comprehensive, litter-abatement program created by the passage of the Clean Communities Act in 1986. The Act provides a funding source for the program by placing a tax on fifteen categories of businesses that may produce litter-generating products. The Clean Communities Program Fund generates about $20 million each year and is disbursed each year to municipalities (80%), counties (10%), state parks service (10%), and the New Jersey Clean Communities Council, Inc. ($375,000)
On May 24, over 1,000 students from across the state received recognition from NJCC at Turtle Back Zoo for environmental and recycling efforts. West Orange High School "Fight for Green" club students received a "Certificate of Appreciation" at the Kids/Teen Awards at the Zoo as well as an "Open Space Award" for participating in the tree planting at the Rock on Mt. Pleasant Avenue on April 22.
Fight for Green members are also developing an educational program to visit West Orange Elementary and Middle School students to educate their younger counterparts regarding environmental and recycling opportunities.
In addition to the students, West Orange High School Technology and Engineering Supervisor Ryan Del Guercio received a prestigious "Excellence in Education Award," for his innovative Liter of Light curriculum currently being used at WOHS and planned to be a model program in high schools across the state. Del Guercio received his award on May 25 at the at the Awards Dinner held at the Pleasantdale Chateau.
Also recognized at the awards dinner were several township officials.
The Wilshire Grand Hotel was recognized as a Conference Partner for providing lunch to the students at Turtle Back Zoo; former West Orange Mayor and current Assemblyman John F. McKeon (D-27) received the Robert Pellet Leadership Award; former Open Space Commissioner Heidi Cohen, Open Space Chairman Joe McCartney, Township Forester John Linson, and the WOHS Fight for Green Team received Open Space Awards.
Township Councilwoman Susan McCartney received a Conference Partnership Award, an Environmental Quality Award, and a Volunteer Award. Assistant Director of Public Works, Nick Salese, received an Environmental Quality Award and the Public Works Award.
The West Orange School District and West Orange Township are committed to working together and developing environmental initiatives. Environmental clubs and curriculum are integrated into all West Orange Schools. The West Orange EnvironmentalCommission and Open Space Commission work to expand environmental strategies; the most recent is the development of The Rock on Mt. Pleasant Avenue. West Orange is a "Tree City USA" and holds a Sustainable Jersey Bronze Certification. The Recycling Center provides residents with the opportunity to drop off their recycling and get free mulch, and the township utilizes a commingled recycling program.
To see all the photos from the NJCC Awards events, go
here
.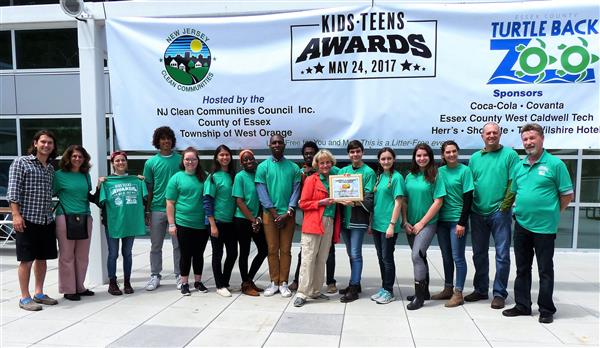 WOHS Fight for Green and environmental students with Wilshire Grand, Susan McCartney,
Sandy Huber, NJCC, WOHS Environmental teacher Pete Ficuciello and DPW Nick Salese
at Turtle Back Zoo on May 24.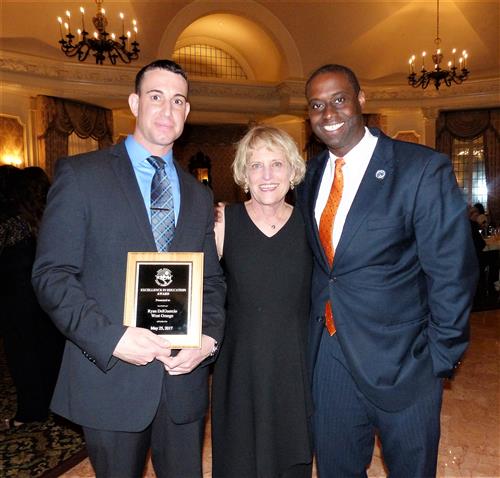 Ryan Del Guercio, Sandy Huber, WOHS Principal Hayden Moore.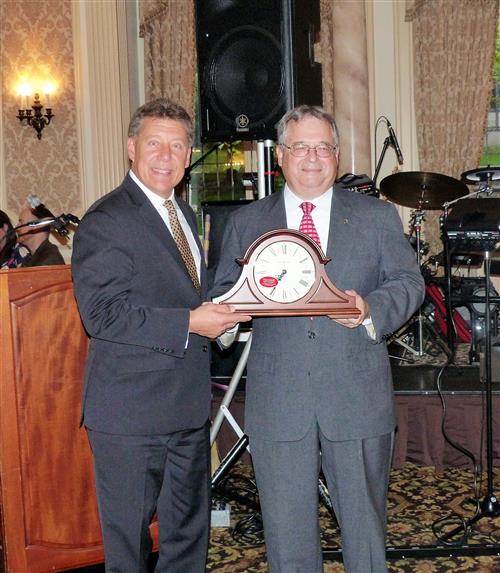 Assemblyman John McKeon and NJCC President Patrick Ryan.
Patrick Ryan, Heidi Cohen, Joe McCartney, John Linson.