Return to Headlines
"Reading Buddies" Program Unites Young and Old at Mt. Pleasant Elementary School
WEST ORANGE, NJ – A inter-generational reading program uniting senior citizens with Kindergarten, First and Second grade students has become a weekly anticipated event at Mt. Pleasant Elementary School.
The "Reading Buddies" program was organized in the summer of 2016 by Principal Julie DiGiacomo, Reading Specialist Shari Ritter, and Stephanie Grove, RSVP Director at the Jewish Family Services of Metrowest. The 15 senior citizens are part of the Retired & Senior Volunteer Program Center of Essex and Hudson Counties in Florham Park.
Volunteers travel weekly to Mt. Pleasant and read for a half-hour to two classes. The program began in October and will continue through May.
"The same readers are partnered with the same children to allow the seniors and children to develop a relationship," explained DiGiacomo, "and this partnership has been extremely positive."
Grove agreed. "So many of our volunteers have families who live far and grandchildren that they can't see as often as they would like. The Reading Buddies program gives them a chance to connect with children, foster intergenerational learning, and allow them to use the skills many of them used in their professional lives."
The seniors are from the Jewish Family Center in Florham Park and most live locally or in neighboring towns," continued DiGiacomo "One of our volunteers was a retired, veteran teacher from Washington Elementary School."
On April 5, Mayor Robert Parisi and Superintendent Jeff Rutzky visited Mt. Pleasant on "Mayor's Day" and were duly impressed by the program as they observed seniors and students interact.
"The Reading Buddies program is fantastic," said Rutzky.
Mayor Parisi took the time to join the buddy readers and read a big book, "Fancy Nancy," to Ms. Kovach's kindergarten class.
"Our children adore the visits as do our readers," concluded DiGiacomo, "and we hope to continue our partnership in the future."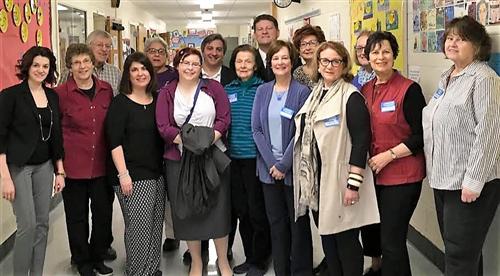 Mayor Parisi, Superintendent Rutzky, Staff, administrators and volunteers.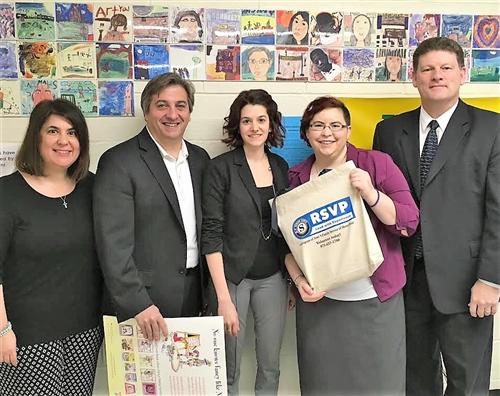 (L-R) Principal Julie DiGiacomo, Mayor Parisi, Stephanie Grove, Julie Cramer and Jeff Rutzky.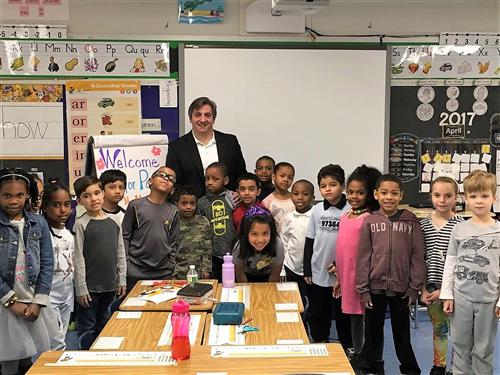 Mayor Parisi with Mrs. Marx's class.