Return to Headlines
Mt. Pleasant Fifth Grade Student to Appear on "Chopped Jr." April 11
WEST ORANGE, NJ – Mt. Pleasant Elementary School Fifth grade student Megan Hackett will appear on "Chopped Jr.," the popular cooking show on the Food Network, on April 11 at 8:00 pm.
Megan has always enjoyed cooking, taking several cooking classes before deciding to audition for "Chopped Jr." The contest pits four chefs against each other for three rounds—appetizer, entrée and dessert—and requires the chefs to incorporate unusual combinations of ingredients into cohesive, creative dishes. During each round, a contestant is eliminated until there is one remaining.
Ten-year old Megan joins three peers in a circus-themed episode to compete for a $10,000 prize and title of "Chopped Junior champion."
After learning she was selected for the show, Megan began to work with several chefs for additional training. Among those who helped Megan was Chef Ariane Duarte, who has appeared on Top Chef and Iron Chef. Duarte opened the kitchen at her restaurant, "Ariane Kitchen and Bar," to allow Megan to see a professional kitchen at work.
She also worked with closely with Chef Karan Fischer of Montclair Culinary Academy and Chef Darius Butherde of Fabulous Appetizers to learn the art of preparing various cuisines. For her audition, Megan prepared Teriyaki Salmon, truffled macaroni and cheese and sautéed spinach.
Her palate and culinary talent have given her the opportunity to appear as a food critic for Bon Appetit and filmed projects for Glamour magazine.
Megan is an outstanding student at Mt. Pleasant and plays basketball and soccer on local teams. In addition, she has also worked professionally in commercials, Off-Broadway theater, and as a television extra.
Megan writes music and plays several instruments including piano, bass guitar and trumpet. She plays in a rock band on weekends, studies voice and dance, and has even done stand-up comedy.
If she wins Chopped Jr., Megan says she will use the money to create an after-school program to serve inner-city youth.
"I want to create an after-school program that allows children to have the same experiences I have. I would like for them to have classes in cooking, art and music because when school budgets are cut, often the arts are the first to go," she stated.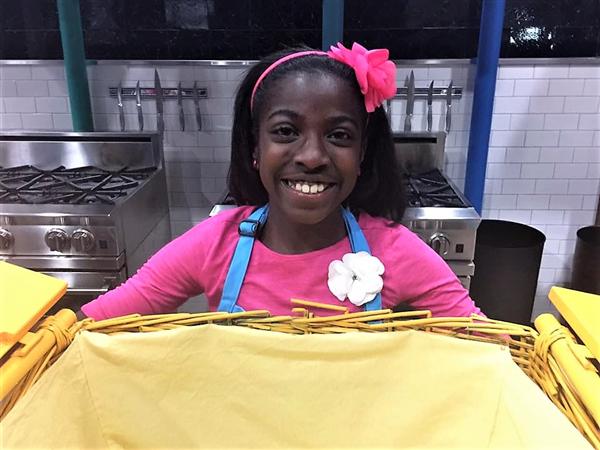 Mt. Pleasant Fifth grade student Megan Hackett appears on "Chopped Jr." on April 11.