Return to Headlines
Families and Community Needed to Help Plant Saplings at "The Rock" on April 22
WEST ORANGE, NJ - West Orange Schools families and environmental clubs are invited to join the West Orange Environmental Commission at "The Rock," located at 577 Mt. Pleasant Avenue, on April 22 from 9:00 am - 1:00 pm to join in planting tree saplings at the township's Open Space Trust Fund location, known as "The Rock." The Rock is located at 577 Mt. Pleasant Avenue, across from the Recycling Center.
In a memorandum to the West Orange Township Council and Mayor Parisi regarding potential use of the land, Councilwoman Susan McCartney wrote the following.
In August 2011, the Township acquired the property known as 577 Mt. Pleasant Avenue, Block 172.25, Lot 23 on the Tax Map, commonly known as The Rock. This acquisition was accomplished with funding from a number of sources, including funds from the Township's Open Space Trust Fund. In keeping with its mission to promote the acquisition and appropriate use of properties with open space funds, the Open Space Commission has discussed The Rock property and the best means by which the Township can make use of it.
As a result, The Open Space Commission conducted a series of open public meetings to garner input from the residents to discuss the potential uses including a community garden, art park, and a nursery. With the difficult ingress and egress to the site, the Commission decided to create eight various types of gardens including pollinator gardens and a reforestation plan.
A $1,500 ANJEC (Association of NJ Environmental Commissions) grant award from the West Orange Environmental Commission secured a landscape architect to design a conceptual plan, and with the help of the Nick Salese, Assistant Director of Public Works, John Linson, Township Forester, and Mike Brick, West Orange Environmental Commission Chair, Joe McCartney,Open Space Chairman, implementation of the landscaping plan has begun.
McCartney is waiting to hear back from Sustainable Jersey regarding a $20,000 grant application.

The April 22 event is open to all members of the West Orange community. Several hundred seedlings received from the New Jersey Tree Foundation will be planted. Volunteers will need to bring shovels.
To sign-up or get more information contact Joe McCartney, Open Space Commission Chair, at JosephPMc53@gmail.com.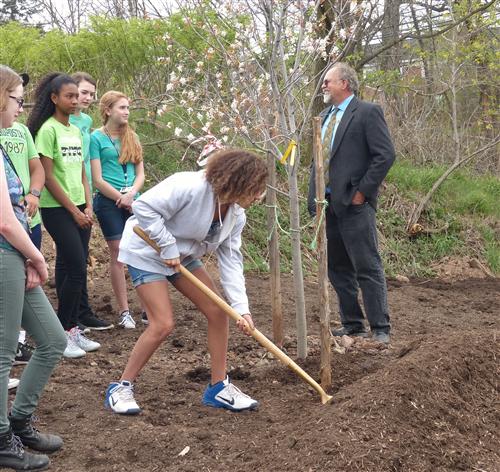 Roosevelt Middle School Environmental Club students plant a tree at The Rock
with township forester John Linson on April 22, 2016.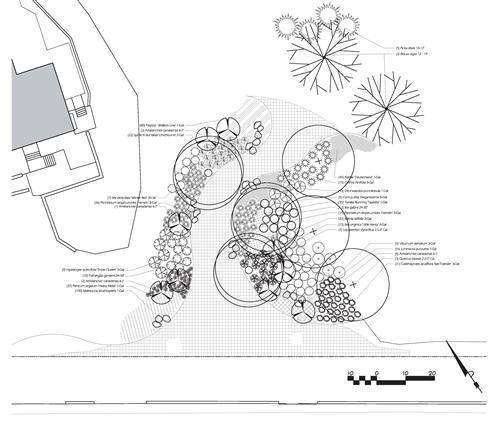 Plans for the gardens and more at the Rock.
Read and see more about The Rock
here
.