Return to Headlines
West Orange High School Celebrates Black History Month
WEST ORANGE, NJ – The West Orange High School Annual Black History Month Scholarship Dinner on Feb. 3 celebrated not only the accomplishments of the African-American community but also highlighted the talents of its students.
Organized by the student council (Bianca Trinidad, President, Sam Banks, Vice-President, Iveth Gonzales, Vice-President, Abeni Mussa, Secretary, and Gabriela Cupo, Treasurer), the evening featured a buffet dinner provided by Sodexo and a stirring talk by keynote speaker Reggie Miller, with student performances interspersed throughout the evening.
"I am so happy to see all of you here tonight," said Principal Hayden Moore as he welcomed families and guests to the school cafeteria which included Board of Education President Sandra Mordecai and Board members Laura Lab and Mark Robertson.
"I get to see what happens at our high school all the time," Mr. Moore continued, "so pay close attention tonight to who we are at West Orange and see the amazing things I see every day."
The National Anthem was performed by Mia Osobo and "Lift Every Voice," the Black National Anthem, was sung by Justin Tyreek Voltaire. Poetry readings by Tyra Brooks ("Is Happiness Progress?") and a vocal performance of "River," by Anthonia Alexis, Tyra Brooks, Nasir Hannah, and Daniel Jones, followed.
Motivational speaker and community activist Reggie Miller spoke next. Miller is the Program Director of the Male Student Support Program, a school-based program in partnership with RUTGERS New Jersey Medical School and the Orange Public Schools that addresses psycho-social challenges impacting male students, helping them understand that education is the key to success.
Miller attended Rutgers University on a basketball scholarship. His dreams were dashed when he was diagnosed with spinal stenosis. He received a Bachelor's Degree in Sociology and became a community advocate. A cancer survivor, Miller also advocates for healthy eating.
"Find your purpose and find your calling," Miller encouraged.
"Go to college, get your degree and become equipped," he continued, "and don't forget where you came from…West Orange has a lot to offer."
"You have to have a purposeful walk," he concluded, demonstrating how action stars move on film, "and remember that if you need to reach down and give someone an extra hand, do it."
The Girls Step Team performed their routine demonstrating the origins of step in the black community. The Boys Step team also performed, describing in short vignettes the black experience in America. A cultural dance group (Briana Ampadu, Aica Capochichi, Sara James, and Doreen Olivier) demonstrated Afro-Caribbean rhythms.
Poetry readings by Estelle Eustache ("My Condolences") and Paul Okoh ("Silhouettes") continued the theme of life experiences. Okoh, born in Nigeria, moved to West Orange as a child and shared the process of assimilation into a new culture.
Mariah Clairvoyant and Kaiya Thornton performed Mariah Carey's "Hero," and emotional performances of "Ultralight Beam," by "YSS," and "Four Women," by Ruth Mesfin, Kefi Mtume, Gabby and Daniella Rodriguez, brought the audience to their feet.
The Jubilee Choir ended the evening with a roof-raising rendition of "Souled Out" by Hezekiah Walker.
Advisors for the event are Jodi Costanza and Krista Romanyshyn. The high school jazz band, "Citrus," also contributed their unique talents to the soundtrack underscoring the evening.
See a video of the Jubilee Choir performing "Souled Out" click
here
.
Gabby Cupo, Sam Banks, Krista Romanyshyn, Kim Mancarella, Hayden Moore,
Biana Trinidad, Iveth Gonzales, Jodi Costanza.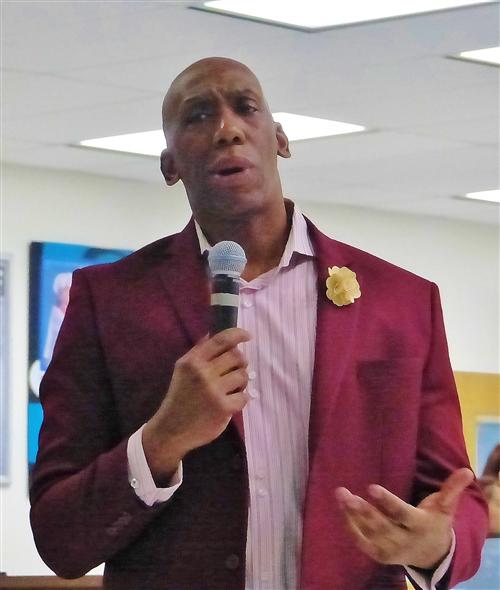 Motivational speaker Reggie Miller.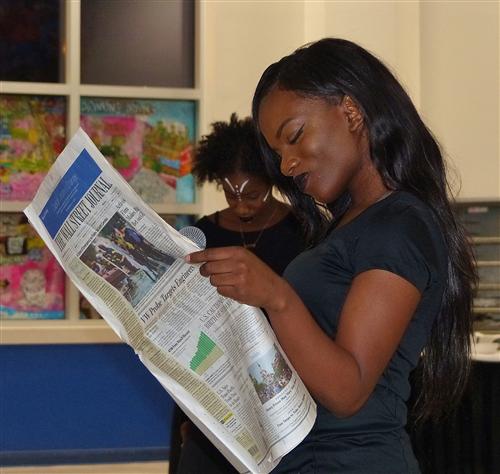 Girls Step team.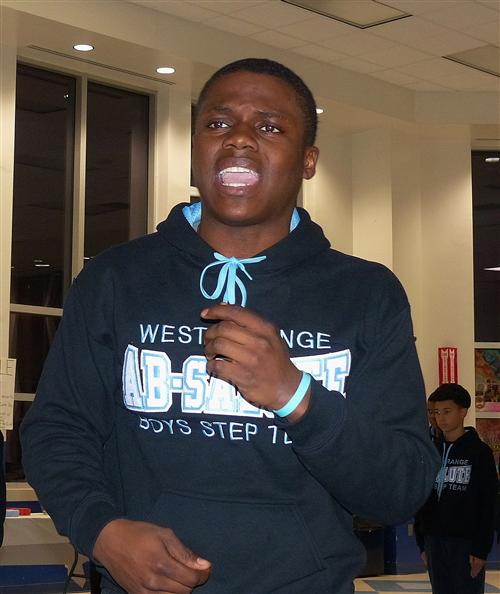 Boys Step Team.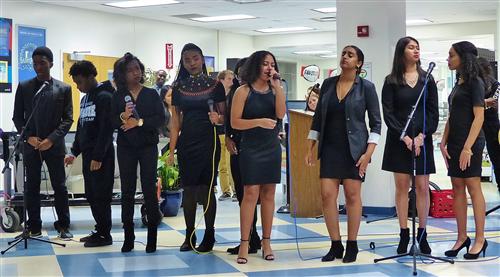 "Four Women"

Jubilee Choir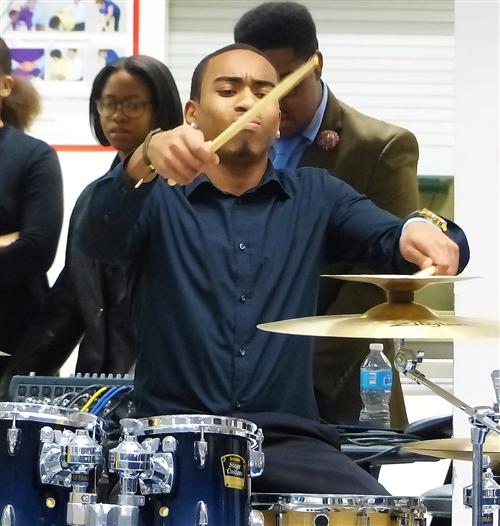 Justin Davis.