Return to Headlines
West Orange High School Wrestler Victor Lopez Breaks School Record with 127 Wins
WEST ORANGE, NJ - West Orange High School senior wrestler Victor Lopez, 17, broke the school record set by alum Tommy Lorenzo of 126 career wins in 2006 on Feb. 11 . Lopez pinned Andrew Kyper of Roxbury in the 120 lb. category to set a new historic school record. In addition, Lopez also made his 128th pin against
Brandon
Olmstead of Hopatcong later in the day.
"The West Orange wrestling community is so proud of Victor and his wonderful family and his accomplishment," began head coach Steve Zichella.
"It's been an honor watching Vic's transformation over the past four years from a talented wrestler into the fine young man and leader he is today. He is one of the top wrestlers in the state and is an outstanding scholar-athlete," continued Zichella.
Zichella went on to say that Lopez is closing in on being the first wrestler in the WOHS program to win 30 matches in each of his four seasons. He is currently 26-1 for this year and looking to become West Orange's first four-time district champion.
"To break the school record has been one of my biggest goals since freshman year," said Lopez.
"I even went to the person who held the record and told him "I'm beating your record!" he continued.
Lopez attended Washington Elementary School, the Edison Central Sixth, and Liberty Middle School. His brothers were into soccer, he noted, and he was the only one in the family into wrestling.
"Victor's family is so supportive," stated Zichella. "His Aunt, Doyle Redington, brothers, mother Amalia Hercules, and father Serafin Lopez, have been in his corner his whole life and it has made a world of difference. His parents and aunt have been at just about every one of his 128 wins."
The Mountaineers lost to Roxbury, 52-24, but beat Hopatcong, 65-9. They end their regular season at 12-6 and were 11-3 in their last 14 matches.
So what's next for Lopez after graduation in June?
"I still have options but my first choice is Franklin and Marshall College," said Lopez. "I want to major in business and continue to wrestle in college. It's part of my dream."
The state individual qualifying tournaments will determine whether Lopez once again heads to Atlantic City in March.
"It's an exciting time for Victor, his family, West Orange High School, our coaches, and our wrestling program," concluded Zichella.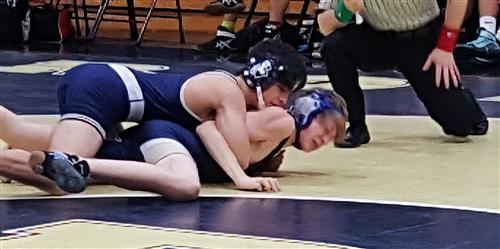 Lopez pins Andrew Kyper of Roxbury for his record-breaking 127th pin.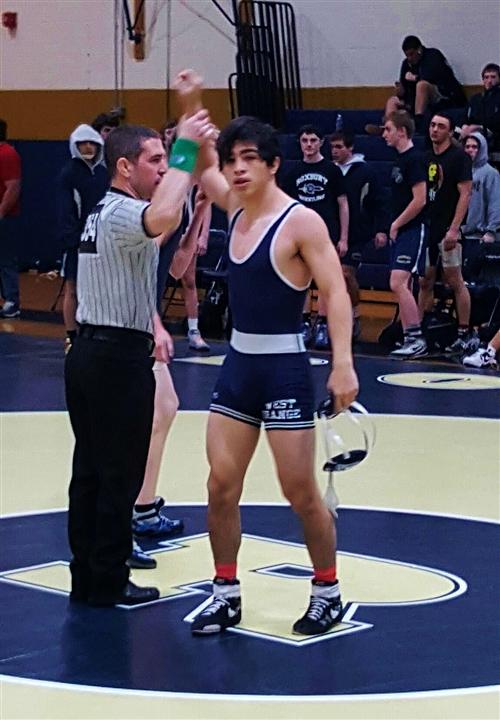 Lopez wins the match.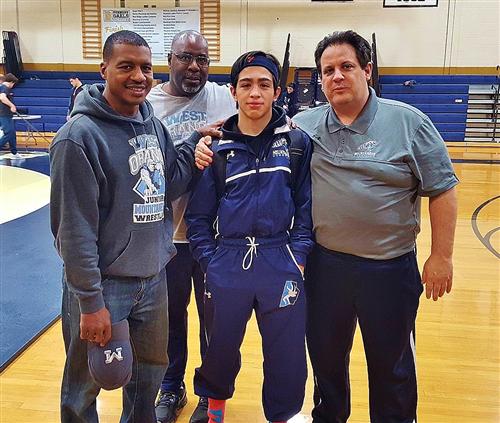 Lopez with youth wrestling coaches James Rawls, Gerard Eatman and Ron Charles.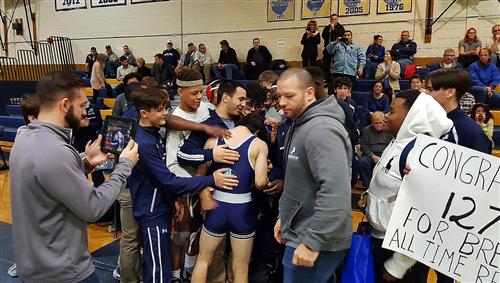 The team and coaches congratulate Lopez on his 127th win.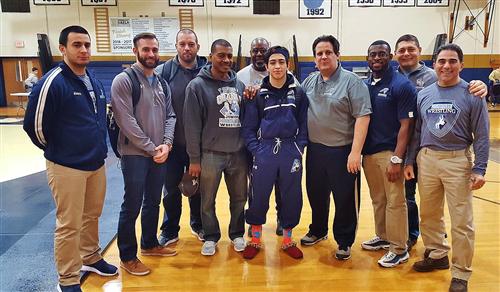 Lopez with coaches, past and present.