Return to Headlines
Writer and Illustrator of Best-Selling Book Series "Olympians" Visits Gregory Elementary School
WEST ORANGE, NJ – Greek mythology is alive and well for the fourth and fifth grade students at Gregory Elementary School, and author and illustrator George O'Connor's extended visit on April 1 proved just that.
O'Connor is a New York Times bestselling author and illustrator. In 2010, he began creating a series of graphic novels about the world's first superheroes, the "Olympians." To date, O'Connor has published "Zeus: King of Gods;" "Athena: Grey-Eyed Goddess;" "Hera: The Goddess and Her Glory;" "Hades: God of the Dead;" Poseidon: Earth Shaker;" "Aphrodite: Goddess of Love;" "Ares: Bringer of War," and "Apollo: The Brilliant One."
"My favorite things to draw have always been monsters, musclemen, and pretty ladies," he told students.
Each novel takes O'Connor between 12-18 months to complete from start to finish. His next work, due in January, 2017, is "Artemis: Goddess of the Hunt, to be followed by "Hermes: The Trickster."
Following a special breakfast with students, the popular graphic novelist met with fourth and fifth grade students for an assembly that generated laughter, excitement and ongoing jokes on the part of O'Connor, who clearly loved his "job." O'Connor talked students through the process of publishing one of his Olympian novels: research, draw, development of the comic format (called a "dummy"), script writing, and storyboards (the finished art, twice the size of what will be published).
Sharing information bytes on various Gods and Goddesses, he said his favorites were Hera, Ares, and Aphrodite.
"I created Aphrodite as a combination of Sophia Vergara and Beyonce," O'Connor laughed as he showed a slide of his goddess.
As part of O'Connor's visit, students prepared their own Olympian "books," including text and illustration.
The unique opportunity to have O'Connor pay a visit to Gregory was arranged by Principal Michele Thompson, Library Media Specialist Julie Matz, and Watchung Booksellers in Montclair, who also helped to arrange the September visit of football player turned author Tim Green and Giants running back Rashad Jennings.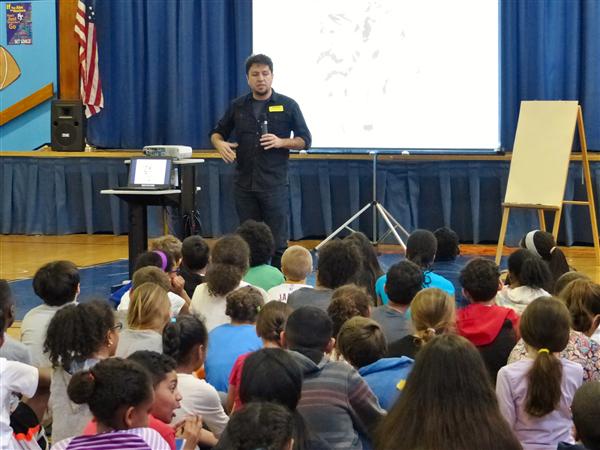 Fourth and fifth grade Gregory students are enthralled by O'Connor.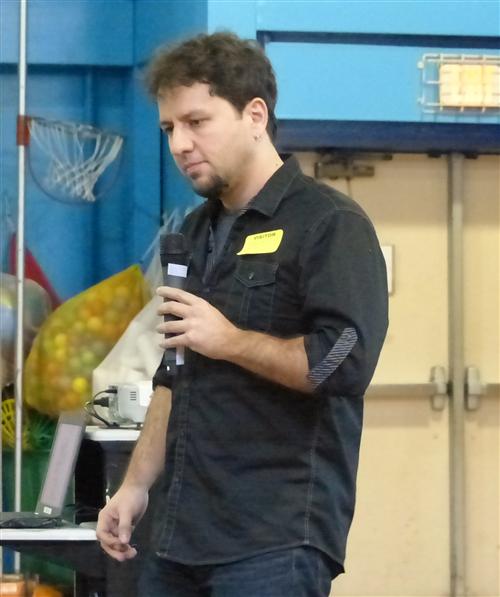 O'Connor discusses the writing and illustration process.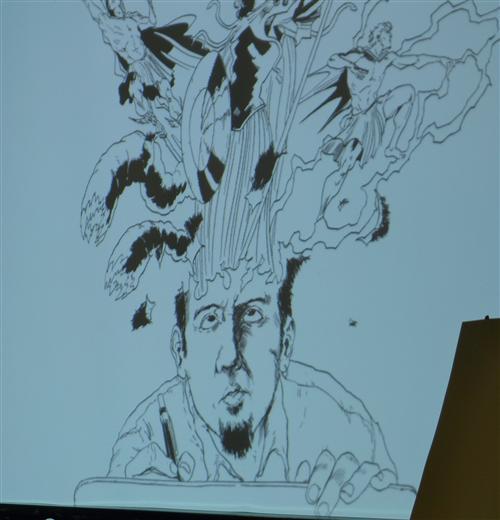 The mind of the artist at work.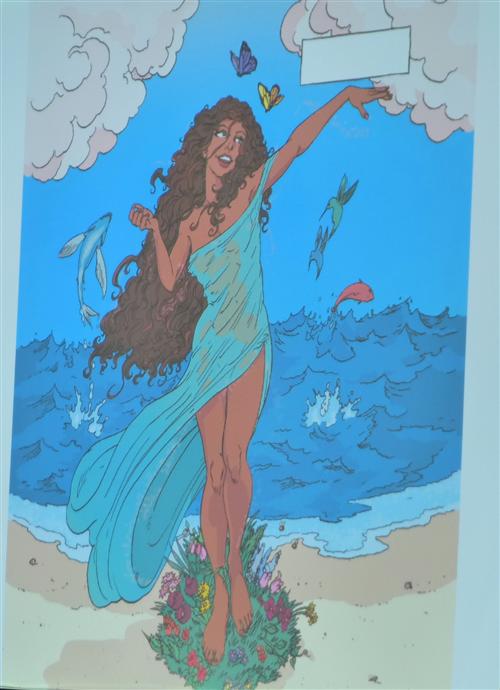 Aphrodite.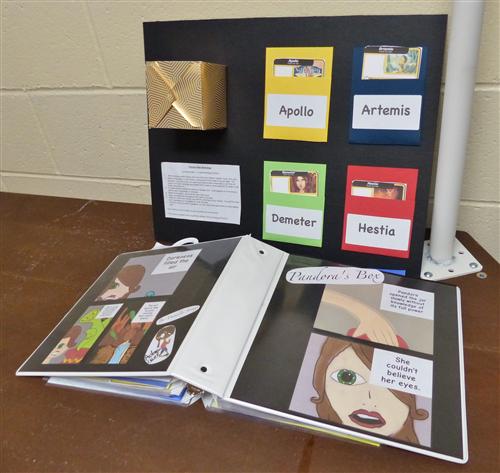 View of a student's illustrated Olympian book.