Return to Headlines
Edison Middle School Student Receives International Acclaim for #1000BlackGirlBooks Project
WEST ORANGE, NJ – Marley Dias is an enthusiastic, bubbly and well-spoken 11-year-old that loves animals, books, and swimming. She has also become an international media celebrity as the result of her #1000BlackGirlBooks project, created to collect and distribute books that represent young black females as main literary characters.
Over the past month, Marley has traveled all over the United States, appeared on the news, in magazines like "People" and television shows like "Ellen," and has headed to Jamaica, her mother's hometown, to deliver books there.
The overwhelming response to Marley's project has proven that "#1000BlackGirlBooks shows the world that these books exist and that readers are hungry for them," Brown Girl Dreaming author Jacqueline Woodson told People magazine after Marley noted it was one of her favorite books.
"It was overwhelming at first about being on TV and doing interviews," said Marley, "but I feel a lot better now because I know what I'm doing."
"I'm grateful that people are appreciative and it makes me happy to inspire others," she continued.
The #1000BlackGirlsBooks project grew out of friendships Marley had formed with friends Briana Anderson (who recently moved to South Orange) and Amina Anekwe, who attends Edison Middle School with Marley.
"My friends told me I had to speak up about not having teen and young adult books about girls like us to read, because I was the least shy," commented Marley.
Dr. Janice Johnson Dias, Marley's Mom, had co-founded the GrassROOTS Community Foundation in 2010 with Tariq "Black Thought" Trotter of The Roots, a popular hip-hop band that also performs on "Late Night with Jimmy Fallon." The non-profit organization's mission is to:
"create a world where all girls grow up to be healthy women. We believe in the adage, "if you don't have your health you don't have anything". We recognize that obesity and physical inactivity are major health crises that lower individuals' quality of life and reduce their human development. This is particularly true for impoverished women and girls of all races who are at the highest risk for poor physical, mental and sexual health. Our work addresses behavioral, social and environmental determinants of health. We are committed to providing the resources and opportunities for women and girls to make health a priority so they can affect changes in themselves, their family and community."
The girls formulated the project while attending the GrassRoots Community Foundation Super Camp, and #1000BlackGirlBooks is one of its initiatives. To date, it has surpassed 1,000 books and continues to receive books, even from overseas countries like Uganda, Australia, Portugal and France.
The Dias family moved to West Orange from Michigan in 2007. Her dad, Scott Dias, is a Real Estate Analytical Geographer for Wakefern Corporation, and her mom, Dr. Janice Johnson Dias, in addition to co-founding the Community GrassROOTS Foundation, teaches Sociology at John Jay College of Criminal Justice.
Marley attended St. Cloud and is currently a sixth grader at Edison Middle School. "I love it here!" she said.
In addition to her love of reading, animals and swimming, Marley plays viola and enjoys running, even playing quarterback on her Rec Flag Football team. She also loves playing Minecraft, watching You Tube videos, and doing homework. Her favorite subjects are Language Arts and Social Studies.
"You have to learn about the past in order to make changes," she noted.
The family has volunteered locally but also gets involved in outreach outside West Orange. "Community is everywhere," said Marley.
#1000BlackGirlBooks plans to donate 600 books to St. Cloud School, and upon their return from Jamaica, Dr. Dias and Marley will meet with Nancy Mullin, K-12 Supervisor of Career Education & Library Science in the West Orange School District, to discuss the integration of more books that reflect young black girls into the curriculum.
"My mom always says it's important to read because books express ideas and thoughts in words, and then that can help you to express yourself," Marley concluded.
To find out more about the GrassROOTS Community Foundation, go to: http://grassrootscommunityfoundation.org/.
Marley and her mom, Dr. Janice Johnson Dias, at Edison on Feb. 9.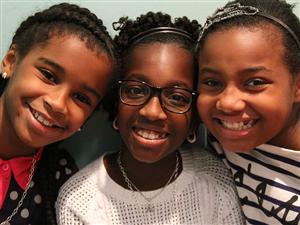 Marley, Amina, and Briana