Return to Headlines
West Orange Fire Department Partners with High School CPR Classes
West Orange, NJ – The West Orange Fire Department has partnered with West Orange High School as part of a series of guest classroom speakers, and the first session was held on May 4 in the senior CPR class taught by Brian Dillon.
Captain Joe Matullo (WOHS Class of 1998) and Firefighters Rich Mulligan (WOHS Class of 1989) and Daniel Keenan visited with four CPR classes to help students connect what they are learning in their classes with the practical experience of the firefighters. (The WOFD is comprised mostly of WOHS graduates, around 80 per cent.)
The WOFD are first responders and each firefighter is certified as an EMT (Emergency Medical Technician). According to Captain Matullo, the Fire Department answers approximately 6,000 calls per year and 70 per cent are medical. Firefighters take a 250-hour course for certification and are recertified every three years. The fire department began training as EMTs in 1996 and they are now the primary emergency response team in West Orange.
High school students completing the CPR course can take the test and become certified in CPR, opening employment opportunities like lifeguard and camp counselor. A firefighting career, its lifestyle, hours, benefits, and opportunities was also discussed.
Firefighters shared their EMT experiences and encouraged students to become CPR certified as they talked about how many lives they've saved with the skill.
"This is a way for our students to see the connection between real life emergencies and life-saving skills that are happening in West Orange," said PE and Health Supervisor Kevine Alvine. "The connection is real-life to the classroom curriculum and building these community relationships is not only relevant but important."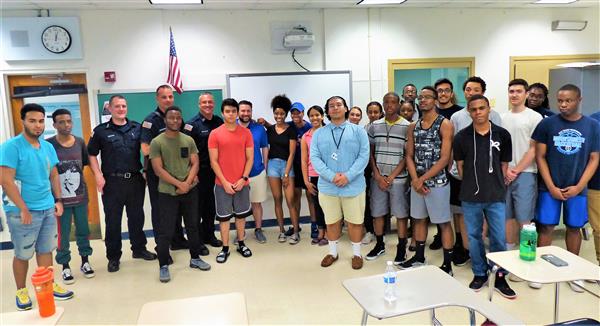 (L-R) Firefighter Daniel Keenan, Rich Mulligan, and Capt. Joe Matullo with Brian Dillon and senior CPR students.
Cynthia Cumming
May 5, 2018