Return to Headlines
West Orange Scholarship Fund Hosts Successful "Master Chef" Fundraiser
WEST ORANGE, NJ -- Members of West Orange's school and local community gathered in the Tarnoff Cafeteria at West Orange High School on Nov. 18 for the Mountaineer Master Chef competition, all in an effort to benefit the Principal's Scholarship Fund. The event was also sponsored by the West Orange Scholarship Fund and underwritten by Sodexo.
Sponsored by Sodexo, the evening featured five teams representing different facets of West Orange, including school district staff members, town firefighters, parents, and even several high school students. Each team was tasked with devising the best appetizers, entrees, and desserts, all within the course of one hour. In the spirit of the "Iron Chef" cooking show, all groups had to incorporate the "secret ingredient" into each of their dishes, which was cranberries.
Attendees spectated as groups worked at their own cooking stations equipped with pots, plates, mini-stoves, and various utensils. For a variety of cooking styles, teams were also able to access equipment in the cafeteria's kitchen and grills just outside the building. An enormous array of foods of just about every shape and size was spread out at one end of the cafeteria for the chefs to experiment and create over a dozen unique dishes.
Each dish was judged by a panel comprised of professional chefs and members of the food service industry, including Leslie Fleisher, Derrick Gagner, Carl Hawkins, Jesse Jones, and Juan Landaverde. Additionally, five of the event's guests were also randomly selected to partake in evaluations as "judge's assistants." For the first time, five audience members were selected as Guest Judges: Alina Cannao, Amal Baldo, Marc Marino, Alexine Tranquada, and Kate Kehr.
WOHS Principal Hayden Moore was the evening's Master of Ceremonies, and entertained attendees with culinary-themed trivia questions while guests enjoyed dinner. Moore's banter with guests was complemented by a live house band made up of WOHS seniors Austin Bartola, Nick Mongelli, Andrew Scheib, and Clyde Williams.
Before the winners were revealed, the 50/50 raffle prizes were distributed, which were designed and assembled by the high school's autistic art class and the Maker Space program. Local businesses and parents contributed to the contents of each gift basket which consisted of beverages, gift cards, and more.
Once the votes were tallied, winners were announced by Josh Kreutz, Manager of Sodexo Food Services for the West Orange School District.
Best Appetizer was awarded to Chef Justin and Team Two.
Best Entrée was awarded to Chef Mike and Team Three.
Best Dessert was awarded to Chef Andre and Team Five.
Best Plated was awarded to Chef Leo and Team One (who brought their own china and even placed some bribe money on the plate and displayed with elegant dinner music.)
Returning champions, Team Kate and Team Four (comprised of Jalex Green, Paul Casolaro, Anna D'Elia, Nancy Mullin, and Lew Kelly were again crowned Overall Master Chef Champions. Their dishes included Grilled Shrimp Cocktail with an Asian Cranberry Sauce, Chicken Margherita Layered with Fried Eggplant, Sautéed Spinach, Tomato, and Fresh Mozzarella Over a bed of Asparagus Sautéed in Garlic & Oil, with a Savory Cranberry Risotto, and a
Coconut Cheesecake with a Chocolate cookie crust and a Strawberrry/Cranberry Sauce.
"The event was an absolute blast," Moore said. He gave credit to the house band and Sodexo for creating a fun and high-quality atmosphere that carried throughout the evening. He also lauded the Principal's Committee, headed by Debi Zarro, for ensuring the event was substantive and well-done.
"We wanted to make things fun, communal, got the students involved, and tried to reach out to various community members so that everyone gives back," Zarro said.
Moore and the Committee have been working since the beginning of his tenure as principal to come up with engaging ways to raise money for the Principal's Scholarship Fund and West Orange Scholarship fund, which provide scholarships of several hundred dollars to a selection of college-bound WOHS graduates. Moore feels the fund is an opportunity to give back to the students who make his job worthwhile.
"Being the principal, I really appreciate how the students represent me," he said. "Many people who come to the school leave telling me how terrific it is, and I get a lot of credit for that. But good students make good principals, and without great students, I wouldn't be a good principal."
The West Orange Scholarship Fund will be hosting several other events over the course of the school year, including their annual Bowling Night, set to be held in February. For more info on the fund, please visit https://www.woboe.org/Page/615.
To see all the photos from the event, go to Master Chef Photos. (All photos by Cynthia Cumming.)
Austin Bartola is a senior at West Orange High School participating on the Mountaineer Media Team.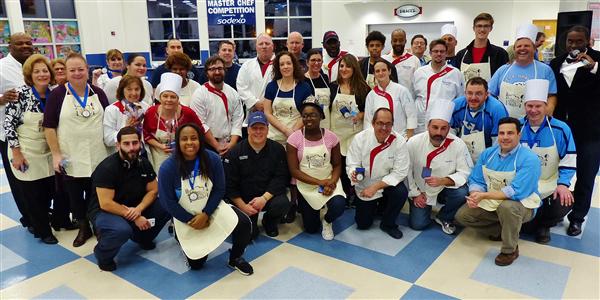 Master Chef participants.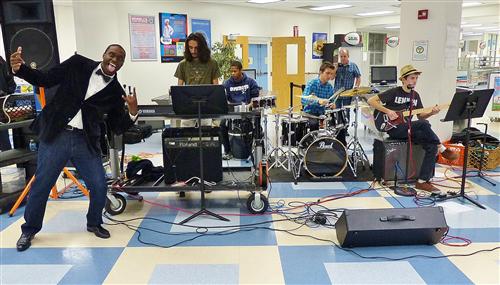 Principal Hayden Moore rocks out with the band.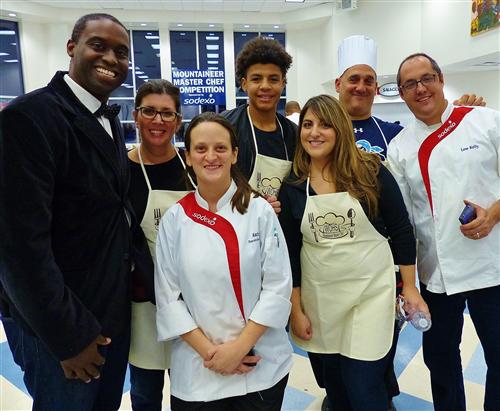 Over Master Chef Champions with Hayden Moore. (L-R Nancy Mullin, Chef Kate, Jalex Green, Anna D'Elia, Paul Casolaro, Lew Kelly.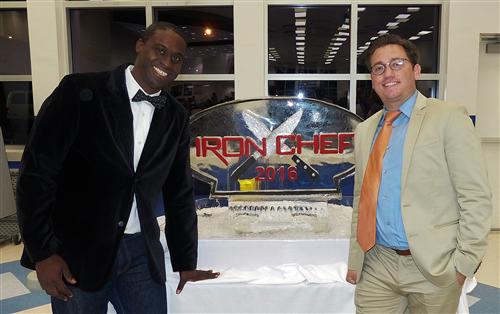 Hayden Moore and Josh Kreutz, Sodexo Manager.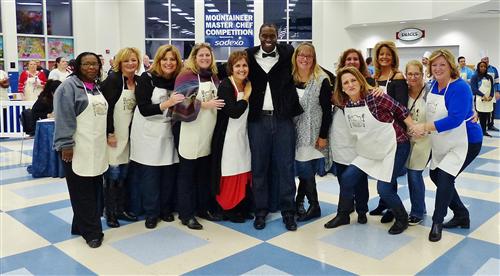 Hayden Moore and volunteers: (L-R Candy Myrick, Paula Petrucelli, Ann Cupo, Cindy Klein, Angie Iriarte, Nicole Fenske, Isabel Novoa, Ann Aly Ahmed, Lisa Giovine, Carol Fastiggi, Debi Zarro (not pictured: Lisa Scalora.)
Austin Bartola and Cynthia Cumming