Return to Headlines
Hazel Elementary School Receives $5,000 Hometown Grant from Fuel Up to Play 60
WEST ORANGE, NJ – Hazel Elementary School has become the $5,000 recipient of a Hometown Grant from Fuel Up to Play 60, provided by the National Dairy Council and the National Football League.
The Fuel Up to Play 60 initiative "is an in-school nutrition and physical activity program launched by National Dairy Council and NFL, in collaboration with the USDA, to help encourage today's youth to lead healthier lives," according to the website. The program promotes healthy eating and 60 minutes of daily exercise.
Josh Kreutz, Sodexo Food Manager for the West Orange school district, helped to apply for the grant money. $2,500 will go to Sodexo Food Services for the Hazel food program and $2,500 to Hazel to purchase equipment. To qualify, Hazel had to enroll in Enroll in Fuel Up to Play 60, have a registered Program Advisor and participate in the National School Lunch Program.
What better way to celebrate the grant than to be guests of the American Dairy Association at the Dec. 6 Giants/Jets game at the Meadowlands?
Hazel Principal Dr. Ed Acevedo, Josh Kreutz, three chaperones and five students had a fantastic afternoon at the Meadowlands, meeting Giants team members, receiving an invitation onto the field during pre-game festivities, and enjoying an exciting game (won by the Jets 23-20.)
"The students had an amazing time on the field where they saw NY Giants and NY Jets players practicing for this very competitive game between the two hometown rivals," said Dr. Acevedo.
"Students were also selected to participate in the national anthem and witness the coin toss between the two teams. We were then escorted to our clubhouse seats where they watched and learned about football and the game."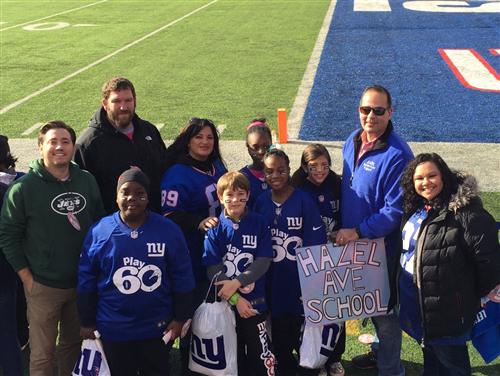 Josh Kreutz of Sodexo, left, with Principal Dr. Ed Acevedo (with sign), chaperones and students at Dec. 6 Jet/Giants game.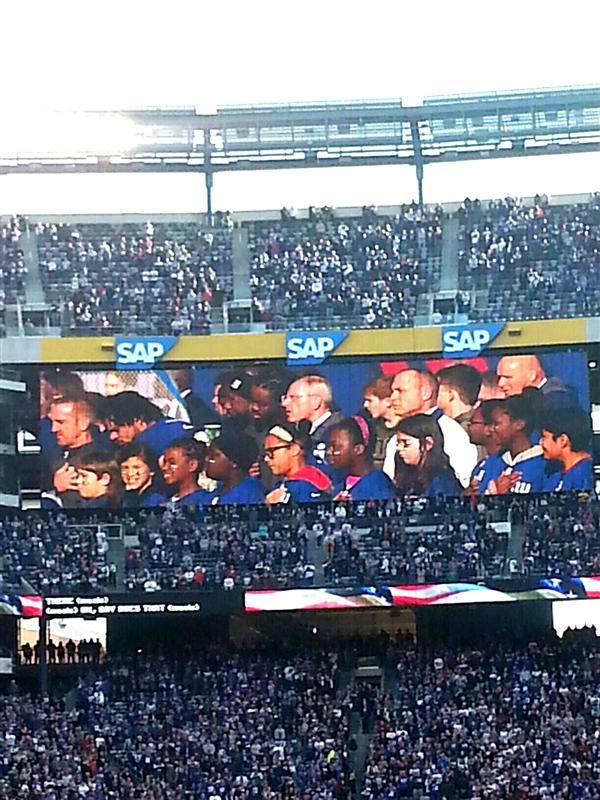 On the Jumbotron!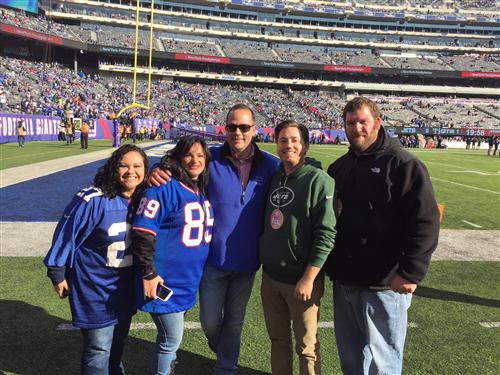 Chaperones.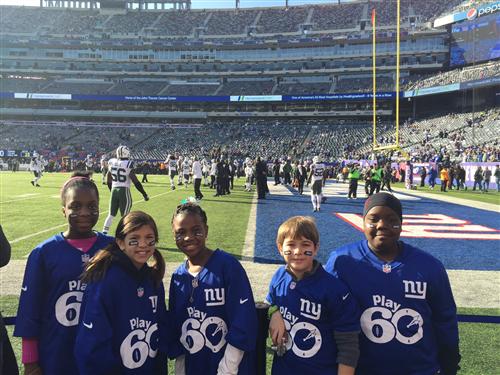 Hazel students.