Return to Headlines
"Future Chef" Competition Held at Gregory Elementary School
WEST ORANGE, NJ - The first West Orange Sodexo "Future Chef" was crowned on March 20 at Gregory Elementary School when fifth grade student Piper Stephens whipped up a winning batch of sweet potato tacos.
The national competition is sponsored by Sodexo, the school district's food service purveyor. This year's theme was "Fiesta Fit," a healthy Mexican recipe.
"Students had to hand in their recipes back in December," began West Orange Sodexo Manager Joshua Kreutz, "and Upon receipt of all the entries, we had a panel of managers that reviewed them. We reduced the entries down to seven students, who then competed at the Future Chefs competition."
The seven students selected were:
The stringent set of requirements were tough: the review process was based on healthiness, ingredients (allergens), level of difficulty, kid friendliness, and authenticity of this year's theme. The students arrived at 4:00 pm to prepare their recipes and have samples ready for the guests at 6:00 pm. Once guests and judges arrived, the young chefs sampled their food and discussed their recipes.
"Each student had a Sodexo cook working with them as their assistant, but the students did most of their work on their own, which was great to see and experience in person," continued Kreutz.
At the end of the tasting, judges selected Piper Stephens and her recipe for Sweet Potato Tacos with Guacamole, as the winner.
Kreutz thanked his West Orange Sodexo team, including Lori Cragle, Alex Perez, and the Sodexo cooks; Gregory Principal Makeida Estupinan, Assistant Principal Dwayne McNeil, and Gregory staff also helped with the organization and execution of the free event.
The emcee for the evening, Joelle DeNotaris, entertained guests and kept the event moving. The judges included Acting Superintendent Eveny de Mendez, West Orange Fire Chief Anthony Vecchio (an alumnus of Gregory), WOPD Officer Brad Squires, Edison Middle School Principal Xavier Fitzgerald, and Sodexo District Manager Chris Rey.
"All the competitors did an absolutely fantastic job," concluded Kreutz, "and next year we'll be hosting competitions at all the elementary schools."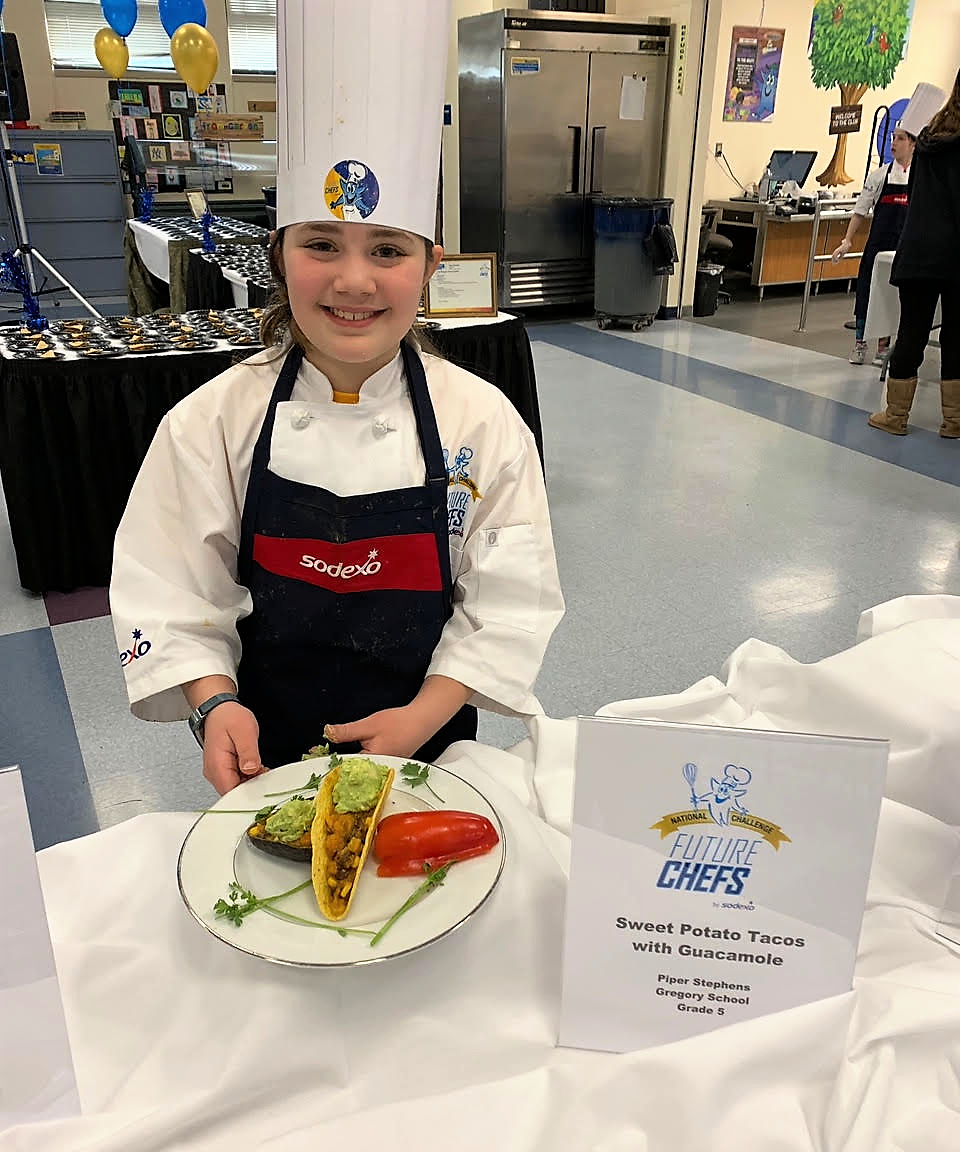 Sodexo Future Chef Piper Stephens with her winning recipe.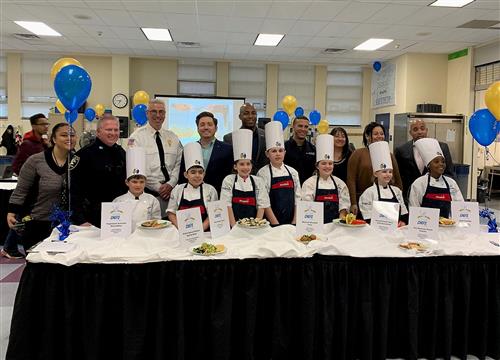 Front row, (L-R) Joel Goldberg, Evan Acosta-Mondriguez, Olivia Olson, Nate Albert, Piper Stephens, Talia Gurkan, Samantha Pean.
Rear, (L-R) Principal Makeida Estupinan, Officer Brad Squires, Chief Tony Vecchio, Sodexo Manager Josh Kreutz, Sodexo DM Chris Rey, Sodex Asst. Manager Alex Perez, Joelle Notaris, Acting Superintendent Eveny de Mendez, EMS Principal Xavier Fitzgerald.
Cynthia Cumming
April 2, 2019