Return to Headlines
Meatless Mondays Comes to West Orange High School
WEST ORANGE, NJ - Thanks to the efforts of sophomore Riya Goel and Sodexo, the district's food service provider, Meatless Mondays have arrived at West Orange High School. Goel brought the program to the administration at the beginning of the school year, and the program is now underway.
"After careful planning and several meetings we started a "soft opening" of Meatless Mondays this on Feb. 4," began Josh Kreutz, Director of Sodexo Food Services.
"Mr. Moore will be assisting with announcements so students can find out how they can participate," Kreutz continued.
"Once the student receives their Meatless Monday option from the cafeteria, they can go to the Meatless Monday table we have set up in front of the entrance to the Tarnoff Cafeteria. They will receive the attached punch card and also receive a punch for participating," he explained.
Goel and Sodexo also worked with Physical Education and Health Supervisor Kevin Alvine and Science Supervisor Stephanie Suriano, who are on board with the initiative.
"Once a student gets eight punches on their card, they will receive a free snack from one of the snack bars in addition to extra credit in Phys Ed and Science," Kreutz stated.
"Meatless Mondays is at West Orange High School!" enthused Goel.
"This international campaign encourages people to not eat meat on Mondays to improve their health and the health of the planet," she commented, "and my hope is that students understand the effects of the food that they consume on a daily basis, and use this program as an opportunity to make better choices concerning their food."
See the February Meatless Monday menu here.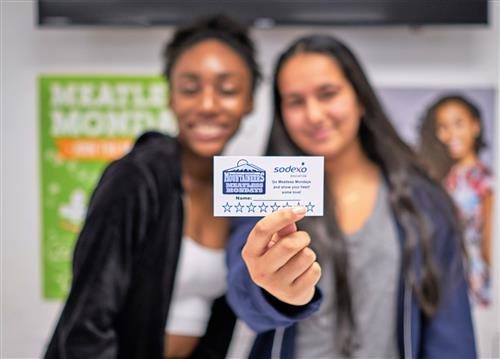 The new Meatless Monday punch card at WOHS.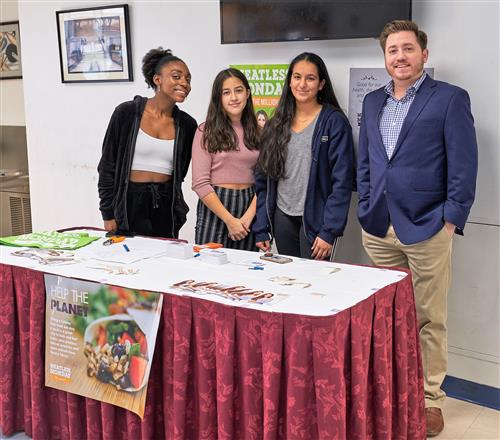 Mikayla Ordenaor and Isabella Angeles with Riya Goel and Sodexo Food Service Supervisor Josh Kreutz.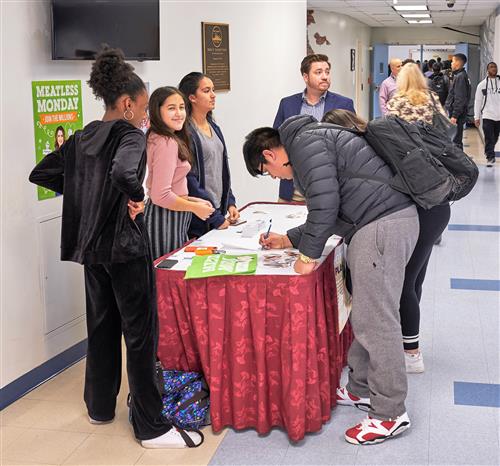 Students sign up for the program.
Cynthia Cumming
Feb. 12, 2019