Return to Headlines
Roosevelt Middle School Graduates 282
WEST ORANGE, NJ - In his inimitable style, Roosevelt Middle School Principal Lionel Hush brought laughter and tears as he welcomed families to the early evening graduation of 282 eighth grade students on June 19.
As the curtains opened to present the students onstage, applause broke out. Graduating student and author/activist Marley Dias led the crowd in the Pledge of Allegiance and the Star Spangled Banner.
Principal Hush entertained the audience with a humorous commentary about how cute little children turn into teenagers. "They've had experiences that will help define them and experiences you would just as soon forget. They've done things that have made you proud and some things you just can't understand. They worry about things they shouldn't and pay no attention to the things they should. By definition, they are teenagers. Teenagers that have made it through a very integral point in their lives, and prepare to begin their next journey. This Middle School chapter is not easy. Not easy for them and not easy for you," he began.
Hush continued to exhort parents and praise students.
"Your job as parents is not easy and you don't have the help of the neighborhood like it used to be. With that being said, you can look on this stage and see just how fine of a job you have done. Be proud, there are some amazing young men and women in this 8th grade class and they will be missed dearly. Our job as educators can be taxing, tiring, and frustrating at times. Seeing the strength, the kindness, the joy, and the genuine caring nature of so many of these children not only made it easy to go to work every day, it made me look forward to going to work.
Hush reserved his closing comments for the graduating students.
"Graduates, as you move forward in your life's journey remember that the people you surround yourself with will either raise or lower your standards. They will either help you to become the best version of yourself or encourage you to become lesser versions of yourself. No man or woman becomes great on their own, the people around them help to make them great. We all need people in our lives who raise our standards and challenge us to become the best version of ourselves. Take full advantage of the opportunities ahead of you and enjoy your experiences, but always keep your goals in mind and never let anything or anybody (including yourself) stand in the way of accomplishing what you see as success. Pick your friends wisely, and go out and become the best version of you possible. I look forward to the success stories you are to become. I wish you well and all the best as your journey continues."
The Roosevelt Choir performed "Time after Time," under the direction of Patrick McLaughlin and Orchestra teacher Catherine Solino led students in "Honor and Glory" by Soon Hee Newbold.
Special recognition awards followed:
Betty Lou Hardy Award for creative writing
Dixie Moran
Evan Correa
Jack Ramsay Award for Art
Abigail Nolan
Anna Akerblom
Carol Sadler Kindness of Heart Award
Abigail Insana
William Armstead
Armando Rodriguez
Mayor's Citizenship Award
Anay Badlani
Maria Nalieth
Student to Watch Award
Marley Dias
Max Fishkin
Ayush Narain
Award of Excellence
Dev Patel
Kassidy Scott
Oona Callender
Assistant Principal Marc Lawrence read the names of the students as Principal Hush shook hands with each graduate as staff assisted.
Students then departed the West Orange High School Auditorium as families gathered outside for photos with friends and families.
See all the photos from the Roosevelt Middle School Graduation here.
See the program from the Roosevelt Middle School Graduation here.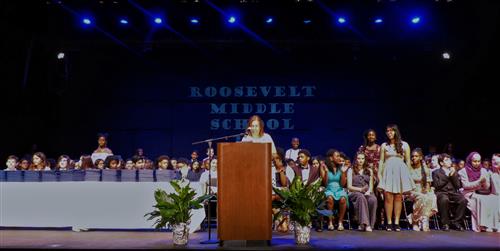 Students stand for academic recognition.
Roosevelt Middle School Graduating Class of 2018.
RMS Chorus performs "Time after Time"
RMS Orchestra performs "Honor and Glory" under the direction of Catherine Solino.
Cynthia Cumming
June 20, 2018