Return to Headlines
Roosevelt Middle School ELA Teacher Named ECEA Educator of the Year for Distinguished Service
WEST ORANGE, NJ - Roosevelt Middle School English-Language Arts teacher Jay Wecht was named Essex County Education Association's (ECEA) Educator of the Year for Distinguished Service on April 26. Wecht has served in the West Orange School District for 28 years.
When asked about receiving his award, Jay said, "As you can imagine, I was incredibly honored to be recognized by the Essex County Education Association. I have to say though that I've been in the district almost three decades and I've never felt unappreciated here. And as I mentioned in my speech, there truly hasn't been a morning when I've gotten to Roosevelt and said to myself, 'I really don't want to be here.' I genuinely love my job."
If you ever visit Jay's classroom, you can see right away how true this statement is. He is a toy collector, and has 24 displays situated throughout his room, collections that he changes every year. Jay said, "I'm a professional cartoonist along with being an ELA teacher, so I combine the two and teach using cartoons. In 2016, I was recognized by the National Cartoonist Society and given their Tom Gill Education Award. The Society extends this award to teachers who use cartoons to teach. Like with what I just received from the Essex County Education Association, I was very touched by the recognition." In keeping with his cartooning roots, every class that Jay teaches begins with his displaying his cartoon tie, cartoon watch, and cartoon socks, which are different every single day. Jay says, "It's my daily ice-breaking activity, and it really seems to work."
Jay has spent his entire teaching career at Roosevelt Middle School. When asked about this fact, Jay replied, "I can't begin to tell you how fortunate I was finding myself at Roosevelt. My building is filled with consummate professionals, and Lionel Hush and Marc Lawrence are both remarkable administrators."
Jay's wife, Marie, retired from the district after 30 years teaching science to children with special needs. The two teachers met at Roosevelt back when the building housed sixth to eighth grade students.
"I've gained so much from being in the district. One of the most amazing things for me is the fact that I met my wife here, and now our son, Andrew, is going to be 20 years old in June. Life is very, very good," Wecht noted.
Jay continued, "And of course, all I've gained from being an ELA teacher and a member of the West Orange Education Association can almost go without saying. Almost. It's important for me to note how much satisfaction I get when I see my students understanding what they're reading and writing in a way they've never written before. Plus, I recognized early on that I could do much more than simply teach English here in West Orange. Through all the units that I cover, especially those for Black History and the Holocaust, I can teach tolerance as well. Honestly, there are two important things for me as an educator. I want the kids to leave my classroom recognizing that school can be fun. And if they leave my room in June a better person, then I've done my job."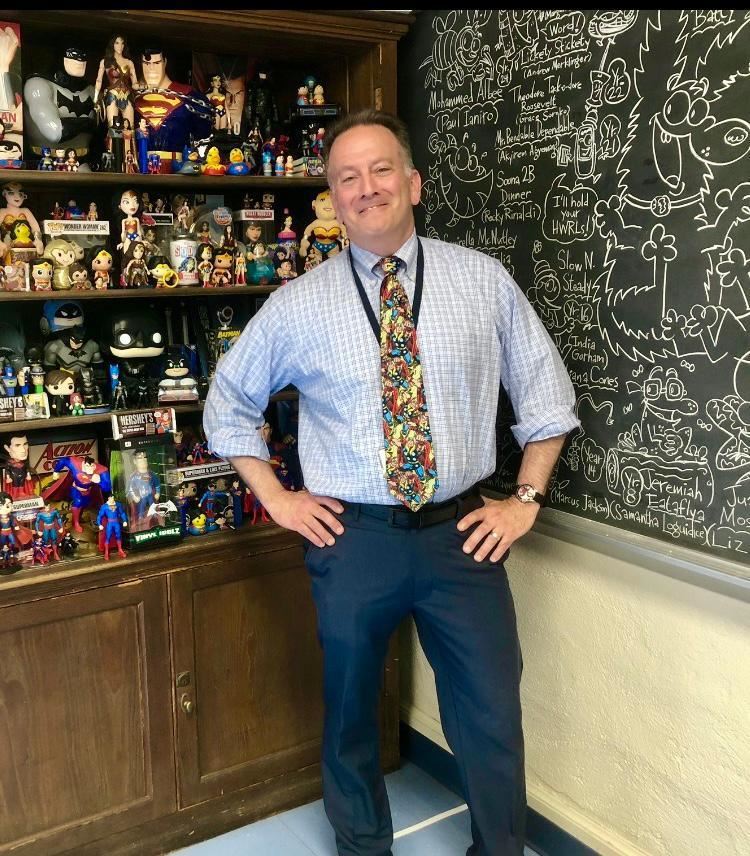 Mr. Wecht in his classroom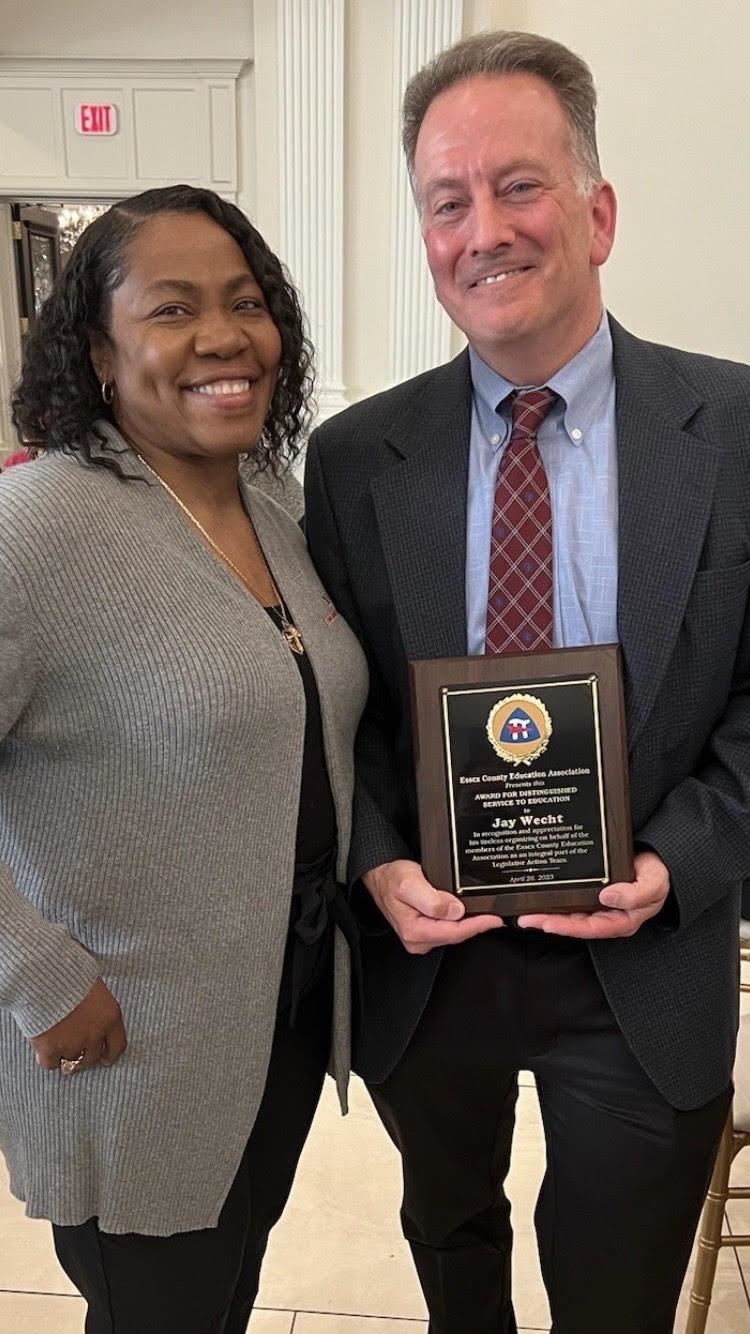 Jay Wecht with award and WO teacher Sharon Ortiz
Cynthia Cumming
May 10, 2023