Return to Headlines
Roosevelt Middle School Graduates 228
WEST ORANGE, NJ –228 Roosevelt Middle School students graduated under sunny skies in Suriano Stadium at West Orange High School on June 18.
The ceremony was divided into two cohorts to comply with pandemic guidelines and graduations were held at 2:00 and 4:00 pm. Students were seated with their families.
Band teacher Roger Bryson performed "America the Beautiful" on his saxophone to open the ceremony.
Roosevelt Principal Lionel Hush addressed students and parents and Assistant Principal Marc Lawrence recognized students' academic accomplishments, followed by the distribution of diplomas.
"The last 15 months have been an all-out, knock-down, 15 round heavyweight bout," said Superintendent Dr. Scott Cascone, who attended both middle school graduations.
"Our opponent, this pandemic, was a worthy adversary, but at these promotion ceremonies, the proverbial ringside bell was rung and our students' hands were raised in victory. It was a day of triumph, in which students and their families had a memorable moment in the sun, literally and figuratively. I couldn't be prouder of our school community," he stated.
See the list of students and their accomplishments here.
See photos from the Roosevelt Middle School graduation here.
Here is the text of the graduation speech given by Principal Hush.
Good Afternoon Roosevelt Family,
"We have slowly been returning to some semblance of normalcy and I tell you it is so nice to see you all here in person. So, welcome! Welcome to the Roosevelt Middle School 2021 8th grade promotion ceremony. It is something that certainly deserves celebrating. Our school, our teachers, and our community have weathered a mighty storm. We collectively have given all that we had to deal with the many challenges thrown at us as of late. And that has been no easy task, nor are we at the finish line yet.
September 2019: these students/your children entered Roosevelt as typical 12/13 year olds, eager and unsure of what middle school would bring. New big building to learn, new teachers to figure out, new daily routine to establish - all these things can seem overwhelming to a young 12 year old just trying to find their way and figure themselves out.
Little did we know…little did we know that the typical middle school bumps and bruises would be compounded by catastrophic events that would complicate the lives that they knew, challenge their understanding, isolate them, and shake their sense of security. They began the year witnessing the Australian bushfires that burned a record 47 million acres, displaced thousands and killed many. Then the global pandemic hit and in a matter of a few short months spread to 20 million people, claiming the lives of over 600,000 Americans. As our children, our families, and our community worked to figure our way through this uneasy and unsettling time, more continued to come.
Kobe Bryant, his daughter and seven others died in a helicopter crash.
President Trump was impeached.
The Stock Market crashed.
The killings of George Floyd, Breanna Taylor, and Ahmaud Arbery sparked a national movement for social justice.
Wildfires erupted from California to Washington displacing hundreds of thousands of people.
Rioters stormed our capital killing and injuring police officers.
Hate crimes against Asian Americans peaked resulting in physical abuse and death.
The list goes on with events that made the middle school years of our children far more complex than one would want/hope. But when I look into the eyes of these almost grown individuals I do not see fatigue or defeat. I see young, soon-to-be adults looking to move forward. Forward towards their next chapter and their next challenge. I see resilient souls continuing the path they set out on years ago. Affected but unjaded by the blows this world/our world has delivered.
I don't know about you but that gives me hope. Hope that these young individuals independently and/or collectively can stand stoic through trials and tribulations. They can and have stepped out of the fire in search of better/brighter days ahead. I am especially hopeful because these are the people that will affect change in the near future. Our children have been slapped in the face with some ugly realities of our world and they want and deserve better.
Students...do not stand idly by and allow the mistakes of the past to define your future. I need you/we need you to continue to step out of the fire and move us forward. Be the change agents your family/your community/your country needs you to be. If you have learned anything in your middle school years, know that you are not just the future, you are the now. And as you begin the next chapters of your lives do so with purpose. Use the challenges and obstacles life brings to strengthen your determination to do more and be more. Never allow the doubt or disbelief of jealous individuals to discourage your dreams. With that in mind, pick your friends wisely and go be the best you you can be."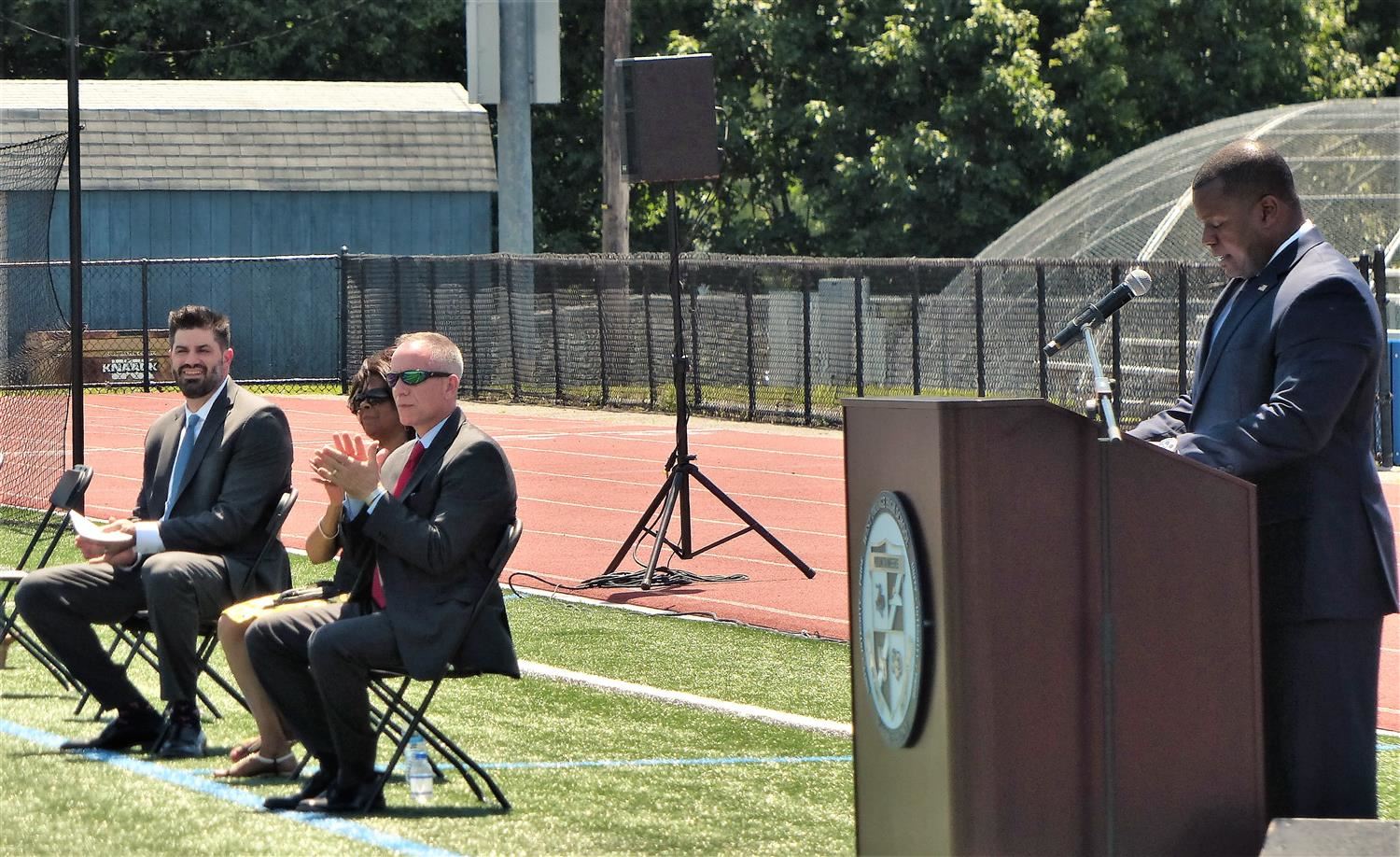 Principal Lionel Hush addresses students. (To left, Superintendent Scott Cascone, Board President Terry Trigg-Scales, and Asst. Principal Marc Lawrence.)
Cynthia Cumming
June 20, 2021